It's hard to defend your position on the failure of sentencing when it's you who set the guidelines…
Labour is still digging that hole…
Labour's Ad campaign has dominated the media for the last week, all for the wrong reasons.
Labour's campaign ads attacking Rishi Sunak for allegedly going easy on child sex abusers sparking a heated debate over criminal justice and political ethics. While many have criticized the ad for perpetuating harmful stereotypes and lacking evidence, others have accused Labour leader Sir Keir Starmer of hypocrisy, after all, he was the DPP that sat on the 2012 sentencing council while the sentencing guidelines that judges really on today were implemented.
The ads have hit Labour hard, backfiring and opening the doors to allegations of Labour being the party that is not only soft on crime but covers up the extent of child abuse within their own constituencies, from Rotherham to Islington.
The backlash has caused Labour to come out on the defence with both Sir Keir Starmer and Emely Thornberry taking the front seat.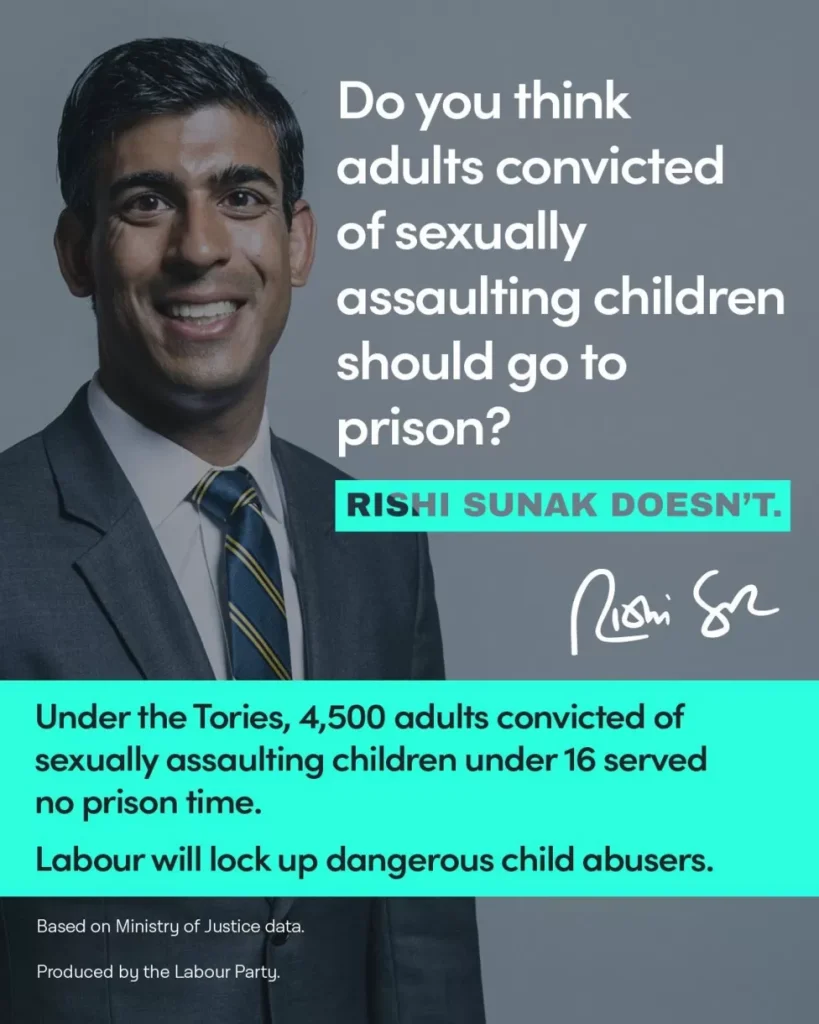 Starmer took to the daily mail to put his case forward and why he will be sticking to the accusations made in the Ad. He made the claim that "Rishi Sunak and the Tories have let criminals get away with it… I stand by every word Labour has said, no matter how squeamish they may feel".
Again, Sir Keir Starmer misses the mark. No one, but no one is squeamish about sentencing for paedophiles or sex abusers. In fact, for the vast majority of people, we want to see harsher sentencing and more of it. It's the hypocrisy and the dog whistle politics we object to, it's the fact that in this digital age, Starmer thinks he can get away with making accusations without people seeking the truth in what is said. And it is in that truth. This only adds to the distrust of anything he says. A quick search online shows that judges today follow the sentencing guidelines that Starmer helped set when the Director of public prosecutions in 2012.
While Starmer hopped to blow a few more dog whistles in the Daily Mail, Emely Thornberry chose Radio 4 to dig her own hole.
Emily Thornberry's Car Crash Interview on Sunak Smear.
Emily Thornberry, the Shadow Attorney General, found herself in a tight spot on Easter Monday while defending Labour's attack ad claiming that Chancellor Rishi Sunak is not tough enough on criminals convicted of child sexual abuse. During a seven-minute grilling on Radio 4's Today programme, Thornberry struggled to defend the party's stance and came across as uninformed and unprepared.
When questioned about Sir Keir Starmer's role in drawing up the current sentencing guidelines for child sexual abuse as Director of Public Prosecutions, Thornberry replied, "I wasn't in that meeting and I don't know what you're talking about." This is despite Starmer sitting on the council in 2012 when the rules were debated. Thornberry's lack of knowledge and apparent lack of preparation raised questions about Labour's credibility and ability to govern.
Thornberry's response to whether Labour supports locking up every adult convicted of sexually assaulting children was also vague, stating that the party is not planning to expand the prison estate and pay for it. However, when asked about the post-sentencing stage, Thornberry had no answer.
She came under further pressure after saying Labour would lock up all child sex offenders – but would not build more prisons.
When it was suggested that voters would "see through" Labour's stance on the issue, Ms Thornberry denied it was contradictory stating: "We are a party of optimism."
Ms Thornberry was also forced to admit she did not know what proportion of child sex offenders are jailed.
The ongoing row between Labour and the Conservatives over the attack ad and the issue of child sexual abuse has highlighted the need for clear and informed policy positions. Labour's lack of clarity and the apparent lack of understanding of their own policies do not inspire confidence.
It seems Emely Thornberry has a short memory…
These are the same sentencing guidelines that the former Shadow Attorney General for England and Wales, Emily Thornberry took such an affront to the guidelines that in 2012, she not only wrote to the DPP Keir Starmer but she expressed her outrage in every mainstream media outlet.
Thornberry criticised Starmer for his handling of rape cases during his tenure as the DPP, claiming that he had failed to prosecute many cases of rape and sexual assault. Starmer responded by stating that he had introduced significant reforms during his time as DPP, which had led to more successful prosecutions. The debate highlighted the ongoing issue of the low conviction rate for rape cases in the UK and the need for further improvements in the criminal justice system. The discussion also emphasised the importance of holding those in positions of authority responsible for their decisions and actions.
As it was reported back in 2012: A fierce dispute erupted between the director of public prosecutions (DPP), Keir Starmer QC, and the shadow attorney general, Emily Thornberry, over the use of specially trained prosecutors in rape cases.
The Labour MP claims victims could be deprived of expert legal support because of savings made in hiring specially trained barristers.
The DPP maintains the new guidelines only relate to — and improve — the deployment of barristers for interim hearings before the trial. Non-accredited advocates may be used in such "interlocutory" hearings, provided they talk to the instructed counsel. Only barristers specially trained in handling rape case will conduct actual trials, the Crown Prosecution Service insists.
If that is the case, Thornberry, the MP for South Islington and Finsbury, counters, then it should be stated explicitly in the CPS's online rape and sexual offences section on "The Instructed Advocate".
She alleges the guidelines "weaken" what was previously understood to be a commitment to use specially trained barristers in all rape-related hearings. "In practice, barristers' clerks are likely to conclude that there isn't really a rule at all," she suggests.
---
Now of course it's just turned into a political football…
Again no one is squeamish about jailing sex offenders, but they do not like the hypocrisy from Labour and particularly Sir Keir Starmer, who set the sentencing guidelines judges rely on for convictions. Labour needs to stop digging and find better answers before Parliament returns.
Support Labour Heartlands
PLEASE HELP US KEEP GOING AD-FREE
This is a "Pay as You Feel" website.
Hey there! Thanks for stopping by. If you've enjoyed reading the articles on Labour Heartlands so far, We would be incredibly grateful if you could consider making a small donation. Labour Heathlands is not your typical news outlet. We are not here to simply regurgitate the daily news cycle, that's for the rest of them. Our focus is on delving deeper, uncovering the untold stories and shedding light on the issues that the mainstream media chooses to ignore.
Our unwavering commitment to journalistic integrity means that we are not influenced by any external forces. We are not beholden to PR companies, advertisers or press barons, and we refuse to let anyone dictate what we report on. Our editorial independence is sacrosanct, and our only allegiance is to the truth.
While we do not align ourselves with any particular political party, we stand firmly against corruption, injustice and the erosion of truth and the rule of law. We believe that accurate information is the lifeblood of a democracy and that facts are not up for debate.
Once again, thank you for your support – We truly couldn't do this without you!
PLEASE HELP US KEEP GOING AD-FREE