LATEST NEWS
Russia announced on Thursday that it will withdraw troops near Ukraine and annexed Crimea, deeming its military exercises over.
Russia's defense minister on Thursday ordered troops back to their permanent bases following massive drills in Crimea that involved dozens of navy ships, hundreds of warplanes and thousands of troops in a show of force amid tensions with Ukraine.
After watching the drills, Russian Defense Minister Shoigu declared the maneuvers over and ordered the military to pull the troops taking part in maneuvers in Crimea and western Russia back to their permanent bases.
"I consider the goals of the snap check of readiness fulfilled," Shoigu said. "The troops have shown their defense capability and I decided to complete the drills in the South and Western military districts."
Shoigu said the troops should return to their bases by May 1, but he also ordered to keep the heavy weapons deployed to western Russia as part of the drills for another massive military exercise later this year.
Shoigu said they should remain at the Pogonovo firing range in the southwestern Voronezh region. The sprawling range is located 160 kilometers (about 100 miles) east of the border with Ukraine.
The Russian troop buildup near Ukraine that came amid increasing violations of a cease-fire in Ukraine's east has raised concerns in the West, which urged the Kremlin to pull its forces back.
Russia and Ukraine blame each other for the rise in violence
According to United Nations, the conflict between Russia and Ukraine has claimed over 13,000 lives since 2014. Around 24,000 people have injured in the conflicts.
Zelensky said in a statement that so far in 2021, 20 Ukrainian servicemen had been killed, and 57 got injured due to ceasefire violations. Both Russia and Ukraine are blaming each other for the rise in violence between Ukraine's forces and Russia-backed separatists in eastern Ukraine.
The Russian military hasn't reported the number of additional troops that have been moved to Crimea and parts of southwestern Russia near Ukraine, and it wasn't immediately clear from Shoigu's statement if all of them will now be pulled back.
The U.S. and NATO has said that the Russian buildup near Ukraine was the largest since 2014, when Russia annexed Crimea and threw its support behind separatists in eastern Ukraine.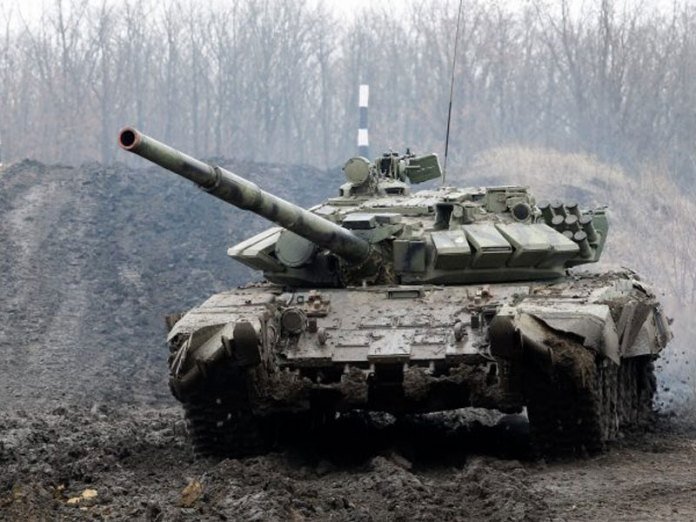 The Russian Defense Ministry said the maneuvers in Crimea involved more than 60 ships, over 10,000 troops, around 200 aircraft and about 1,200 military vehicles.
The exercise featured the landing of more than 2,000 paratroopers and 60 military vehicles on Thursday. Fighter jets covered the airborne operation.
Shoigu flew in a helicopter over the Opuk firing range in Crimea to oversee the exercise. He later declared the drills over, but ordered the military to stand ready to respond to any "adverse developments" during NATO's Defender Europe 2021 exercise.
Last week, Russia has announced that it would close broad areas of the Black Sea near Crimea to foreign navy ships and state vessels until November, a move that drew Ukrainian protests and raised Western concerns. Russia also announced restrictions on flights near Crimea this week, arguing that they fully conform with the international law.
Ukrainian Foreign Minister Dmytro Kuleba warned Tuesday that the Russian buildup across the border is continuing and is "expected to reach a combined force of over 120,000 troops" in about a week and urged the West to beef up sanctions against Moscow.
Moscow has rejected Ukrainian and Western concerns about the buildup, arguing that it's free to deploy its forces anywhere on the Russian territory and charging that they don't threaten anyone. But at the same time, the Kremlin sternly warned Ukrainian authorities against trying to use force to retake control of the rebel east, where seven years of fighting have killed more than 14,000, saying that Russia could be forced to intervene to protect civilians in the region.
Amid the tensions, Ukrainian President Volodymyr Zelenskyy on Wednesday signed a law allowing the call-up of reservists for military service without announcing a mobilization. The new law will allow to quickly equip the military with reservists, "significantly increasing their combat effectiveness during military aggression," Zelenskyy's office said in a statement.
It was viewed as a show of force amid tensions with Ukraine.
"The troops have demonstrated their ability to ensure a reliable defence of the country," said Russia's defence minister Sergei Shoigu in a press release, adding: "So I decided to complete the inspection activities in the southern and western military districts" bordering Ukraine.
Shoigu's statement did not make clear, however, how many additional troops had been moved to Crimea – nor did he indicate whether all would be pulled back to their permanent bases.
There has also been an increasing number of violations of a ceasefire held in the region in recent weeks, as well as growing tensions between the two nations.
Ukrainian Foreign Minister Dmytro Kuleba encouraged the West on Tuesday to strengthen sanctions against Russia as he expressed concerns of the continued build-up of troops.
Meanwhile, Moscow rejected the concerns as it warned Kiev against trying to re-take the rebel-held eastern region. It said such an operation could force Russia into an intervention to protect civilians.
The Russian Defence Ministry said the military drills in Crimea had involved 60 ships, more than 10,000 troops, 200 aircraft and 1,200 military vehicles.
More than 2,000 paratroopers practiced a landing with 60 military vehicles on Thursday alone, while fighter jets covered overhead.
Putin warns of tough Russian action if West crosses 'red line'
Yesterday president Putin warned of tough Russian action if the West crosses the' red line' with Russia, saying such a move would trigger an "asymmetrical, rapid and harsh" response.
The warning came in his annual state of the nation address, amid heightened tension with the West over Ukraine, Belarus, and jailed Putin critic Alexei Navalny.
Mr Putin said Western powers were constantly trying to "pick on" Russia.
Police have detained nearly 100 Navalny supporters rallying in several cities.
Hundreds staged pro-Navalny protests on Wednesday in eastern cities including Vladivostok, Irkutsk and Krasnoyarsk. The authorities have declared them illegal.
The anti-corruption campaigner is being treated at a prison hospital in Vladimir, about 180km (112 miles) east of Moscow. He is on hunger strike and his allies say his life is in danger.
Tens of thousands of people took part in demonstrations that swept across Russia late on Wednesday in support of jailed Kremlin critic Alexei Navalny.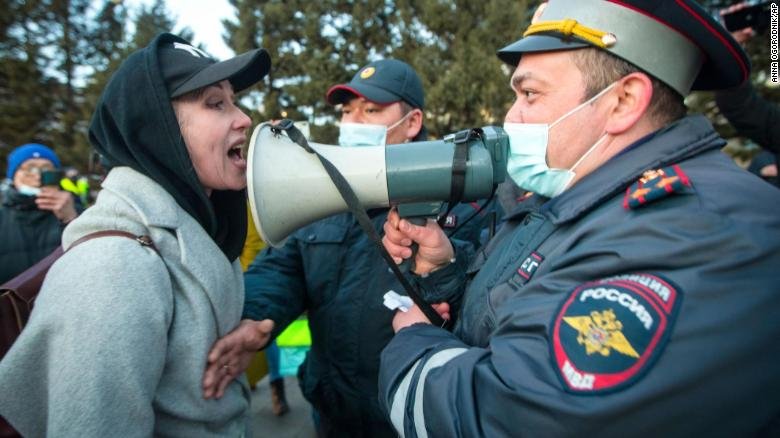 Many people were apprehended before protests even began, including two top Navalny associates in the Russian capital. The Russian human rights monitoring project OVD-info said it had counted 1,004 arrests across the country by the time the St. Petersburg demonstration ended at 8:30pm CET, and 1,495 by 11pm.
Allies of the imprisoned Russian opposition leader had called for rallies in around 100 cities across Russia on Wednesday.
The demonstrations began at 7pm local time in each city, moving west across the country, and were arranged to coincide on the same day as Russian President Vladimir Putin's annual address.
The protests in Russia's two largest cities, Moscow and St. Petersburg, began under heavy police presence shortly after UN experts said Navalny should be evacuated for urgent medical treatment abroad.
Mr Putin focused most of his speech on Russia's battle against Covid-19 and its plans to improve welfare and economic development.
But he accused the West of threatening stability in Russia and its ex-Soviet neighbours Belarus and Ukraine.
"The use of unjust sanctions is growing into something more dangerous: a coup attempt in Belarus," he said.
He backs Belarusian President Alexander Lukashenko, who faces huge opposition since claiming re-election last year, in a vote widely condemned as rigged. The two presidents will hold talks in Moscow on Thursday.
On 17 April the Belarusian authorities announced that they had foiled a US-backed plot to assassinate President Lukashenko. Russia's Federal Security Service (FSB) said it had detained two Belarusians allegedly involved in the plot.
The coup claim was dismissed by the exiled Belarusian opposition leader Svetlana Tikhanovskaya as a "provocation".
Since last August's disputed election, massive demonstrations in support of her have taken place, with thousands of protesters beaten up by police and detained.
Warning to West
President Putin said some Western countries were like jackals trying to please the US, just as a jackal behaves with the tiger Shere Khan in Kipling's tale The Jungle Book.
"We don't want to burn bridges, but if somebody interprets our good intentions as weakness, our reaction will be asymmetrical, rapid and harsh," he said. "We'll decide for ourselves in each case where the red line is."
Tensions have been building over Ukraine, as reports say Russia has moved more than 100,000 troops close to disputed areas. Todays announcement will be seen as a welcome easing of growing tensions.
Russia warned the west against sending troops to Ukraine
On April 2, Russia issued a warning to the western countries and NATO against sending troops to Ukraine. Dmitry Peskov, Kremlin Press Secretary, said that any deployment of NATO troops in the region would "undoubtedly lead to further tensions" and that the Russian side would then "have to take additional measures to ensure their security,"
Ukraine to hold joint military drills with NATO
On April 3, Ukraine's armed forces announced that they would begin joint military drills with NATO troops within a few months. Around 1,000 military personnel from at least five NATO member states will take part in the drills. The statement read, "In particular, defensive actions will be worked out, followed by an offensive in order to restore the state border and territorial integrity of a state that has been subjected to aggression by one of the hostile neighboring countries."
Is Ukraine protected by Nato?
Not by treaty, as Ukraine is not a member. But Nato has close ties with Ukraine, which has received Western arms including US Javelin anti-tank missiles. So Russia knows that it risks provoking more Western military help for Ukraine.
President Zelensky has urged Nato to speed up Ukrainian membership. But the conflict makes it difficult for Nato to accept Ukraine under the 30-nation alliance's current terms.
Nato's Jens Stoltenberg said "it's for the 30 members to decide when Ukraine is ready for Nato membership". But he stressed Ukraine's special partnership with Nato now, which a few other countries also have, including Sweden, Finland and Georgia.
"We reject the idea that Russia has a kind of veto on other countries deciding their sovereign path," he said. The Kremlin has long warned Ukraine against joining Nato, and remains bitter that the three Baltic republics joined.
Nato is helping Ukraine's military with modernisation, training and joint exercises, the Nato chief said.
It is very clear a Nato country on Russia doorstep would be a very unwelcome neighbour for Vladimir Putin and would not sit well with the massively patriotic Russian people.
Support Labour Heartlands
Help Us Sustain Ad-Free Journalism
Sorry, I Need To Put Out the Begging Bowl
Independent Journalism Needs You
Our unwavering dedication is to provide you with unbiased news, diverse perspectives, and insightful opinions. We're on a mission to ensure that those in positions of power are held accountable for their actions, but we can't do it alone. Labour Heartlands is primarily funded by me, Paul Knaggs, and by the generous contributions of readers like you. Your donations keep us going and help us uphold the principles of independent journalism. Join us in our quest for truth, transparency, and accountability – donate today and be a part of our mission!
Like everyone else, we're facing challenges, and we need your help to stay online and continue providing crucial journalism. Every contribution, no matter how small, goes a long way in helping us thrive. By becoming one of our donors, you become a vital part of our mission to uncover the truth and uphold the values of democracy.
While we maintain our independence from political affiliations, we stand united against corruption, injustice, and the erosion of free speech, truth and democracy. We believe in the power of accurate information in a democracy, and we consider facts non-negotiable.
Your support, no matter the amount, can make a significant impact. Together, we can make a difference and continue our journey toward a more informed and just society.
Thank you for supporting Labour Heartlands
Just click the donate button below