France has threatened to cut off Jersey's electricity as it says fishing licences are being granted with conditions not agreed.
French trawler crews angry at post-Brexit restrictions on their access to British fishing grounds sailed in a flotilla to the British Channel island of Jersey on Thursday to register their protest.
A simmering row over fishing rights has escalated this week, with a French minister suggesting French electricity supplies to Jersey could be cut, and Britain despatching two navy patrol boats to the island.
Some of the French flotilla entered the harbour at the Jersey port of St. Helier at one point during their protest on Thursday morning. France later deployed two patrol boats to the area.
One of the trawlers positioned itself directly in front of the Commodore Goodwill, the ferry and freight vessel that connects the Channel islands to the British mainland and was at anchor in the harbour, according to social media posts by Marie Carof-Gadel, a French journalist on board the trawler.
The trawler later moved away. A representative of Jersey port said the Commodore Goodwill's scheduled departure was delayed, but could not give further details.
The UK has sent two Royal Navy ships to Jersey "as a precaution" – HMS Severn and HMS Tamar are patrolling the waters around Jersey.
And French authorities have confirmed to that a vessel, the Military Ops ship Athos, will be arriving "imminently" to carry out a "patrol mission" – while local reports suggest another is also en route.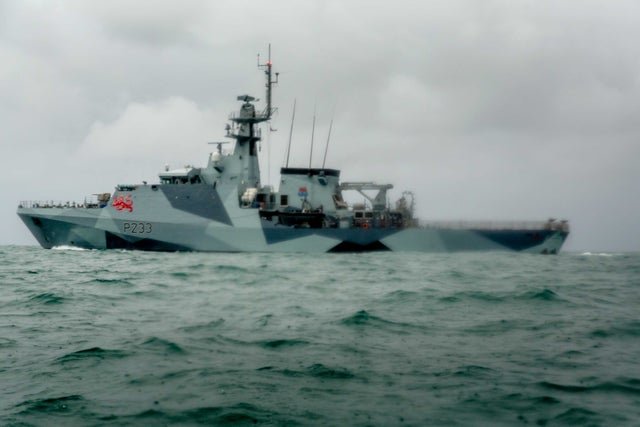 In a sign that French President Emmanuel Macron had decided on a tit-for-tat response to Boris Johnson's deployment of the Royal Navy, a second French ship was also reported to be on its way.
The deployment, France says, is to "guarantee the safety" of people at sea and "accompany" the flotilla of around 50 French fishing vessels currently protesting off St Helier over a lack of access to waters around the Channel island.
Downing Street confirmed Boris Johnson spoke to the chief minister of Jersey, Senator John Le Fondre, the deputy chief minister, Lyndon Farnham and external affairs minister, Ian Gorst, on Thursday and reiterated his "unequivocal support".
A spokesperson said: "The chief minister updated the prime minister on the latest developments with French fishing vessels around Jersey's coast.
As tensions grew, Lord West, a former head of the Navy, warned that Royal Marine boarding squads could seize French fishing vessels if they blocked the port. He also unleashed a barrage of criticism after French maritime minister Annick Girardin warned of possible "retaliatory measures" in the post-Brexit fishing rights row, which could include cutting off electricity supplies to the island.
"It's quite extraordinary to make threats of blockading, of cutting off power supplies, that really is rather sort of a 19th century way of behaving rather than a 21st century way of behaving," he told Times Radio.
A neutral report from France 24
Jersey fisherman Loic Farnham said of his French counterparts: "They are professional fishermen, the same as we all are, we'd like to keep it all amicable so we can have access to the markets and they can carry on earning a living in our waters."
An Elysée source said France was monitoring the situation "very closely", adding that it is "currently calm and we hope that this will remain the case".
"We want to be able to return to negotiations, that we can obtain the fishing licenses provided for in the agreement."
The maritime prefecture of Manche and mer du Nord told the BBC the two French vessels, police boat Athos and patroller Themis, were not on military missions.
It said the boats' roles were to stay in French waters and to be near to the fisherman in order to ensure safety.
A European Commission spokeswoman said talks were continuing with the UK.
MEP Stephanie Yon-Courtin, a member of the EU fisheries committee, told BBC Radio 4's Today programme said "all retaliatory measures will be explored".
Of the threats to cut off electricity to Jersey, she said "these are only words we are not ready for war".
On Thursday morning, Prime Minister Boris Johnson confirmed that the two Royal Navy vessels would "remain in place to monitor the situation as a precautionary measure".
A statement from the Jersey government read: "Diplomatic efforts will continue to resolve the outstanding issues relating to fishing licences and to de-escalate the situation."
Support Labour Heartlands
PLEASE HELP US KEEP GOING AD-FREE
This is a "Pay as You Feel" website.
Hey there! Thanks for stopping by. If you've enjoyed reading the articles on Labour Heartlands so far, We would be incredibly grateful if you could consider making a small donation. Labour Heathlands is not your typical news outlet. We are not here to simply regurgitate the daily news cycle, that's for the rest of them. Our focus is on delving deeper, uncovering the untold stories and shedding light on the issues that the mainstream media chooses to ignore.
Our unwavering commitment to journalistic integrity means that we are not influenced by any external forces. We are not beholden to PR companies, advertisers or press barons, and we refuse to let anyone dictate what we report on. Our editorial independence is sacrosanct, and our only allegiance is to the truth.
While we do not align ourselves with any particular political party, we stand firmly against corruption, injustice and the erosion of truth and the rule of law. We believe that accurate information is the lifeblood of a democracy and that facts are not up for debate.
Once again, thank you for your support – We truly couldn't do this without you!
PLEASE HELP US KEEP GOING AD-FREE