Royal College of Nursing to Strike Again After Rejecting Government Pay Offer
In a blow to the government, members of the Royal College of Nursing (RCN) have voted to reject the latest pay offer and will strike for 48 hours without exemptions from 8 pm on April 30 to 8 pm on May 2.
The result came despite a recommendation from union leaders that members accept the offer. This will be the first time that emergency department, intensive care unit, cancer care, and other service staff who were previously exempt from industrial action will strike.
The results of the RCN's consultation on the revised NHS pay offer for nursing staff in England have been announced:
61% of eligible members voted
46% voted to accept the offer
54% voted to reject the offer
The ballot saw over 60% of eligible members taking part, with 54% rejecting the government's offer and 46% accepting it on a 61% turnout. RCN General Secretary Pat Cullen has written to the government, notifying them of "imminent" strike action, as well as a new ballot and a request for a fresh round of talks.
In a letter to Health Secretary Steve Barclay, Ms Cullen said what nurses had been offered was "simply not enough".
"Since our talks in February, we have seen the pressures on the NHS continue to increase," she said.
"The crisis in our health and care services cannot be addressed without significant action that addresses urgent recruitment and retention issues and nursing pay to bring this dispute to a close urgently.
"Until there is a significantly improved offer, we are forced back to the picket line. Meetings alone are not sufficient to prevent strike action and I will require an improved offer as soon as possible. In February, you opened negotiations directly with me and I urge you to do the same now.
"After a historic vote to strike, our members expect a historic pay award."
The government's response was predictably dismissive and defensive. The health secretary, Steve Barclay, said he was "disappointed" by the RCN's rejection and claimed that the offer was "fair and affordable". He also accused the RCN of putting patients at risk by striking during a pandemic and urged it to reconsider its position.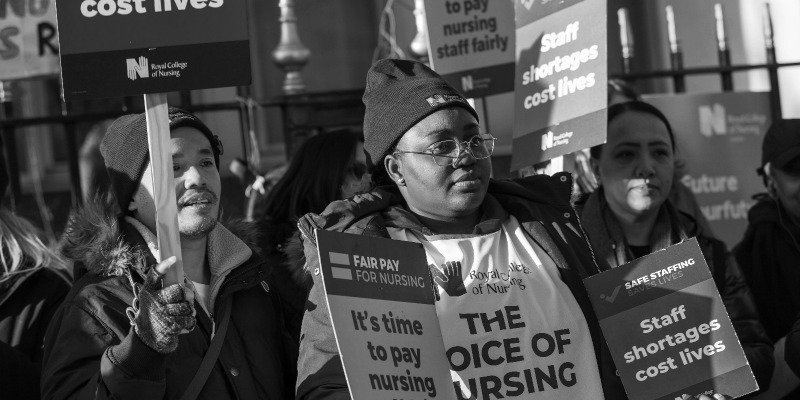 However, the government's arguments are weak and unconvincing. The offer is neither fair nor affordable, but insulting and inadequate. It fails to recognise the vital role that nurses play in the health service and society, especially during the Covid-19 crisis. It also ignores the fact that nurses have suffered a real-terms pay cut of around 15% since 2010, due to years of austerity and wage freezes.
Moreover, the government's concern for patients is hypocritical and hollow. It is the government that has put patients at risk by underfunding and mismanaging the NHS, leading to staff shortages, long waiting lists and poor outcomes. It is also the government that has failed to protect nurses from infection and death by providing them with adequate personal protective equipment (PPE) and testing.
The government had hoped that a settlement with nurses would pave the way for breakthroughs in other sectors gripped by industrial action. However, this development makes it likely that there will be further strikes over the summer months after teachers also voted to reject the government's offer, and junior doctors continue to strike in a bitter struggle over pay.
Although the RCN's rejection does not mean the deal is completely dead, it represents a setback for the government.
The deal was already accepted by members of Unison, representing almost three-quarters of 288,000 National Health Service (NHS) workers across England in a ballot, with a 53% turnout.
Under the rejected deal, nurses would have received a one-off payment of 2% of their salary, plus a COVID recovery bonus of 4% for the current financial year and 5% for the year after. In contrast, Unison health workers will receive an additional one-off payment for the year 2022/23, along with a 5% pay rise for 2023/24 – 10.4% for the lowest paid.
The dispute is separate from the ongoing junior doctors row, with ministers refusing to enter talks with the British Medical Association (BMA) until the union drops its demand for a 35% pay rise for junior doctors.
As the government faces a growing number of strikes across various sectors, it is clear that the issue of pay and working conditions will continue to be a contentious one in the coming months. The RCN strike is a further sign that the government's attempts to resolve the issue have so far failed to satisfy a significant portion of NHS workers.
The RCN's rejection is also an opportunity for a wider debate about the future of the NHS and its workforce. The NHS is facing a crisis of funding, staffing and quality, which cannot be solved by tinkering with pay deals or making empty promises. The NHS needs a radical overhaul that puts patients and staff at its heart, and ensures that it is publicly owned, funded and run.
The RCN's rejection is a courageous and commendable act of defiance against a callous and incompetent government. It is also a hopeful sign of resistance and renewal for a beleaguered but beloved NHS. The nurses deserve our respect and support, as they fight for fair pay and better care.
Support Labour Heartlands
Help Us Sustain Ad-Free Journalism
Sorry, I Need To Put Out the Begging Bowl
Independent Journalism Needs You
Our unwavering dedication is to provide you with unbiased news, diverse perspectives, and insightful opinions. We're on a mission to ensure that those in positions of power are held accountable for their actions, but we can't do it alone. Labour Heartlands is primarily funded by me, Paul Knaggs, and by the generous contributions of readers like you. Your donations keep us going and help us uphold the principles of independent journalism. Join us in our quest for truth, transparency, and accountability – donate today and be a part of our mission!
Like everyone else, we're facing challenges, and we need your help to stay online and continue providing crucial journalism. Every contribution, no matter how small, goes a long way in helping us thrive. By becoming one of our donors, you become a vital part of our mission to uncover the truth and uphold the values of democracy.
While we maintain our independence from political affiliations, we stand united against corruption, injustice, and the erosion of free speech, truth and democracy. We believe in the power of accurate information in a democracy, and we consider facts non-negotiable.
Your support, no matter the amount, can make a significant impact. Together, we can make a difference and continue our journey toward a more informed and just society.
Thank you for supporting Labour Heartlands
Just click the donate button below