The scandal-hit financier Lex Greensill claimed he was a "senior adviser" to then prime minister David Cameron, according to a business card handed to the Labour Party.
Labour says it has obtained an old business card that described financier Lex Greensill as a "senior adviser" in David Cameron's office.
The card includes a Downing Street email address, and what appears to be a direct line landline telephone number.
The party said it raised "further serious questions" about Mr Greensill's influence under the ex-PM.
The government has said Mr Greensill's role was unpaid and "approved in the normal manner".
Mr Greensill's role as an adviser has been under increasing scrutiny, after the Sunday Times reported it saw him given "privileged access" to Whitehall.
A source close to Greensill confirmed the card was genuine, saying it dated from a period when the Australian banker held the title senior adviser, a position to which they said he was appointed by the civil service.
This was before 2014 when he was made a "crown representative", a post meant to help the government identify ways to save money, and which also includes management consultants and other corporate experts.
Cameron has come under mounting pressure to explain why Greensill was allowed to become an unpaid adviser to government – a role in which he was reportedly allowed to pitch his financial projects across Whitehall.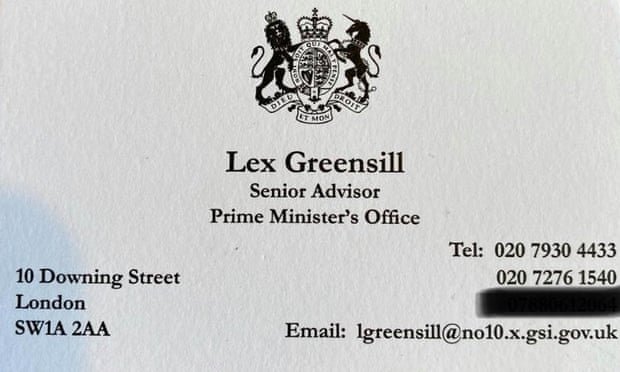 The Sunday Times reported that during his time in the role, he had promoted a government-backed loans scheme to speed up payments to pharmacists.
The company he founded, Greensill Capital, later went on to provide funds for the scheme.
In 2018 – two years after he had stood down as prime minister – Mr Cameron became an adviser to the firm.
Downing streets Revolving doors.
Former politicians beat a well-trodden path in the other direction. Tony Blair took a job with JP Morgan when he left Downing Street. He joins a group of politicians-turned-financiers too numerous to name here.
Ian King quite rightly points out for Sky Camron was not the first through the preverbal revolving door. Cameron was hired as an adviser to Greensill in 2018 and could have received shares worth $70m in the company if it had, as planned, floated on the stock market.
He can argue, reasonably, that, before it went into administration earlier this month, Greensill was one of the world's most talked-about finance businesses and had attracted a glittering line-up of investors.
Mr Cameron can also console himself that he is far from being the first prime minister to have had questions raised about his relationship with businesses.
It is commonplace for former PMs to hit the lecture circuit, where they can easily command six-figure fees for delivering speeches, albeit not of the same magnitude of those charged by former US presidents. Many, though, have sought to carve out careers in business once they have left Downing Street.
The trend has become more established as former PMs have become younger. Once, they tended to be elevated to the House Of Lords, although some – notably Edward Heath – remained sitting MPs for many years.
Mr Cameron, however, was only 49 when he left office and had many years of working life ahead of him or to sit in a shed and write his memories.
His former colleagues such as George Osborne enrich themselves in the private sector to become full-time banker not to mention his coalition partner Sir Nick Clegg, or the long-forgotten Lib Dem Sir Dany Alexander, now vice president and corporate secretary at the Asian Infrastructure Investment Bank, of course, Camron was going to go through the revolving door.
Many politicians have walked out of 'public office' into the private sector, ex-PM Gordon Brown is now an advisory board member of the investment firm PIMCO and three ex-Chancellors have also made the jump.
Philip Hammond is currently a partner of the energy investment outfit Buckthorn Partners and Alistair Darling sits on Morgan Stanley's board of directors.
Sajid Javid has taken up a job with US bank JP Morgan on an undisclosed salary and will sit on their advisory council for Europe, the Middle East and Africa. He is still a serving parliamentarian. MPs are currently allowed second jobs. However, we cannot hope to radically reform our money and banking system while the big banks continue to entice politicians into their employ.
Sajid Javid's move from banking to politics and both at the same time also mirrors the journey of our current Chancellor Rishi Sunak, who worked for the investment bank Goldman Sachs before taking up his parliamentary seat in 2015. Sadly this handful of past residents from Numbers 10 and 11 Downing Street only scratch the surface, countless other examples can be found across the civil service, the Cabinet and the House of Lords. 
Chuka Umunna promoted directly into the establishments Banking sector, an easy step through the Revolving door now working for JP Morgan
Then, of course, our favourite little Blairite Lord Peter Mandelson the peoples' vote campaigner and Jeremy Corbyn wannabe nemesis works for the other EU big bank. In 2013, he joined the Board of Trustees of Deutsche Bank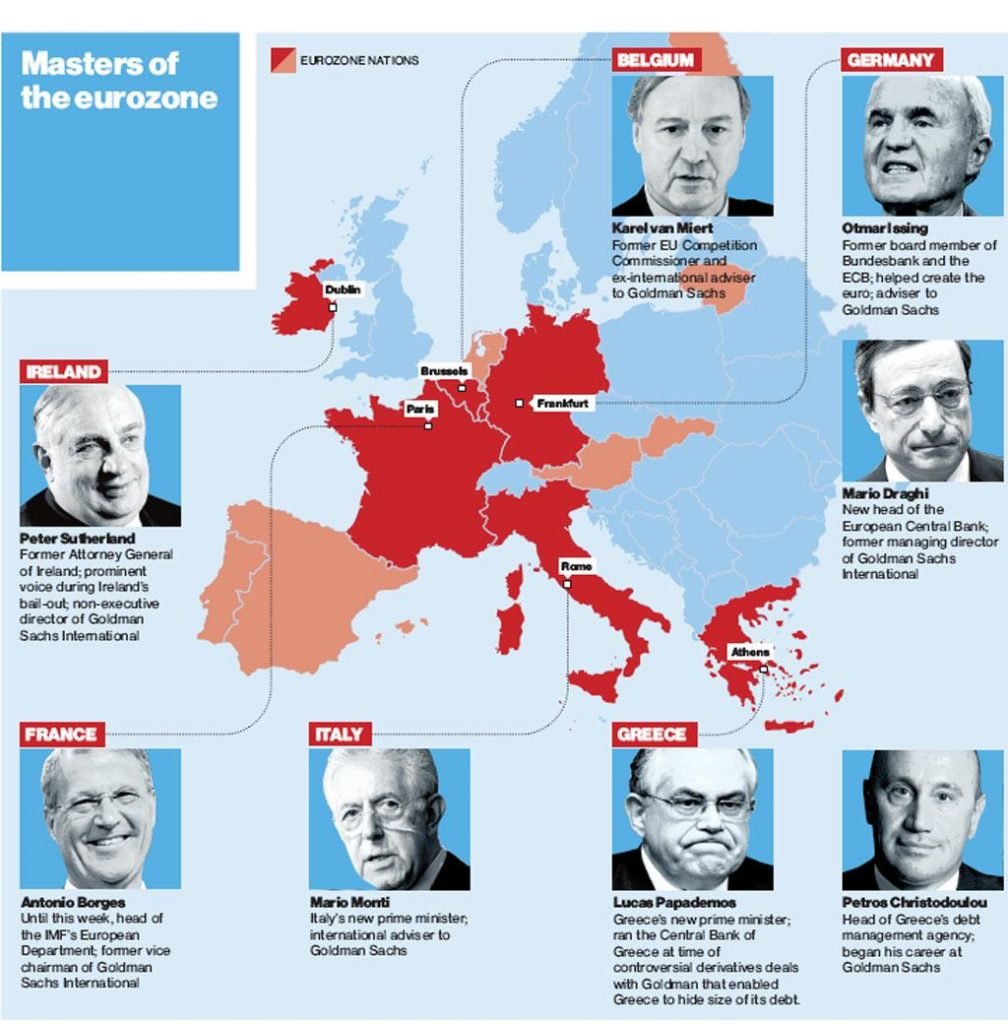 Simon Johnson, the former International Monetary Fund economist, in his book 13 Bankers, argued that Goldman Sachs and the other large banks had become so close to government in the run-up to the financial crisis that the US was effectively an oligarchy.
At least European politicians aren't "bought and paid for" by corporations, as in the US, he says. "Instead what you have in Europe is a shared world-view among the policy elite and the bankers, a shared set of goals and mutual reinforcement of illusions."
This is The Goldman Sachs Project. Put simply, it is to hug governments close. Every business wants to advance its interests with the regulators that can stymie them and the politicians who can give them a tax break, but this is no mere lobbying effort. Goldman is there to provide advice for governments and to provide financing, to send its people into public service and to dangle lucrative jobs in front of people coming out of government.
The Project is to create such a deep exchange of people and ideas and money that it is impossible to tell the difference between the public interest and the Goldman Sachs interest.
The template for modern PMs in this regard was Tony Blair who, on leaving office at the age of just 54, set up a consultancy business that has reportedly netted him tens of millions of pounds.
His clients have included the Wall Street banking giant JP Morgan, the insurer and fund manager Zurich Financial Services and Mubadala, the sovereign wealth fund of Abu Dhabi, as well as governments including Kazakhstan, Kuwait and the United Arab Emirates. It is fair to say that some of these consultancies have attracted controversy.
Mr Blair's successor, Gordon Brown, was a less obviously commercial beast but has nonetheless become an adviser to Pimco, one of the world's biggest asset managers and Partners Group, the Swiss private equity firm. The other former PM so far this century, Theresa May, has remained in the House of Commons.
Slightly further back, Sir John Major carved out a lucrative post-prime ministerial career, becoming a senior adviser to the investment bank Credit Suisse First Boston and chairman in Europe of the US private equity giant Carlyle Group. Sir John, who worked in the City for Standard Chartered before becoming an MP, also became chairman of the European advisory board at the US utility giant Emerson Electric.
Yet Sir John also had another business relationship that he could be forgiven for seeking to exorcise from his CV. In January 2000, he joined the board of Mayflower Corporation, at the time a highly-respected engineering company that at one point also made six in 10 of the buses on Britain's roads.
Camron will probably walk away from this with a shrug unhindered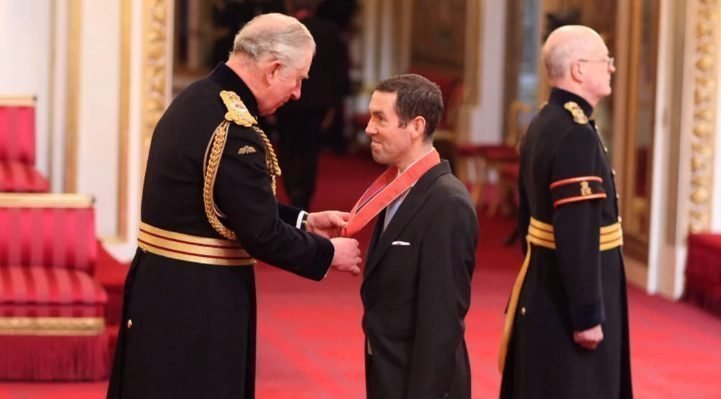 Labour has called for an urgent inquiry in to the matter and it wants the the Committee on Standards In Public Life to look into the extent of the access to government offered to Mr Greensill under the Conservative-Lib Dem coalition.
Shadow chancellor Anneliese Dodds said: "The public have a right to know what happened here – we need a full, transparent and thorough investigation".
The committee has said it does not investigate individual cases, but it is looking more widely at issues of lobbying and transparency.
Labour has also asked the committee to examine Mr Cameron's reported role in lobbying the government on behalf of Greensill Capital after the firm employed him as an adviser.
The Financial Times has previously reported that Mr Cameron unsuccessfully tried to increase the firm's involvement in a scheme offering government-backed loans to Covid-hit companies.
Greensill was accredited to supply lending under the government's Coronavirus Large Business Interruption Loan Scheme, before it filed for insolvency earlier this month.
Earlier this week, Mr Cameron was cleared by a lobbying watchdog, after it concluded his work for the company did not require declaration on the register of consultant lobbyists.
A Downing Street spokesman said: "Lex Greensill acted as a Supply Chain Finance Advisor from 2012 to 2015 and as a Crown Representative for three years from 2013.
Neither Mr Greensill nor Mr Cameron has commented on the matter.
Business secretary Kwasi Kwarteng insists Cameron "did absolutely nothing wrong" in his dealings, adding that "everything was above board" with the former prime minister's connection to the financial services company which collapsed earlier this month.
Support Labour Heartlands
Help Us Sustain Ad-Free Journalism
Sorry, I Need To Put Out the Begging Bowl
Independent Journalism Needs You
Our unwavering dedication is to provide you with unbiased news, diverse perspectives, and insightful opinions. We're on a mission to ensure that those in positions of power are held accountable for their actions, but we can't do it alone. Labour Heartlands is primarily funded by me, Paul Knaggs, and by the generous contributions of readers like you. Your donations keep us going and help us uphold the principles of independent journalism. Join us in our quest for truth, transparency, and accountability – donate today and be a part of our mission!
Like everyone else, we're facing challenges, and we need your help to stay online and continue providing crucial journalism. Every contribution, no matter how small, goes a long way in helping us thrive. By becoming one of our donors, you become a vital part of our mission to uncover the truth and uphold the values of democracy.
While we maintain our independence from political affiliations, we stand united against corruption, injustice, and the erosion of free speech, truth and democracy. We believe in the power of accurate information in a democracy, and we consider facts non-negotiable.
Your support, no matter the amount, can make a significant impact. Together, we can make a difference and continue our journey toward a more informed and just society.
Thank you for supporting Labour Heartlands
Just click the donate button below