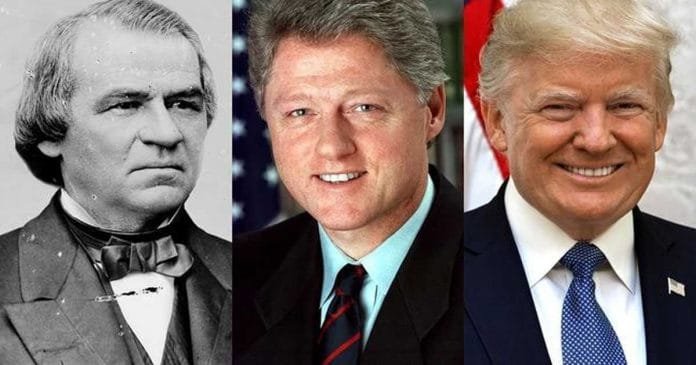 Today, the US Senate voted to acquit President Trump on two articles of impeachment.
The Senate voted to acquit President Donald Trump on two articles of impeachment Wednesday, marking the inevitable and historic end to a bitterly fought, divisive impeachment trial that will reverberate into the 2020 election and shape Trump's presidential legacy.
But the final day of the Senate's impeachment trial was not without suspense: Sen. Mitt Romney, a Utah Republican, found the President guilty of abuse of power, becoming the first senator in US history to vote to remove from office a president from the same party.
On the article of abuse of power, the Senate found the President not guilty by a vote of 52-48, with Republican Sen. Mitt Romney breaking ranks and joining the Democrats voting guilty. On the article of obstruction of congress, the Senate found him not guilty by a vote of 53-47.
Regardless of today's vote, Trump will remain impeached forever. Similarly, former President Bill Clinton was impeached by the House but acquitted in his Senate trial. Trump has joined Clinton and President Andrew Johnson as the only three Presidents in US history who have been impeached.
Today's acquittal brings nearly five months of the impeachment inquiry and trial that sprang forth from a whistleblower's complaint over Trump's comments to the President of Ukraine over the summer to an end.
More of the same
But there could be more investigations to come: Democrats have vowed to continue investigating Trump and his administration, and that includes some unanswered questions that came up during this impeachment investigation.
A key development to watch is whether the Democratically-controlled House committees will subpoena former national security adviser John Bolton.
Bolton, who never testified during the House inquiry, said last month that he'd be willing to testify in the Senate trial if subpoenaed. The Senate voted against seeking witness testimony, but the House has said it'll continue its investigations and kept the door open to calling Bolton to testify.
Here's what Trump tweeted just moments after his acquittal
In his first public reaction to being acquitted in the Senate, President Trump retweeted a video of a Time magazine cover showing Trump campaign signs from 2024, 2028 and beyond.
This isn't the first time the Trump has tweeted the video.
— Donald J. Trump (@realDonaldTrump) February 5, 2020
The Senate impeachment trial of President Trump officially adjourned after senators acquitted Trump on both articles of impeachment.
The vote on the first article, abuse of power, was 52-48, with GOP Sen. Mitt Romney joining Democrats in their "guilty" votes. The vote on the second article, obstruction of justice, was along party lines, 53-47. The Senate is now in recess until next week.
Impeachment
The word has dominated headlines, newscasts, and political conversations for the past four months, and on Wednesday, Dec. 18, 2019, the issue came to a head: House lawmakers voted to impeach President Donald Trump.
Now that the president is impeached, many questions remain. What is impeachment? What is its significance? How did we get here? What happens next?
Amid the whirlwind of information, televised hearings, and a political firestorm, here's a breakdown of impeachment and its role in American history.
Definition
By general definition, impeachment means to charge someone with a crime or misdemeanor. In a political context, the word indicates the legislative body, Congress, leveling charges against a governmental official, which includes the president, vice president, and all other civil officers of the United States. The charges can apply to, but are not limited to, criminal conduct.
The historic trial will wrap on Feb. 5 with a likely acquittal in the Republican-led Senate. Senators plan to vote today at 4 p.m. ET on the impeachment charges against Trump for abuse of power and obstruction of Congress. Closing arguments began on Feb. 3 after the Senate rejected a measure to call witnesses — the trial will be the first in U.S. history without witnesses.
Democrats had been pushing to call former national security adviser John Bolton and other officials who declined to participate in the House proceedings that led to Trump's impeachment. But most GOP senators, led by Senate Majority Leader Mitch McConnell (R-Ky.), rallied to the president's defense and said he should not be removed from office.
Trump was impeached by the House of Representatives in December. The crux of the case for his impeachment is the allegation that he withheld military aid and a White House meeting to pressure Ukraine to investigate Joe Biden and his son. Hunter Biden served on the board of Burisma, a Ukrainian energy company, while his father was vice president.
Support Labour Heartlands
PLEASE HELP US KEEP GOING AD-FREE
This is a "Pay as You Feel" website.
Hey there! Thanks for stopping by. If you've enjoyed reading the articles on Labour Heartlands so far, We would be incredibly grateful if you could consider making a small donation. Labour Heathlands is not your typical news outlet. We are not here to simply regurgitate the daily news cycle, that's for the rest of them. Our focus is on delving deeper, uncovering the untold stories and shedding light on the issues that the mainstream media chooses to ignore.
Our unwavering commitment to journalistic integrity means that we are not influenced by any external forces. We are not beholden to PR companies, advertisers or press barons, and we refuse to let anyone dictate what we report on. Our editorial independence is sacrosanct, and our only allegiance is to the truth.
While we do not align ourselves with any particular political party, we stand firmly against corruption, injustice and the erosion of truth and the rule of law. We believe that accurate information is the lifeblood of a democracy and that facts are not up for debate.
Once again, thank you for your support – We truly couldn't do this without you!
PLEASE HELP US KEEP GOING AD-FREE