The Handmaid's Tale
For anyone not aware of Margaret Atwood's 1985 classic book or who hasn't watched the series yet (DO IT – NOW!) the action is set in the religious military theocracy of Gilead, where radioactive pollution has rendered most of the female population infertile.
To propagate the species, the remaining fertile women are conscripted as Handmaids, slave birthing vessels for its ruling class. Instead of using artificial insemination, a religious taboo, these handmaids must endure sex with their assigned commanders while their wives sit behind them, legs spread, treating the human being in front as a mere receptacle, a functioning substitute vagina and womb.
The Handmaids are expected to be pious, despite being looked down upon as immoral for the sheer fact they have engaged in prior sex that saw a successful pregnancy and live birth. As such, "blessed be the fruit" and "may the Lord open" is how Handmaids greet each other, a way of encouraging each other to achieve a "keeper" viable baby, and not an "unbaby" or "shredder", as the deformed or gravely ill are cruelly deemed.
The Republic of Gilead theocratic regime that takes over the United States of America.
In Gilead, the bodies of fertile women are politicised and controlled. The North American population is falling as more men and women become infertile (though in Gilead, legally, it is only women who can be the cause of infertility). Gilead's treatment of women is based upon a literal, fundamentalist interpretation of the Bible, meaning that women are the property of and subordinate to their husband, father, or head of household. They are not allowed to do anything that would grant them any power independent of this system. They are not allowed to vote, hold a job, read, possess money, or own anything, among many other restrictions.
A particular quote from The Handmaid's Tale sums this up:
The Republic of Gilead, said Aunt Lydia, knows no bounds. Gilead is within you.
This describes that there is no way around the societal bounds of women in this new state of government.
Trump's United States
It is no surprise there have been comparisons aplenty between Atwood's Gilead and Trump's United States, where women's reproductive rights have been actively eroded since his controversial election win. Just four days after Trump's inauguration, he signed an executive order to prohibit abortion counselling by any non-government international organisation that receives federal funding and another allowing states to stop financing Planned Parenthood and other agencies that provide abortions. It should be noted only 3 percent of Planned Parenthood's services involve abortions. The rest are vital processes, such as pap smears, mammogram referrals, treatment of sexually transmitted diseases and HIV tests and more, to 2.5 million people each year.
Ohio House Passes Bill to Criminalise Abortions of Fetuses With a Heartbeat
The Ohio state legislature, specifically the House, last week decided to give the heartbeat bill—dictating abortions cannot be performed when a fetal heartbeat can be detected, which can be as early as six weeks—another pass. Now, anti-abortion Republicans are ramping up their attack on reproductive rights even further in a bid to start handing out death sentences.
H.B. 565 would ban abortion outright; not only that, it would change the status of an "unborn human" to a legally protected person under Ohio law, meaning those who seek out and receive abortions could be fully prosecuted, which in Ohio could potentially mean facing the death penalty.
There would be no exceptions, not for cases of rape, incest, or the health of the mother.
The bill was sponsored and introduced in March by Rep. Nino Vitale and Rep. Ron Hood. To give you a better sense of these fine gentlemen: In the past several months, Vitale has introduced legislation that includes a Stand Your Ground law, pushed for shutting down the border, and blamed the Stoneman Douglas High School shooting on America's problem with God, not guns. Meanwhile, Hood has pushed to expand concealed carry, supported lower corporate taxes and union-busting laws. He has also called abortion "the slaughter of children."
Ohio Republicans' Next Step: Criminalise Abortion
The GOP-dominated Ohio legislature, which last week advanced a "heartbeat" ban that aims to ban abortion care six weeks into pregnancy, is now considering a "personhood" bill that would criminalise the common medical procedure.
One of the most restrictive abortion bans in the United States, HB 258 passed in a 60-35 house vote on November 15 and effectively bars people from receiving an abortion when a fetal heartbeat is detected, except in the case of a medical emergency. House Republicans rejected other amendments offered to require sex education, free contraception, and remove felony penalties from the bill in a move that NARAL Pro-Choice Ohio called "horrific."
"The rejection of these amendments proves the true intent of this bill. This is about punishing women and the doctors who provide them with care. Abortion is health care, not a criminal act." NARAL Pro-Choice Ohio Executive Director Kellie Copeland said in a statement.
While two Ohio Democrats support the so-called heartbeat bill, those opposing it said the bill makes no exception for pregnancy resulting from incest or rape. They also noted there are only 24 women in the 99-member House, according to Cleveland.com.
"I do not need anyone in the building telling me what to do with my body," Rep. Stephanie Howse (D-Cleveland) said. "It is really, really, really unsettling that we have to tell people what to do with their body."
Dr. Horvath said that the decision to have an abortion is one that ought to be made among a woman, her family and her health care provider.
"Every situation truly is unique and every time I think that I've heard it all, I have a patient come in and just surprise me by the circumstances of her needing care," said Dr. Sarah Horvath, a family planning fellow at the American College of Obstetricians and Gynecologists. The organisation urged Ohio's governor to veto the heartbeat legislation presented in 2016.
Fetal heartbeat legislation could prevent women from seeking an abortion before they even realise they are pregnant, Dr. Horvath added.
If they weren't intending to become pregnant or taking pregnancy tests routinely, most would have no idea they're pregnant at that point
Margaret Atwood, The Handmaid's Tale speculative fiction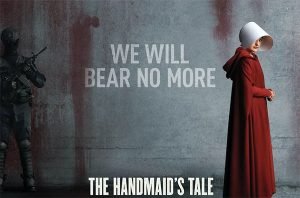 Fitting with her claims that The Handmaid's Tale is a work of speculative fiction, not science fiction, Atwood's novel offers a satirical view of various social, political, and religious trends of the 1980s United States. Further, Atwood questions what would happen if these trends, and especially "casually held attitudes about women" were taken to their logical end.
Atwood continues to argue that all of the scenarios offered in The Handmaid's Tale have actually occurred in real life—in an interview she gave regarding Oryx and Crake, Atwood maintains that "As with The Handmaid's Tale, I didn't put in anything that we haven't already done, we're not already doing, we're seriously trying to do, coupled with trends that are already in progress… So all of those things are real, and therefore the amount of pure invention is close to nil." Atwood was also known to carry around newspaper clippings to her various interviews to support her fiction's basis in reality.Atwood has explained that The Handmaid's Tale is a response to those who claim the oppressive, totalitarian, and religious governments that have taken hold in other countries throughout the years "can't happen here"—but in this work, she has tried to show how such a takeover might play out.
Atwood's inspiration for the Republic of Gilead came from her time studying early American Puritans while at Harvard, which she attended on a Woodrow Wilson Fellowship. Atwood argues that the modern view of the Puritans—that they came to America to flee religious persecution in England and set up a religiously tolerant society—is misleading, and that instead, these Puritan leaders wanted to establish a monolithic theocracy where religious dissent would not be tolerated.
Support Labour Heartlands
Help Us Sustain Ad-Free Journalism
Sorry, I Need To Put Out the Begging Bowl
Independent Journalism Needs You
Our unwavering dedication is to provide you with unbiased news, diverse perspectives, and insightful opinions. We're on a mission to ensure that those in positions of power are held accountable for their actions, but we can't do it alone. Labour Heartlands is primarily funded by me, Paul Knaggs, and by the generous contributions of readers like you. Your donations keep us going and help us uphold the principles of independent journalism. Join us in our quest for truth, transparency, and accountability – donate today and be a part of our mission!
Like everyone else, we're facing challenges, and we need your help to stay online and continue providing crucial journalism. Every contribution, no matter how small, goes a long way in helping us thrive. By becoming one of our donors, you become a vital part of our mission to uncover the truth and uphold the values of democracy.
While we maintain our independence from political affiliations, we stand united against corruption, injustice, and the erosion of free speech, truth and democracy. We believe in the power of accurate information in a democracy, and we consider facts non-negotiable.
Your support, no matter the amount, can make a significant impact. Together, we can make a difference and continue our journey toward a more informed and just society.
Thank you for supporting Labour Heartlands
Just click the donate button below