Queen Elizabeth II, the UK's longest-serving monarch, has died at Balmoral aged 96, after reigning for 70 years.
The Queen has died aged 96, Buckingham Palace has announced.
"The Queen died peacefully at Balmoral this afternoon. The King and the Queen Consort will remain at Balmoral this evening and will return to London tomorrow," Buckingham Palace said.
Queen Elizabeth II was the longest-reigning monarch in British history and the world's oldest head of state.
On her death, the Queen's eldest son and heir, Charles, the former Prince of Wales, has become King of the United Kingdom and 14 Commonwealth realms.
No official details have been released about what will happen over the coming days, but it is anticipated that the Queen will be given a full state funeral, as is traditional to mark the death of a monarch.
It is also expected that her body will lie in state to allow the public to pay tribute.
The King will sign off the final plans in the coming days.
Her family gathered at her Scottish estate after concerns grew about her health earlier on Thursday.
The Queen came to the throne in 1952 and witnessed enormous social change.
With her death, her eldest son Charles, the former Prince of Wales, will lead the country in mourning as the new King and head of state for 14 Commonwealth realms.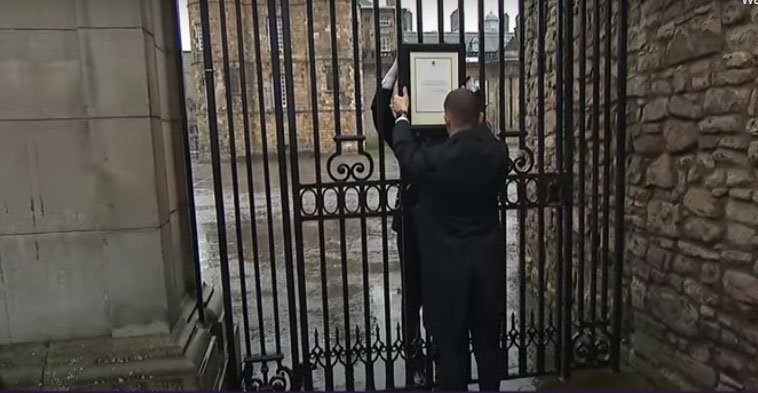 In a statement, Buckingham Palace said:
"The Queen died peacefully at Balmoral this afternoon.
"The King and the Queen Consort will remain at Balmoral this evening and will return to London tomorrow."
All the Queen's children travelled to Balmoral, near Aberdeen, after doctors placed the Queen under medical supervision.
Her grandson, Prince William, is also there, with his brother, Prince Harry, on his way.
Queen Elizabeth II's tenure as head of state spanned post-war austerity, the transition from empire to Commonwealth, the end of the Cold War and the UK's entry into – and withdrawal from – the European Union.
Her reign spanned 15 prime ministers starting with Winston Churchill, born in 1874, and including Liz Truss, born 101 years later in 1975, and appointed by the Queen earlier this week.
She held weekly audiences with her prime minister throughout her reign.
At Buckingham Palace in London, crowds awaiting updates on the Queen's condition began crying as they heard of her death.
The Queen was born Elizabeth Alexandra Mary Windsor, in Mayfair, London, on 21 April 1926.
Support Labour Heartlands
PLEASE HELP US KEEP GOING AD-FREE
This is a "Pay as You Feel" website.
Hey there! Thanks for stopping by. If you've enjoyed reading the articles on Labour Heartlands so far, We would be incredibly grateful if you could consider making a small donation. Labour Heathlands is not your typical news outlet. We are not here to simply regurgitate the daily news cycle, that's for the rest of them. Our focus is on delving deeper, uncovering the untold stories and shedding light on the issues that the mainstream media chooses to ignore.
Our unwavering commitment to journalistic integrity means that we are not influenced by any external forces. We are not beholden to PR companies, advertisers or press barons, and we refuse to let anyone dictate what we report on. Our editorial independence is sacrosanct, and our only allegiance is to the truth.
While we do not align ourselves with any particular political party, we stand firmly against corruption, injustice and the erosion of truth and the rule of law. We believe that accurate information is the lifeblood of a democracy and that facts are not up for debate.
Once again, thank you for your support – We truly couldn't do this without you!
PLEASE HELP US KEEP GOING AD-FREE