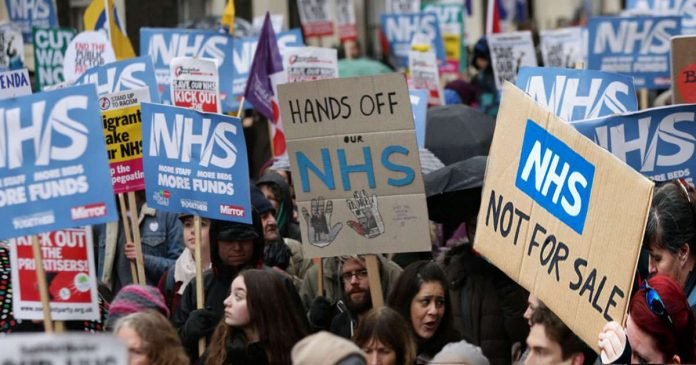 We should be guarding against all future trade deals but let's not pretend the HNS is not already swamped with leeches sucking its lifeblood.
Privatisation of our NHS is bad for patients, bad for staff and completely flies in the face of the founding principles of our NHS but that's never stopped successive governments before.
Privatisation' is a politically charged term without a precise definition. In Britain, it is associated with the sell-off of nationalised industries and utilities as we witnessed under Margaret Thatcher, John Major, David Cameron and Nick Clegg with Royal Mail. This classic model involved whole enterprises being moved into private ownership through the mass sale of shares. But historically this is only one manifestation of privatisation.
There are others forms of privatisation…
Realising that privatisation of the NHS would be severely unpopular, the Thatcher Government instead started a programme of outsourcing. This continued and expanded under Blair and New Labour, it has been a constant policy for governments of all colours with no one willing or having the vision to break the chain.
This has been accelerated over the last ten years. Since the passing of the Health and Social Care Act in 2012, the NHS in England has been forced down a route of increased marketisation and privatisation – and the Government has accelerated its aggressive outsourcing to private firms during the COVID-19 pandemic.
Cronyism and outsourcing has defined this government's response to the pandemic, from the "VIP lane" for personal protective equipment (PPE) to suppliers with connections to the Tory party to the privatised track and trace system so flawed it was described by Sage as only being of "marginal impact".
The existence of a separate channel for politically connected firms wanting to supply personal protective equipment (PPE) has been the source of sustained criticism, with a number of companies linked to Conservative MPs and friends of ministers receiving major government contracts.
Civil servants found themselves "drowning" in bids for Covid contracts that failed to meet due diligence standards after the government created a "VIP lane" for politically connected suppliers.
The evidence disclosed as a result of a legal action brought against the government by the Good Law Project shows the controversial scheme resulted in a deluge of non-credible offers to supply personal protective equipment (PPE), some of them recommended by MPs and ministers.
The government repeatedly refused to reveal which companies were awarded public money after having their bids assessed through the VIP lane, citing "commercial confidentiality".
In open court, lawyers acting on behalf of the Government admitted it had breached the law by persistently failing to publish details of COVID-19 contracts. 
If the government's pandemic response is left unchecked it will shape the future structures of the NHS, procurement and public scrutiny. This cronyism has clearly been seen in the Covid procurement contracts, which has functioned as a giant slush fund for Tory friends and donors.
It was shown when the then health secretary, Matt Hancock, acted unlawfully by failing to publish multibillion-pound Covid-19 government contracts within the 30-day period required by law, a high court judge has ruled.
The judge, Mr Justice Chamberlain, ruled the failure to do so breached the "vital public function" of transparency over how "vast quantities" of taxpayers' money was spent.
The judgment was a victory for the Good Law Project (GLP), a crowdfunded not-for-profit organisation that is making a series of legal challenges related to the government's procurement of protective personal equipment (PPE) and other services during the pandemic.
Not only were they knowingly in breach of the law, but explosive emails read to the High Court reveal that Number 10 asked civil servants to delay publishing PPE contracts even further in order to suit their news agenda. The government openly breaching the law for their own political expediency may no longer surprise us, but it is a worrying sign indeed for our democracy.
Again tasked with rolling out millions of coronavirus tests, the then health secretary, Matt Hancock, opted for a centralised system using private firms. The business consultancy, Deloitte, was handed a contract to help run testing through local drive-in and walk-in test sites, with swabs being sent for analysis at a network of national laboratories, many also outsourced. Serco was also handed a deal to run contact tracing, subcontracting work to other firms as well.
These are just small parts of the sum, the NHS is a 'cash cow' for pharmaceutical companies and now family and friends of Tory MPs and peers.
This outsourcing is being carried out with minimal oversight, governance or transparency. There is no ability to scrutinise these deals and public money is haemorrhaging from the Treasury while a health and care system in desperate need of investment and resources is ignored.
Urgent action is required to protect the NHS and ensure public money is spent in a responsible manner. In the long term, the health service must be protected and returned to being a genuinely publicly funded, publicly provided and publicly accountable system.
Some of the most lucrative contracts received by firms such as PwC and Deloitte since the pandemic began
Since the onset of the pandemic, the government has spent tens of millions of pounds on management consultants to help it manage elements of the Covid-19 response, from the much-criticised NHS test-and-trace programme to buying PPE.
The UK's largest consulting firms have been paid more than £100m to advise the government on its response to the coronavirus pandemic, according to a string of delayed disclosures from Whitehall in recent weeks.
A huge amount of public money has been spent on consultation, a number of the consulting contracts have also come under fire over the services provided.
The Finacial Times reported a total of 106 contracts worth £109m have been agreed upon between various government departments and consulting firms such as PwC, Deloitte and McKinsey since March, as civil servants scrambled for support to source personal protective equipment, set up test and trace programmes and acquire thousands of new ventilators as the pandemic gathered pace.
The NAO – which examined whether government procurement followed due process – found examples of contracts, some for hundreds of millions of pounds, being awarded without basic documents that would normally be drawn up to protect against the misuse of public funds.
Bids from companies referred by a political connection to the scheme were taken more seriously, according to the NAO, with suppliers in the high-priority channel viewed as having been "pre-sifted for credibility by being referred by a senior credible source".
The Department of Health and Social Care (DHSC) accounted for 90% of the £18 billion worth of contracts issued up to August, according to the report.
Michael Gove and Dominic Cummings were both drawn into the debacle after the spending watchdog said officials failed to consider potential conflicts of interests involving companies linked to them.
The National Audit Office revealed that officials had signed contracts for hundreds of thousands of facemasks which turned out to be unusable – wasting hundreds of millions of pounds.
It's true the NHS will always be "free at the point of entry", how else will the government justify the vast amounts of public money needed to maintain the NHS, it's who, where and what happens to that money that matters. That's how we get short-changed that's privatisation through the back door.
The great PFI heist
There are many reasons the NHS will always be within the public domain none more so than the why it is used to milk money into the Bankers pockets, we can thank 'The great PFI heist' Thanks to Blair and Brown the PFI debt for the British taxpayer on the last count in 2018 was more than £300bn for infrastructure projects, with a value of £54.7bn. To put it into perspective, the PFI debt is four times the size of the budget deficit used to justify austerity, guess what, that dept has never and will never go down.
Sir Howard Davies, chairman of the Royal Bank of Scotland (RBS), made an astonishing admission on BBC1's Question Time when he stated that private finance initiatives (PFI) had been a "fraud on the people". Beyond seemingly populist rhetoric, the real story of PFI reveals that RBS alongside other global banks, notably HSBC, were instrumental in what Sir Howard has effectively labelled a great heist.
Youssef El-Gingihy writing in 2018 stated: "Of course, PFI was not always a toxic brand. In 1997 it appeared to be New Labour's magical solution to chronic underinvestment in public services in the wake of Thatcherism.
As Alan Milburn – the former Labour Health Secretary described by Private Eye as an "almost maniacal convert to PFI" – put it: "It's PFI or bust."
The argument went that Labour had inherited public services in such a diabolical state of neglect that there was no alternative to the private financing of whole swathes of infrastructure.
It was a persuasive argument that seduced many. The Blairite Third Way would somehow square the circle by delivering new schools, hospitals, roads, railways and prisons without the debt or inefficiency of the public sector. It seemed too good to be true yet those who dared to question the orthodoxy du jour were swatted away.
PFI deals insulated the lenders and equity investors from the risk that any future government may renege on the original agreements or seek to renegotiate them. This has meant that irrespective of the extreme budgetary constraints on local authorities and NHS Trusts, as well as the shrinking amount of money available for schools, hospitals and social care, they are still required to make annual payments to the PFI companies.
As early as 1999, Richard Smith, editor of the British Medical Journal, denounced it as "PFI: Perfidious Financial Idiocy" in an editorial revealing that repayments would be exorbitant. In the same year, Professor Allyson Pollock and colleagues published a paper sounding the alarm over the potentially disastrous consequences of PFI debt and the financialisation of public services. And in a 2004 long read for Private Eye the late Paul Foot exposed the seedy underbelly of its history.
Now the unheeded prophecies of the Cassandras have come true.
Vivek Kotecha is Research Officer at the Centre for Health and the Public Interest, states in his article for the London school of economics: "These guaranteed payments provide PFI companies and their lenders with substantial returns in the form of profit and interest which are in excess of returns on projects with similar risks. They also lock public authorities into contracts for 25-30 years for cleaning and facilities maintenance services, and sometimes require that they make payments for buildings which are no longer needed. The ultimate end point for dealing with the legacy of these deals in the public sector is therefore to reduce the cost of the debt repayments, end excess profiteering, and allow public bodies to break the contracts.
The Case for a Public Option for the Drug Industry
Greater democratic, public control over the research, development, production, and sale of medicines would help the government fulfil its obligations to ensure the right to health for all. It would also be consistent with, and reinforce, the principles of the NHS. Delivering universality and equity in accessing medicines is crucial to ensuring that our public healthcare system is accessible for all. And it could increase the amount of secure, high-quality jobs in our economy.
The amount of public money spent on R&D should not only see a return on the product but profits too.
UK spending on Covid vaccines hits nearly £12bn, Cost does not cover future multiyear programmes for jabs, according to the National Audit Office. The UK invested hundreds of millions in the research to produce the vaccine any investor would surely have expected a return on future profits.
Of course, we must also look at Jeremy Corbyn's plan when has Labour Party Leader, he announced Labour's plans to put "public health before private profit" by ensuring that pharmaceutical companies make vital drugs available at prices that the National Health Service can afford.
Jeremy Corbyn stated a Labour government would establish a state-funded generic drug manufacturer to make life-saving medicines affordable to all, he said that private drugs companies will be required to keep prices down as a condition of receiving public funding for research. It's doubtful we will ever see policies like that again, the reality is the NHS will always remain a public institution how else will the Olicharchy and big Pharma feed from the public purse
We can almost guarantee that won't be in Starmer's little policy pot. Neither will any proposals to build state-owned pharmaceutical companies.
A good place to fight and win back the NHS is with 'We Own It!' LINK HERE
Support Labour Heartlands
Help Us Sustain Ad-Free Journalism
Sorry, I Need To Put Out the Begging Bowl
Independent Journalism Needs You
Our unwavering dedication is to provide you with unbiased news, diverse perspectives, and insightful opinions. We're on a mission to ensure that those in positions of power are held accountable for their actions, but we can't do it alone. Labour Heartlands is primarily funded by me, Paul Knaggs, and by the generous contributions of readers like you. Your donations keep us going and help us uphold the principles of independent journalism. Join us in our quest for truth, transparency, and accountability – donate today and be a part of our mission!
Like everyone else, we're facing challenges, and we need your help to stay online and continue providing crucial journalism. Every contribution, no matter how small, goes a long way in helping us thrive. By becoming one of our donors, you become a vital part of our mission to uncover the truth and uphold the values of democracy.
While we maintain our independence from political affiliations, we stand united against corruption, injustice, and the erosion of free speech, truth and democracy. We believe in the power of accurate information in a democracy, and we consider facts non-negotiable.
Your support, no matter the amount, can make a significant impact. Together, we can make a difference and continue our journey toward a more informed and just society.
Thank you for supporting Labour Heartlands
Just click the donate button below