Sinn Fein to re-enter power sharing in Northern Ireland
Sinn Fein president Mary Lou McDonald has announced that the party has agreed to back a deal to restore powersharing at Stormont – a move that confirms the return of devolved government in Northern Ireland after a three-year absence.
Mary Lou McDonald said: "Sinn Fein has met today and has taken the decision to reenter the powersharing institutions and to nominate ministers to the powersharing executive.
We believe that the changes that have been achieved in the negotiations in the last year build on what was agreed in February 2018.
We now have Acht Gaeilge with official legal recognition of the Irish language for the first time. AN Irish language commissioner and increased Irish language funding."
Ms McDonald adds: "The first action of incoming executive must be to deliver pay parity to health workers. There are also a range of proposals to support our teachers.
Improved education provision, welfare mitigation to be extended beyond March 2020, proposals on workers rights and climate change, investment in stadia including Casement Park and ending regional imbalance.
But we now have a basis to restore powersharing, and we are up for that
Ms McDonald said there has been progress on abortion rights for women and same-sex marriage for people in Northern Ireland.
"I want to reject in the strongest possible terms the British governments commitments to the DUP on flags and other issues. These are not part of this agreement. In our view they fly in the face of the Good Friday Agreement and they represent bad faith.
It is disappointing that the Irish government acquiesced to these measures.
"But we now have a basis to restore powersharing, and we are up for that."
Mrs McDonald said: "I believe that powersharing can work. It requires everyone to step up. Sinn Fein's commitment is to do all in our power to make this happen.
We need to have an inclusive executive. At these historic times we will also continue to work for Irish reunification and we want to ensure that the criteria for the triggering of an Irish unity poll are set out and that planning for Irish Unity is stepped up.
Including the convening of the national forum to discuss and plan for the future.
"Three years ago, Martin McGuinness set down a challenge to all of us to get it right and deliver for all, for every single citizen. And now we need to go to work."
The Sinn Fein president adds: "Lets get back to work. Getting back to work for the political parties means sitting at the Executive table, sharing the decisions, sharing the load and delivering for the rest of us for our people."
The history in brief and What went wrong?
In Northern Ireland, the government's power must be shared between two different political parties. This is a result of something called the Good Friday Agreement, which came about to bring peace to Northern Ireland.
The First Minister and Deputy First Minister lead the government – one representing each of the two parties in power. Although they have different job titles, they basically have the same powers and must work together. Together, they are referred to as the Northern Ireland Executive.
But nearly three years ago there was a power-sharing argument between the two governing parties (the DUP – or Democratic Unionist Party – and Sinn Fein), which led to the government at Stormont being dissolved.
The argument was about whether the First Minister Arlene Foster – the leader of the DUP – ran things badly or not.
The Deputy First Minister Martin McGuinness from Sinn Fein said she did and he left his job because of this disagreement, which reached a peak with an argument about a green energy scheme.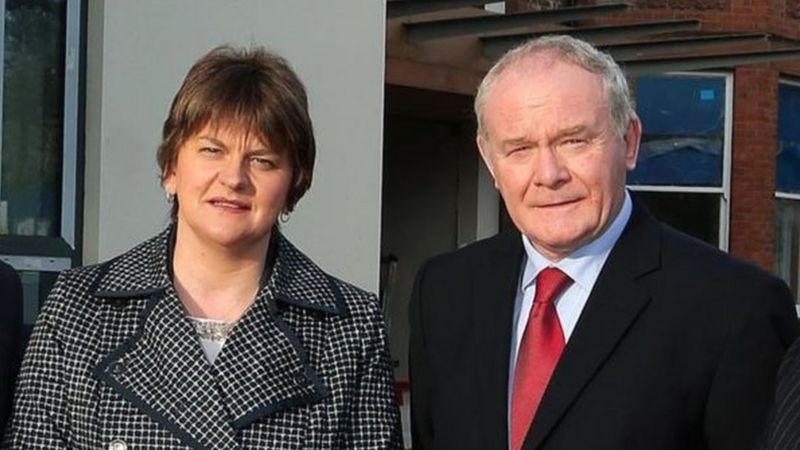 He had been deputy first minister since the DUP and Sinn Fein made a historic agreement to share power back in 2007.
When Mr McGuinness resigned, Sinn Fein refused to appoint anyone else to his job to replace him, which meant that new elections had to take place.
Under Northern Ireland's power-sharing agreement, Mrs Foster lost her role as first minister as a result of what happened. She said she was "disappointed" by his move.
Support Labour Heartlands
PLEASE HELP US KEEP GOING AD-FREE
This is a "Pay as You Feel" website.
Hey there! Thanks for stopping by. If you've enjoyed reading the articles on Labour Heartlands so far, We would be incredibly grateful if you could consider making a small donation. Labour Heathlands is not your typical news outlet. We are not here to simply regurgitate the daily news cycle, that's for the rest of them. Our focus is on delving deeper, uncovering the untold stories and shedding light on the issues that the mainstream media chooses to ignore.
Our unwavering commitment to journalistic integrity means that we are not influenced by any external forces. We are not beholden to PR companies, advertisers or press barons, and we refuse to let anyone dictate what we report on. Our editorial independence is sacrosanct, and our only allegiance is to the truth.
While we do not align ourselves with any particular political party, we stand firmly against corruption, injustice and the erosion of truth and the rule of law. We believe that accurate information is the lifeblood of a democracy and that facts are not up for debate.
Once again, thank you for your support – We truly couldn't do this without you!
PLEASE HELP US KEEP GOING AD-FREE