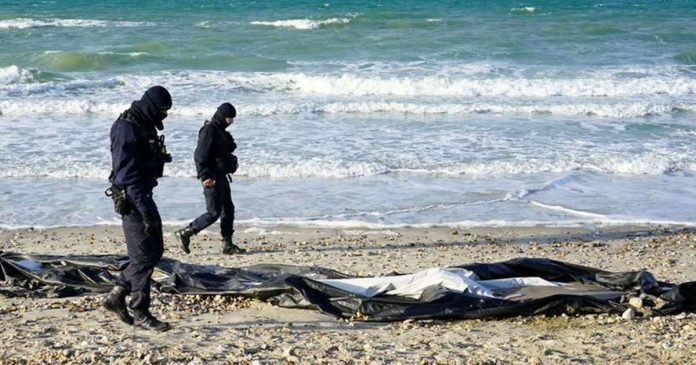 More than 27 migrants died Wednesday crossing the Channel from France to England when their boat sank off the northern port of Calais, authorities said, the deadliest single disaster on the intensively-used route.
At least 27 migrants have died after a boat sank off the coast of Calais on Wednesday, French police have told AFP news agency.
Fishermen initially reported discovering 15 bodies floating in the water at around 2:00 pm.
A French navy vessel recovered five dead bodies and five other people unconscious.
The provisional death toll was later increased to 27.
It comes as record numbers of migrants have attempted to cross from France to the UK this year.
The French interior ministry said in a statement that French patrol vessels found corpses and people unconscious in the water after a fisherman sounded the alarm about the accident. Police then said in a statement that "over 20" people had died.
Three helicopters and three boats have been deployed to take part in the search, local authorities said.
Interior Minister Gérald Darmanin, who is heading to the scene, wrote on Twitter that "many people" had died in the incident, adding that "the criminal nature of the smugglers who organise these crossings cannot be condemned enough".
Le naufrage survenu dans la Manche est une tragédie.
Mes pensées vont aux nombreux disparus et blessés, victimes de passeurs criminels qui exploitent leur détresse et leur misère.
Je suis la situation en temps réel.@GDarmanin se rend sur place.

— Jean Castex (@JeanCASTEX) November 24, 2021
"The sinking in the English Channel is a tragedy. My thoughts go out to the many missing and injured, victims of criminal smugglers who exploit their distress and misery."
"The disaster in the Channel is a tragedy," added Prime Minister Jean Castex. "My thoughts are with the many missing and injured, victims of criminal smugglers who exploit their distress and misery," he wrote on Twitter.
"The criminal nature of the smugglers who organise these crossings cannot be overstated," he added.
The Dunkirk public prosecutor's office told AFP that an investigation had been opened for "aiding illegal entry and residence in an organised gang" and "aggravated manslaughter".
The disaster, the worst single loss of life recorded in recent times from migrant crossings in the Channel, comes as tensions grow between London and Paris over the record numbers of people crossing.
Prime Minister Boris Johnson will chair a meeting of the Cobra emergency committee in response to the deaths, Downing Street said.
"Twenty-four corpses were recovered and 26 people are alive," Franck Dhersin, mayor of Teteghem and vice president of transport for the northern France region was quoted as saying.
Britain has urged tougher action from France to stop migrants making the voyage.
French prime minister Jean Castex has said the shipwreck is a "tragedy".
"My thoughts are with the many missing and injured, victims of criminal smugglers who exploit their distress and injury," he said.
Dover MP Natalie Elphicke has said the events are an "absolute tragedy".
She continued: "It underlines why saving lives at sea starts by stopping the boats entering the water in the first place.
"As winter is approaching the seas will get rougher, the water colder, the risk of even more lives tragically being lost greater.
"That's why stopping these dangerous crossings is the humanitarian and right thing to do."
Growing post-Brexit tensions
According to the French authorities, 31,500 people attempted to leave for Britain since the start of the year, and 7,800 people have been rescued at sea, figures that doubled since August.
Seven people have been confirmed dead or are still missing and feared drowned after various incidents this year.
In Britain, the ruling right-wing Conservative party of Prime Minister Boris Johnson is coming under intense pressure, including from its own supporters, to reduce the numbers crossing.
French police said this week they detained 15 suspected members of an international migrant smuggling syndicate that helped people illegally cross the Channel to Britain.
The network of Iraqi Kurds, Romanians, Pakistanis and Vietnamese helped a minimum of 250 people per month cross to England, using small boats that transport up to 60 migrants at a time.
Passage to England would cost a migrant €6,000 ($6,800) and the smugglers racked up some €3 million ($3.4 million) in total profits.
According to British authorities, more than 25,000 people have now arrived illegally so far this year, already triple the figure recorded in 2020.
The issue has added to growing post-Brexit tensions between Britain and France, with a dispute about fishing rights also still unresolved.
Our thoughts go out to all those Lost At Sea.
(AFP)
Support Labour Heartlands
PLEASE HELP US KEEP GOING AD-FREE
HELP US GROW.
This is a "Pay as You Feel" website.
This blog has no source of state, corporate or institutional finance whatsoever. It runs entirely on voluntary subscriptions from its readers – many of whom do not necessarily agree with every article, but welcome the alternative voice, insider information and debate.
You can have access to all of our online work for free. However if you want to support what we do, you could make a small donation to help us keep writing and staying ad-free. The choice is entirely yours.