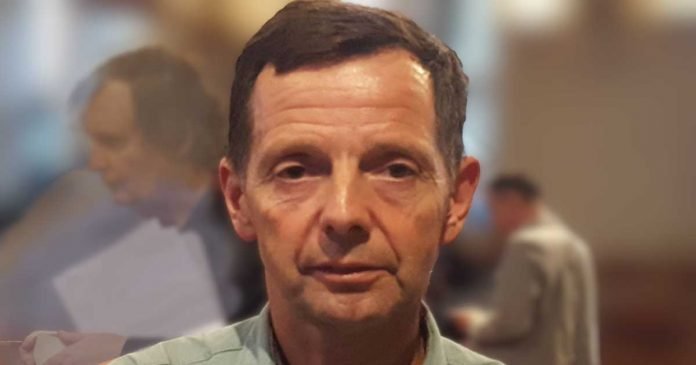 From Oversight to Accused: Former Police Watchdog Director Faces Serious Charges
Michael Lockwood, the former director general of the Independent Office for Police Conduct (IOPC), has been charged with six counts of indecent assault and three counts of rape involving a girl under the age of 16.
The charges come after a historical allegation against Lockwood, which led to his departure from the IOPC in December. Rosemary Ainslie, head of the special crime division at the CPS, stated that the decision to proceed with charges was made after careful consideration of the evidence provided by Humberside Police.
Crown Prosecution Service (CPS) say the alleged offences occurred between October 1985 and March 1986.
He denies the charges.
Lockwood was forced to resign last year, when it emerged he was being investigated for alleged historical offences.
Rosemary Ainslie, the head of the special crime division at the CPS, said: "After carefully considering all of the evidence provided to us by Humberside police, we have authorised charges against Michael Lockwood, 64, for nine offences under the Sexual Offences Act 1956.
"Mr Lockwood has been charged with six counts of indecent assault and three offences of rape against a girl under the age of 16, alleged to have been committed during the 1980s. The Crown Prosecution Service reminds all concerned that criminal proceedings against Mr Lockwood are active and that he has the right to a fair trial."
Lockwood's lawyer, , of the solicitors PCB Byrne, said: "Mr Lockwood strenuously denies all of these allegations from nearly 40 years ago. He will strongly defend his position and will continue to cooperate with the proceedings."
Lockwood, 64, will face trial at Hull Magistrates' Court on 28 June, where he will have the opportunity to defend himself.
As the news broke, the IOPC acknowledged the charges against Lockwood and clarified that he was a Crown appointee and not an employee of the organisation. Recognising the sensitivity of the ongoing criminal proceedings, they refrained from making further comments.
Lockwood's tenure as director general began in 2018 when he became the inaugural leader of the newly established IOPC, replacing the Independent Police Complaints Commission. The IOPC plays a crucial role in addressing and investigating serious complaints against police forces in England and Wales.
Before his role at the IOPC, Lockwood held various positions in central and local government, including serving as the chief executive of Harrow Council in North-west London. He was also entrusted with leading the recovery and remediation efforts, as well as engaging with the bereaved families and survivors, in the aftermath of the tragic Grenfell Tower fire in 2017.
The charges against Lockwood if true represent a shocking betrayal of trust and highlight the need for robust systems of accountability, particularly in positions of authority. The allegations serve as a stark reminder that no individual should be above the law, irrespective of their previous positions or accomplishments
Support Labour Heartlands
WAIT! BEFORE YOU GO
PLEASE HELP US KEEP GOING AD-FREE
This is a "Pay as You Feel" website.
Your support for Labour Heartlands is greatly appreciated. As an independent nonprofit news outlet, we rely on our members to hold the powerful accountable. Our kind of reporting is essential to democracy, but it is not easy, cheap, or profitable.
To continue providing impactful journalism, we need your help. It's getting really hard for us all. Becoming one of our donors. It's simple and doesn't have to cost a lot. With as little as £2, £3, or £5 a month, you can support the journalism you rely on.
While we do not align ourselves with any particular political party, we stand firmly against corruption, injustice, and the erosion of truth and the rule of law. We believe that accurate information is the lifeblood of a democracy and that facts are not up for debate.
Your contribution, no matter how small, goes a long way in helping us continue our mission. Together, we can make a difference.
Thank you, The Labour Heartlands Team
PLEASE HELP US KEEP GOING AD-FREE