Calls come to stop compulsory Covid vaccines for NHS staff or risk shutting down the NHS
Mandatory vaccines for NHS staff could be pushed back by half a year, it was revealed last night, following nationwide protests over the requirement and amid demands by Tory backbenchers to drop the rule entirely.
Boris Johnson is said to be considering 'kicking it down the road' to avoid another potentially humiliating Tory revolt, reported the Telegraph.
It comes just two weeks before medical workers will be required to prove their vaccination status – with February 3 marking the last day they can book in for a jab. On February 4, those without jabs will face dismissal warnings. They will then be asked to work out their notice periods until March 31.
Ironically the reason for such a massive national vaccination program was to not only save the lives of those catching covid by reducing the worst of the virus effects but also to lessen the burden on the NHS through covid admissions.
If the government threat to sack unvaccinated NHS workers goes ahead, it could mean losing up to estimated 80,000 employees, which would of course create a real life-threatening crisis for patients and reduce the quality of care throughout, not to mention the already massive waiting list.
Despite the threats to their career and several booster campaigns, more than 80,000 NHS staff – six per cent of the workforce – remain unvaccinated.
Many of them joined protesters across the country on Saturday as they protested against the mandatory vaccine rules. In London, dozens of health workers were seen throwing their scrubs at police officers outside Downing Street, while others laid down their uniforms in Trafalgar Square.
Demonstrations were also held in other cities across the UK including Glasgow, Manchester, Birmingham and Leeds.
Scotland and Wales have not made any proposals to make Covid jabs compulsory for NHS workers or care home staff, while in Northern Ireland there will be a public consultation.
Healthcare workers dump their scrubs outside Downing Street during the protest march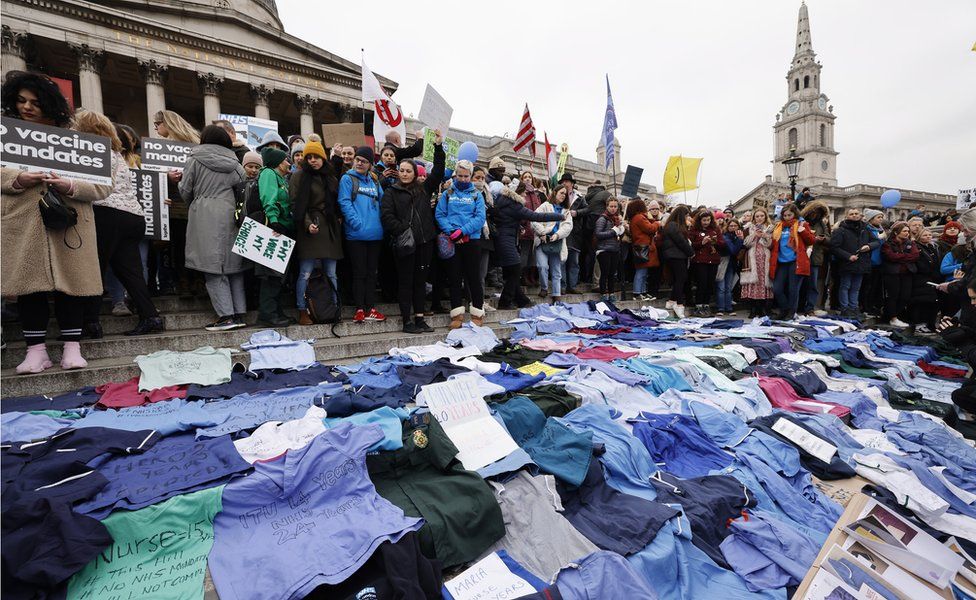 The UK recorded 76,807 coronavirus cases and 297 deaths within 28 days of a positive Covid-19 test, daily government figures show.
Martin Marshall, chairman of the Royal College of GPs, said compulsory vaccination for health professionals in England was "not the right way forward".
He said the vast majority of staff were vaccinated but some 70,000 to 80,000 were not and they accounted for 10% of staff at some hospitals or GP surgeries.
Some 94.3% of NHS trust health care workers in England have had a first dose of vaccine, and 91.5% have had a second dose, figures to 31 December show.
The data also shows there were 1,480,351 staff on the electronic record – although not all in patient facing roles. Some 1,395,268 staff members had had a first jab, leaving 85,083 unvaccinated.
If unvaccinated staff were taken out of frontline roles by 1 April there would be "massive consequences" for the NHS, Mr Marshall told BBC Radio 4's Today programme.
He said a delay would allow time for booster jabs and a "sensible conversation" about whether vaccines should be mandatory at all.
Danny Mortimer, deputy chief executive of the NHS Confederation, said some frontline staff would have to leave their roles if they chose not to be vaccinated.
He said: "This will reduce frontline NHS staff numbers even further and lead to more gaps in capacity at a time of intense pressure and patient demand."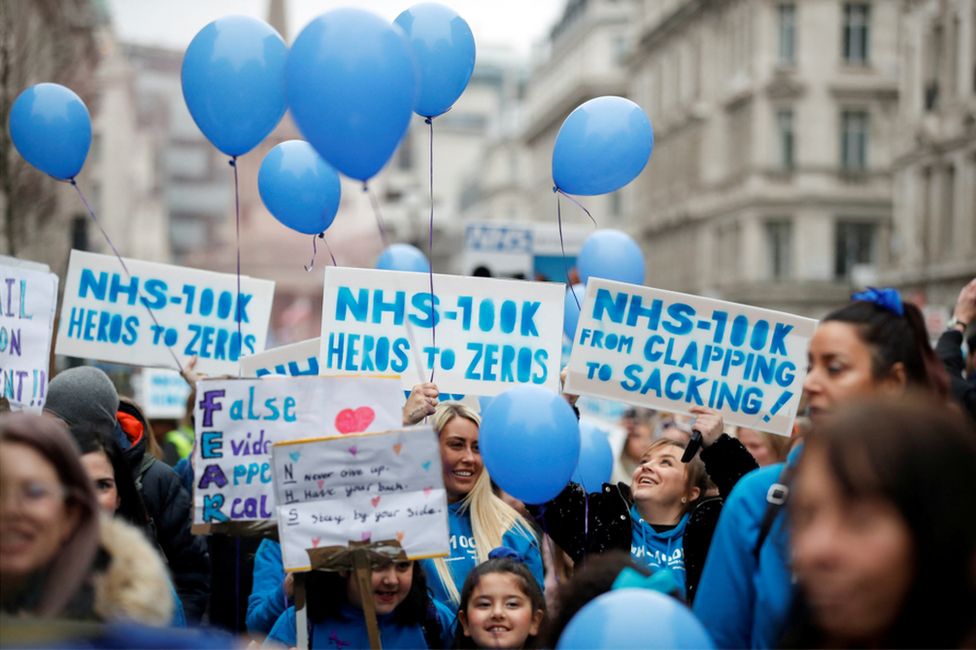 In London, demonstrators marched from Regents Park to the BBC headquarters in Portland Place in a peaceful protest against mandating vaccines for health workers.
But Dr Nikki Kanani, medical director of primary care for NHS England, said health care professionals had "a duty" to make sure they were protected.
She said: "If you're marching today, just take a moment, think about the people that you've been looking after who have experienced Covid, think about your colleagues who you've been working with, and think about the best way to make sure that we're all protected, and that we're all as safe as possible, because we are very much in this together and it's down to us to look after each other too."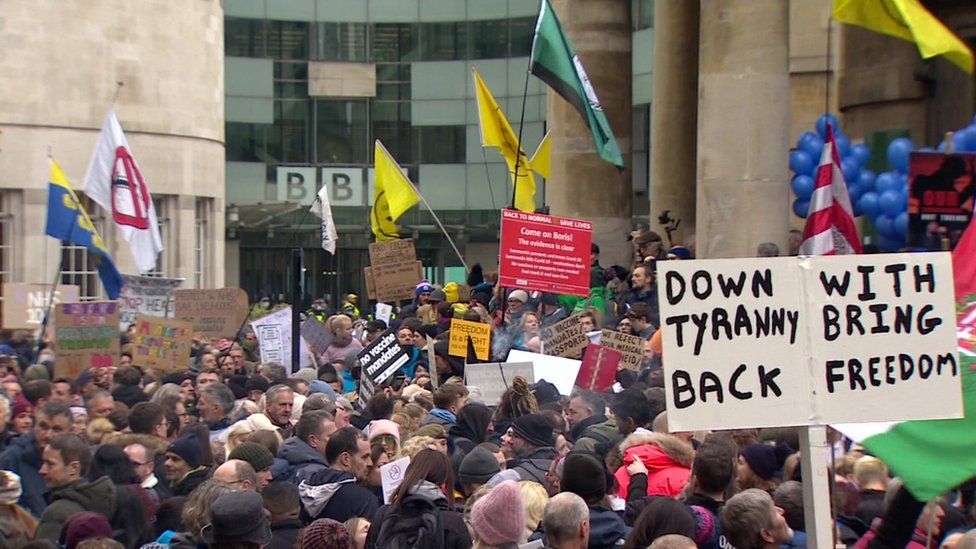 'I'd rather lose my job'
Meanwhile, Kate, a nurse in Hampshire, told the Today programme she was prepared to lose her job rather than have a coronavirus vaccine against her will.
"I don't feel like the vaccination needs to be mandated because we are medical professionals and we have enough information to make that decision for ourselves," she said.
"When I had Covid I was ill but not particularly unwell and when it comes to me being forced to do something or lose my job, I just can't understand how they think that's a sensible position.
"I'm good at my job, I care about people, and I certainly have never and would never put people at risk."
The deputy chief executive of NHS Providers, Saffron Cordery, said delaying the policy on mandatory vaccination was not the answer.
She said staff who worked with patients and choose not to be vaccinated "will be redeployed where that is possible, or potentially dismissed".
And while health bosses were worried about "exacerbating staff shortages at a time when the service is under huge operational pressures", the majority backed the policy.
She said: "The last thing trust leaders want to do is further deplete the workforce by dismissing their staff, but they are obliged to implement the law."https://emp.bbc.co.uk/emp/SMPj/2.44.11/iframe.htmlMedia caption,Watch: MPs approve mandatory Covid vaccination for front-line NHS workers in England
On Wednesday, some Conservative MPs called on Boris Johnson to rethink the policy.
The prime minister told the House of Commons the plan was supported by the NHS and that healthcare workers had a "professional responsibility" to get the jab.
But he added: "We will reflect on the way ahead. We don't want to drive people out of the service."
A Department of Health and Social Care spokesperson said front line staff looked after the most vulnerable people in society, who could face serious health consequences if exposed to the virus.
"Ensuring staff are vaccinated is the right thing to do to protect patients and those in care."
Support Labour Heartlands
Help Us Sustain Ad-Free Journalism
Sorry, I Need To Put Out the Begging Bowl
Independent Journalism Needs You
Our unwavering dedication is to provide you with unbiased news, diverse perspectives, and insightful opinions. We're on a mission to ensure that those in positions of power are held accountable for their actions, but we can't do it alone. Labour Heartlands is primarily funded by me, Paul Knaggs, and by the generous contributions of readers like you. Your donations keep us going and help us uphold the principles of independent journalism. Join us in our quest for truth, transparency, and accountability – donate today and be a part of our mission!
Like everyone else, we're facing challenges, and we need your help to stay online and continue providing crucial journalism. Every contribution, no matter how small, goes a long way in helping us thrive. By becoming one of our donors, you become a vital part of our mission to uncover the truth and uphold the values of democracy.
While we maintain our independence from political affiliations, we stand united against corruption, injustice, and the erosion of free speech, truth and democracy. We believe in the power of accurate information in a democracy, and we consider facts non-negotiable.
Your support, no matter the amount, can make a significant impact. Together, we can make a difference and continue our journey toward a more informed and just society.
Thank you for supporting Labour Heartlands
Just click the donate button below