Malta's government must "bear responsibility" for the murder of journalist Daphne
Malta's government must "bear responsibility" for the murder of journalist Daphne Caruana Galizia, an independent inquiry has found.
The inquiry's 437-page report, published on Thursday, said officials had failed to adequately protect Caruana Galizia from threats to her life prior to her death in October 2017.
The probe said that Maltese authorities had created a "culture of impunity" that led to her killing.
Caruana Galizia died in a car bombing in October 2017 as she was allegedly investigating corruption in a business linked to a wealthy businessman, Yorgen Fenech.
Fenech — who had close ties to the government — is the alleged mastermind behind the assassination and has been charged with complicity in her murder. He denies any responsibility.
On Thursday, a public inquiry committee said that although Malta's government did not play a direct role, it had failed to protect Caruana Galizia from threats to her life.
The report also said her assassination was clearly linked to her investigative work.
'Collapse in the rule of law'
The inquiry, conducted by one serving judge and two retired judges, found that a culture of impunity was created by the highest echelons of power within the government of the time.
"The tentacles of impunity then spread to other regulatory bodies and the police, leading to a collapse in the rule of law," said the panel's report, which was published by Prime Minister Robert Abela.
It said the state had failed to take reasonable steps to avoid real and immediate risks to Caruana Galizia's life.
It was clear, the inquiry board said, that the assassination was either intrinsically or directly linked to Caruana Galizia's investigative work.
Former Prime Minister Joseph Muscat resigned in January 2020 following Fenech's arrest. He was never accused of any wrongdoing.
Media later also revealed close links between Fenech, ministers, and senior police officers.
A "culture of impunity" had developed in the highest levels of the Maltese government in the years leading up to 2017, the committee found.
This culture had also spread to other parts of the state, such as the police, and led to a "breakdown in the rule of law", the report added.
The serious allegations were published by the office of Prime Minister Robert Abela on Thursday.
"The report merits mature analysis beyond partisan arguments," Abela said on Twitter. "Lessons must be drawn and the reforms must continue with greater resolve."
The public inquiry into Caruana Galizia's murder, which included 93 hearings, began in June 2019 following huge public pressure.
One man has been sentenced to 15 years in prison after pleading guilty to murdering Caruana Galizia. Two other suspected hitmen have been charged with planting the bomb and are awaiting trial
Another suspect, the alleged "middleman", has agreed to reveal details of the plot to kill the investigative journalist and was granted a pardon.
Malta's former Prime Minister Joseph Muscat resigned in January 2020 following Fenech's arrest and widespread protests but was never accused of any wrongdoing.
In a statement on Facebook, Muscat tried to distance his administration from "the state of impunity" mentioned in the report and pointed the finger at previous administrations.
The former PM said the arrests of the suspects months after the murder disproved "any impression of impunity that the alleged perpetrators may have had."
"I maintain that there was impunity in cases before my term in office, where high profile crimes were committed but nobody was ever prosecuted."
"There can never be any justification for the assassination of Daphne Caruana Galizia," he added.
Who was Daphne Caruana Galizia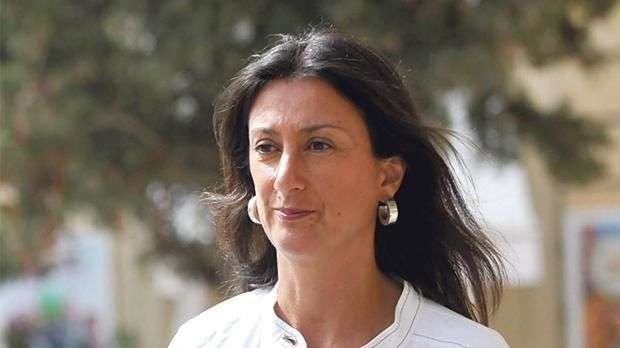 The best way to describe Daphne Caruana Galizia was a blogger whose investigations focused on corruption a one-woman WikiLeaks, crusading against un-transparency and corruption in Malta, an island nation famous for both.
To the corrupt like John Dalli, a former EU commissioner whom she helped bring down in a tobacco lobbying scandal, Galizia was "a terrorist." To opposition MPs, she's was a political force of nature, one who fortunately had her guns aimed at the other side of the aisle. "She single-handedly brought the government to the verge of collapse," says one MP. "The lady has balls," says another.
Panama Papers investigation
Galizia was one of the journalists who led the Panama Papers investigation into corruption in Malta and mainland EU countries. There have been many conspiracies behind the motives that brought about the assassination of Daphne Caruana Galizia who was killed in a car bomb near her home village of Bidnija on the Island of Malta in October 2017.
Daphne Caruana Galizia was an investigative reporter, a towering, intense mother of three, digging up dirt on the most powerful figures in Malta, the European Union's smallest member state.
Thousands read her blog, Running Commentary, in this golden-walled island nation of fewer than half a million people, located between Libya and Italy.
On Oct. 16, 2017, a warm, heavy day in Bidnija, the northern village where she lived with her lawyer husband in their garden-encircled home, she typed her blog's final words: "There are crooks everywhere you look now. The situation is desperate."
"They wanted to shut her up"
Caruana Galicia asked uncomfortable questions about alleged fuel smuggling, organized crime and the sale of Maltese passports, which allow free movement through the EU.
She dug into money laundering and fraud allegations at Pilatus Bank, run by Ali Sadr Hasheminejad, who is facing criminal prosecution in the United States. She combed through the leaked law firm records known as the Panama Papers and found offshore wealth tied to the Maltese prime minister's inner circle.
"They wanted to shut her up," says her 54-year-old sister Corinne Vella. "She obviously spoke truth to power. That was threatening to people in power."
Daphne Caruana Galizia died when her car, a Peugeot 108, was destroyed by a powerful explosive device which blew the vehicle into several pieces and threw the debris into a nearby field.
Caruana Galizia's supporters believe she was trying to root out that rot. They don't want her to be forgotten.
On the 16th of every month, they mark the day of her murder with a vigil outside the courthouse in Malta's capital Valletta.
The right of a journalist to investigate, ask uncomfortable questions and report effectively is at the heart of a free society and must be guaranteed at all times.
After Galizia was assassinated, it was reported, dozens of journalists are killed every year around the world in war zones or countries with weak rule of law like Russia. The European Union, a free-speech haven that's a refuge for journalists attacked in their own countries, was shocked that such a brazen murder could happen in their club.
Since 2017 we have seen a number of journalists murdered within the borders of the EU this supposed refuge of free-speech all with one thing in common, their dogged investigations into corruption.
Two weeks ago in Brussels Dutch journalist Peter R. de Vries died after a shooting in Amsterdam, De Vries was a prominent figure in the Dutch media, thanks to his investigations into organised crime and its connections in Dutch society. He was shot, reportedly five times, on the street in Amsterdam close to where he had just been appearing on RTL TV.
Two men have been arrested in connection with the shooting. One is a relative of an associate of Ridouan Taghi, allegedly the leader of a Moroccan-Dutch drugs gang that has no qualms about killing anyone who stands in their way.
There is a key witness in the case against Taghi and his gang, who is in protective custody. His lawyer, Derk Wiersum, has already been murdered, as has his own brother. Nonetheless, De Vries agreed to become his person of confidence, which placed him, not for the first time, in the sights of ruthless criminals.
The veteran journalist's family said in a statement released to local media.
"Peter fought to the end but was unable to win the battle," the statement said, according to RTL Nieuws. "He died surrounded by the people who love him. Peter lived by his conviction: 'On bended knee is no way to be free.'"
Support Labour Heartlands
Help Us Sustain Ad-Free Journalism
Sorry, I Need To Put Out the Begging Bowl
Independent Journalism Needs You
Our unwavering dedication is to provide you with unbiased news, diverse perspectives, and insightful opinions. We're on a mission to ensure that those in positions of power are held accountable for their actions, but we can't do it alone. Labour Heartlands is primarily funded by me, Paul Knaggs, and by the generous contributions of readers like you. Your donations keep us going and help us uphold the principles of independent journalism. Join us in our quest for truth, transparency, and accountability – donate today and be a part of our mission!
Like everyone else, we're facing challenges, and we need your help to stay online and continue providing crucial journalism. Every contribution, no matter how small, goes a long way in helping us thrive. By becoming one of our donors, you become a vital part of our mission to uncover the truth and uphold the values of democracy.
While we maintain our independence from political affiliations, we stand united against corruption, injustice, and the erosion of free speech, truth and democracy. We believe in the power of accurate information in a democracy, and we consider facts non-negotiable.
Your support, no matter the amount, can make a significant impact. Together, we can make a difference and continue our journey toward a more informed and just society.
Thank you for supporting Labour Heartlands
Just click the donate button below