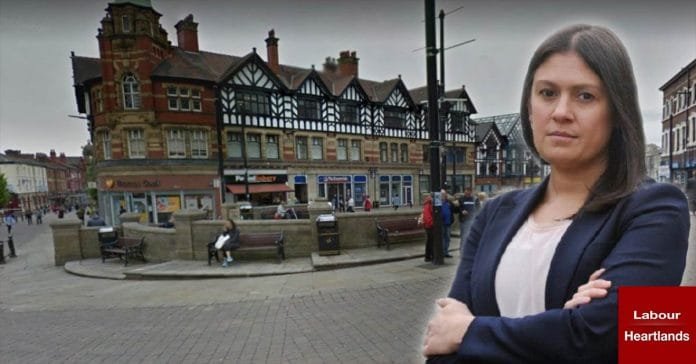 As the Labour Party scrambles to clarify their Brexit position after a dismal performance in the European elections, Labour MP Lisa Nandy warns against a second referendum. 
If we've succeeded in bringing the country together over Brexit, it's in the view shared by many leave and remain voters alike that politicians are, collectively, making a mess of it.
In Wigan, home to many remain voters and far more leavers, that feeling is expressed frequently. People have different views on what should happen next. Very few on either side seem to have changed their minds.
But almost universally on the doorstep questions about a second referendum are largely greeted with bewilderment. I am reminded frequently that we've had one already and it's time for Parliament to get on with it. To many it seems absurd.
Against this backdrop it doesn't surprise me that 72% of the electorate, particularly those in Leave areas, stayed at home in last week's elections and among them are friends, neighbours and constituents who don't feel anyone is acting in the national interest or deserves their vote.
They are confused about Labour's position. I've heard remain campaigners argue that Labour is being punished for sitting on the fence about Brexit. But shadow cabinet members, often with their encouragement, have been miles away from the fence openly arguing two contradictory positions on Brexit for two years. It has left us in the worst of all worlds where remainers believe we support Brexit while leavers believe we want to block it.
Some of those leave voters are much angrier than they were three years ago. They have been told there is only one moral choice on EU membership and anybody who believes otherwise is stupid or racist. They heard our promises to respect the outcome of the referendum in 2016, 2017 and 2018 and are frustrated by leading Labour figures calling for a second referendum before any serious attempt has been made to implement the result of the first. Leave-voting Labour Party members and supporters are angry about being lectured by people in London about "appeasing fascism" when they've just fought off Tommy Robinson and are devoting time and energy to defeating the growing threat from the far-right.
Every time I talk about this I am told I should be resolutely making the argument for remain. But I and others did exactly that in 2016, spending months in the most sceptical towns of the North West, North East and Midlands making the case for the many and varied benefits of EU membership. We weren't very much helped by a national campaign which championed the economic benefits of remaining. After decades of relative decline, and much EU structural fund investment focused on rebuilding our great cities, it just didn't cut it among many people in towns who had seen jobs disappear and young people leave, and it still doesn't. The unwillingness to listen to their experiences, and worse, to insult them, has created a tsunami that is propelling populist parties to victory and shifting leave voters to a No Deal stance.
I've been honest with my constituents. No Deal would hit our town and our country hard, costing jobs in manufacturing and services, and I will never support it. I have voted in favour of revoking Article 50 in the event of No Deal and I consistently make that increasingly difficult case back home. I have made that choice in the full knowledge of the personal and political consequences that may follow. What I won't do is pretend I want to give people a democratic choice between just two options they don't want, especially when they've already had a referendum. It is playing with fire.
And we are now staring down the barrel of No Deal. Parties advocating No Deal got more than half of the vote in Wigan last week and that preference shift has been evident for some time. If, as I suspect it would, a second referendum produces No Deal, what would we say to the country? We have got to wake up to the realities of where we are.
We could do better. The only route to Number 10 runs through our leave-voting towns and our remain-voting cities; through Scotland, Wales, Lewisham and Bolsover. Many of those areas have had very different experiences of globalisation in recent decades and produced very different results again this week. It's why a small group of Labour MPs who disagree about a second referendum have been trying to establish citizen's assemblies as a way of recognising these differences and establishing a dialogue, based on respect and an understanding of what is happening in parts of the country other than our own.
Attitudes in Labour are polarising, just as they are in the country. But there is a centre-ground of leave and remain voters alike, which is as passionate as the rest, but stayed home this week for lack of a clear voice in national politics. That is the ground we should build on. Without our historic coalition there will be no Labour government speaking for the many. If there is any prospect of bringing us together – for compromise – we have to start arguing for it. This is the more difficult path, but what are we in politics for if not to do the hard graft of persuading, negotiating our way through shared challenges, and providing a bridge?
Support Labour Heartlands
Help Us Sustain Ad-Free Journalism
Sorry, I Need To Put Out the Begging Bowl
Independent Journalism Needs You
Our unwavering dedication is to provide you with unbiased news, diverse perspectives, and insightful opinions. We're on a mission to ensure that those in positions of power are held accountable for their actions, but we can't do it alone. Labour Heartlands is primarily funded by me, Paul Knaggs, and by the generous contributions of readers like you. Your donations keep us going and help us uphold the principles of independent journalism. Join us in our quest for truth, transparency, and accountability – donate today and be a part of our mission!
Like everyone else, we're facing challenges, and we need your help to stay online and continue providing crucial journalism. Every contribution, no matter how small, goes a long way in helping us thrive. By becoming one of our donors, you become a vital part of our mission to uncover the truth and uphold the values of democracy.
While we maintain our independence from political affiliations, we stand united against corruption, injustice, and the erosion of free speech, truth and democracy. We believe in the power of accurate information in a democracy, and we consider facts non-negotiable.
Your support, no matter the amount, can make a significant impact. Together, we can make a difference and continue our journey toward a more informed and just society.
Thank you for supporting Labour Heartlands
Just click the donate button below