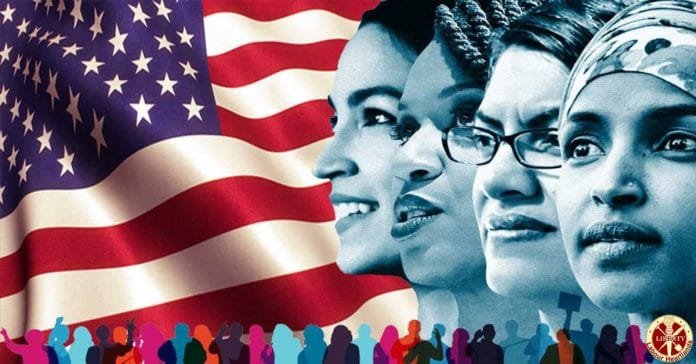 Trump tells Democratic congresswomen of colour to go back to where they came from.
In the 21st century however improbable it seems one man who holds the highest office of the land that of the president the united states can in a couple of tweets strip bear the facade of what should be the most civilised democratic country in the free world to show the ugly face of bigotry and racism.
It is very difficult sometimes to express thoughts and feelings on Donald Trump due to the position he holds. You can report on what he says or actions he takes but all the time I believe you should be mindful of the office he holds and the American people he represents.
However, on this occasion, I find the straw that breaks the camel's back is the most crass backward thinking tweet and statement made to date.
Even the reddest of Gammon's must flinch with embarrassment at such statements straight out the 1970's national front manual of morons.
These tweets showed the naivety and the blatant racism that due to Trump's position undermines the very office he represents.
The message Trump has sent out to the entire world has thrown the USA back decades.
During the past few weeks, migration-related issues in the US have stirred numerous debates. As Trump called for and then delayed, ICE raids across the country, to arrest illegal immigrants, regardless of their criminal records, to when Representative Alexandria Ocasio-Cortez of New York said that the Trump administration "has established concentration camps at the southern border."
The emerging debate has been rhetorical cacophony regarding historical accuracy and proper terminology. and as some Democrats from the House of Representatives visiting the southern border camps and testifying in front of the House Judiciary Committee to Trump calling for ICE raids again.
It is also indisputably true that the United States government is ripping children from the arms of their parents and putting them in cages. No matter who started the process Obama or Trump.
[vc_video link="https://www.youtube.com/watch?v=KWSf5QaZ9lY" align="center"]
Then Trump tweets of these "Progressive Democrat Congresswomen" calling them '"those coming from countries where governments are corrupted failures and asking why they don't go back to fix their crime-infested home countries".
He really dropped the ball this time.
….and viciously telling the people of the United States, the greatest and most powerful Nation on earth, how our government is to be run. Why don't they go back and help fix the totally broken and crime infested places from which they came. Then come back and show us how….

— Donald J. Trump (@realDonaldTrump) July 14, 2019
I have no need to state how America was made up of immigrants or how its communities thrived away from the european persecution of religion. More so how its soil is mixed with the blood and sweat of African slaves forced from their homes a content away. Nor do I need to mention the displaced indigenous native American Indians the dark evils we brought to that said continent.
These are the lessons of history the points of oppression but it was filled with highlights of hope carried out by the brave and courageous in a universal struggle against oppression who worked for respect and freedom of all.
There are highlights in the history of America taught in schoolrooms across the world showing how it turned its face to the light and deservedly became the land of the free, its rich history and moments that changed the world like Rosa Parks who defied segregation laws by refusing to give up her seat to a white passenger on a bus.
Moments we all cling to even here in my backwater English town of Chesterfield we cherish the words of Martin Luther King Jr.
[vc_video link="https://www.youtube.com/watch?v=vP4iY1TtS3s" align="center"]
I say to you today, my friends, so even though we face the difficulties of today and tomorrow, I still have a dream. It is a dream deeply rooted in the American dream.

I have a dream that one day this nation will rise up and live out the true meaning of its creed: "We hold these truths to be self-evident: that all men are created equal."

I have a dream that one day on the red hills of Georgia the sons of former slaves and the sons of former slave owners will be able to sit down together at the table of brotherhood.

I have a dream that one day even the state of Mississippi, a state sweltering with the heat of injustice, sweltering with the heat of oppression, will be transformed into an oasis of freedom and justice.

I have a dream that my four little children will one day live in a nation where they will not be judged by the color of their skin but by the content of their character.

I have a dream today.

I have a dream that one day, down in Alabama, with its vicious racists, with its governor having his lips dripping with the words of interposition and nullification; one day right there in Alabama, little black boys and black girls will be able to join hands with little white boys and white girls as sisters and brothers.

I have a dream today.

I have a dream that one day every valley shall be exalted, every hill and mountain shall be made low, the rough places will be made plain, and the crooked places will be made straight, and the glory of the Lord shall be revealed, and all flesh shall see it together.

This is our hope. This is the faith that I go back to the South with. With this faith we will be able to hew out of the mountain of despair a stone of hope. With this faith we will be able to transform the jangling discords of our nation into a beautiful symphony of brotherhood. With this faith we will be able to work together, to pray together, to struggle together, to go to jail together, to stand up for freedom together, knowing that we will be free one day.

This will be the day when all of God's children will be able to sing with a new meaning, "My country, 'tis of thee, sweet land of liberty, of thee I sing. Land where my fathers died, land of the pilgrim's pride, from every mountainside, let freedom ring."

And if America is to be a great nation this must become true. So let freedom ring from the prodigious hilltops of New Hampshire. Let freedom ring from the mighty mountains of New York. Let freedom ring from the heightening Alleghenies of Pennsylvania!

Let freedom ring from the snowcapped Rockies of Colorado!

Let freedom ring from the curvaceous slopes of California!

But not only that; let freedom ring from Stone Mountain of Georgia!

Let freedom ring from Lookout Mountain of Tennessee!

Let freedom ring from every hill and molehill of Mississippi. From every mountainside, let freedom ring.

And when this happens, when we allow freedom to ring, when we let it ring from every village and every hamlet, from every state and every city, we will be able to speed up that day when all of God's children, black men and white men, Jews and Gentiles, Protestants and Catholics, will be able to join hands and sing in the words of the old Negro spiritual,

Free at last! free at last! thank God Almighty, we are free at last!
The free world looked at the USA as the symbol of hope, freedom and equality. Donald Trump's tweets show us that mask has now slipped. The only hope left is the people of America carry the progressive daughters of their nation forward and give them the power to stop this regression.
Although Trump didn't name who he was targeting, his message was almost certainly directed at Alexandria Ocasio-Cortez, Ilhan Omar, Ayanna Pressley and Rashida Tlaib — a band of recently elected Democrats known for their vocal opposition to Trump's policies.
So interesting to see "Progressive" Democrat Congresswomen, who originally came from countries whose governments are a complete and total catastrophe, the worst, most corrupt and inept anywhere in the world (if they even have a functioning government at all), now loudly……

— Donald J. Trump (@realDonaldTrump) July 14, 2019
House Speaker Nancy Pelosi, the most powerful Democrat in the lower chamber of Congress, said on Twitter that the comment "reaffirms" that Trump "has always been about making America white again."
Ocasio-Cortez said she was from the United States and swore allegiance to the country, adding that the president could not "conceive of an America that includes us."
When @realDonaldTrump tells four American Congresswomen to go back to their countries, he reaffirms his plan to "Make America Great Again" has always been about making America white again.

Our diversity is our strength and our unity is our power. https://t.co/ODqqHneyES

— Nancy Pelosi (@SpeakerPelosi) July 14, 2019
Omar, Pressley and Tlaib and dozens of other Democratic lawmakers, senior party figures and presidential candidates also denounced the comment as racist and xenophobic in separate tweets. Republican lawmakers remained mostly silent.
Three of Trump's apparent targets — Ocasio-Cortez, Pressley and Tlaib — were born and raised in the United States. Omar was born in Somalia and moved to the US when she was 12 years old.
Mr. President,

As Members of Congress, the only country we swear an oath to is the United States.

Which is why we are fighting to protect it from the worst, most corrupt and inept president we have ever seen. https://t.co/FBygHa2QTt

— Ilhan Omar (@IlhanMN) July 14, 2019
Trump has repeatedly been accused of racism as a candidate and during his presidency.
Since 2015, he has said many Mexicans are "rapists," called migration across the US-Mexican border an "infestation" and described some people attending a white supremacist rally in Charlottesville, Virginia as "very fine people."
Support Labour Heartlands
Help Us Sustain Ad-Free Journalism
Sorry, I Need To Put Out the Begging Bowl
Independent Journalism Needs You
Our unwavering dedication is to provide you with unbiased news, diverse perspectives, and insightful opinions. We're on a mission to ensure that those in positions of power are held accountable for their actions, but we can't do it alone. Labour Heartlands is primarily funded by me, Paul Knaggs, and by the generous contributions of readers like you. Your donations keep us going and help us uphold the principles of independent journalism. Join us in our quest for truth, transparency, and accountability – donate today and be a part of our mission!
Like everyone else, we're facing challenges, and we need your help to stay online and continue providing crucial journalism. Every contribution, no matter how small, goes a long way in helping us thrive. By becoming one of our donors, you become a vital part of our mission to uncover the truth and uphold the values of democracy.
While we maintain our independence from political affiliations, we stand united against corruption, injustice, and the erosion of free speech, truth and democracy. We believe in the power of accurate information in a democracy, and we consider facts non-negotiable.
Your support, no matter the amount, can make a significant impact. Together, we can make a difference and continue our journey toward a more informed and just society.
Thank you for supporting Labour Heartlands
Just click the donate button below