Starmer is really clearing out the closet, gone are the days of, Corbyn's kinder, gentler, politics Labour's back in the gutter and their first call is a Dog whistle.
Sir Keir Starmer is under mounting pressure to retract a highly disturbing attack advertisement, which accuses Rishi Sunak of condoning child abuse by not believing in their imprisonment. This social media post, widely denounced by politicians from all sides and even high-profile Labour allies, has been dubbed "gutter politics." Moreover, sources suggest that members of Sir Keir's own shadow cabinet are uneasy about this gutter-type tactic. While Shadow Culture Secretary Lucy Powell refrained from endorsing the ad, she stated that she didn't think it should be taken down.
Shadow culture secretary Lucy Powell repeatedly refused to endorse the ad.
Despite the backlash, Labour tweeted a second advert on Friday – accusing Mr Sunak of being soft on gun crime.
Speaking on BBC Breakfast, Ms Powell said she stood by Labour's campaign, saying it highlighted apparent failings in the justice system.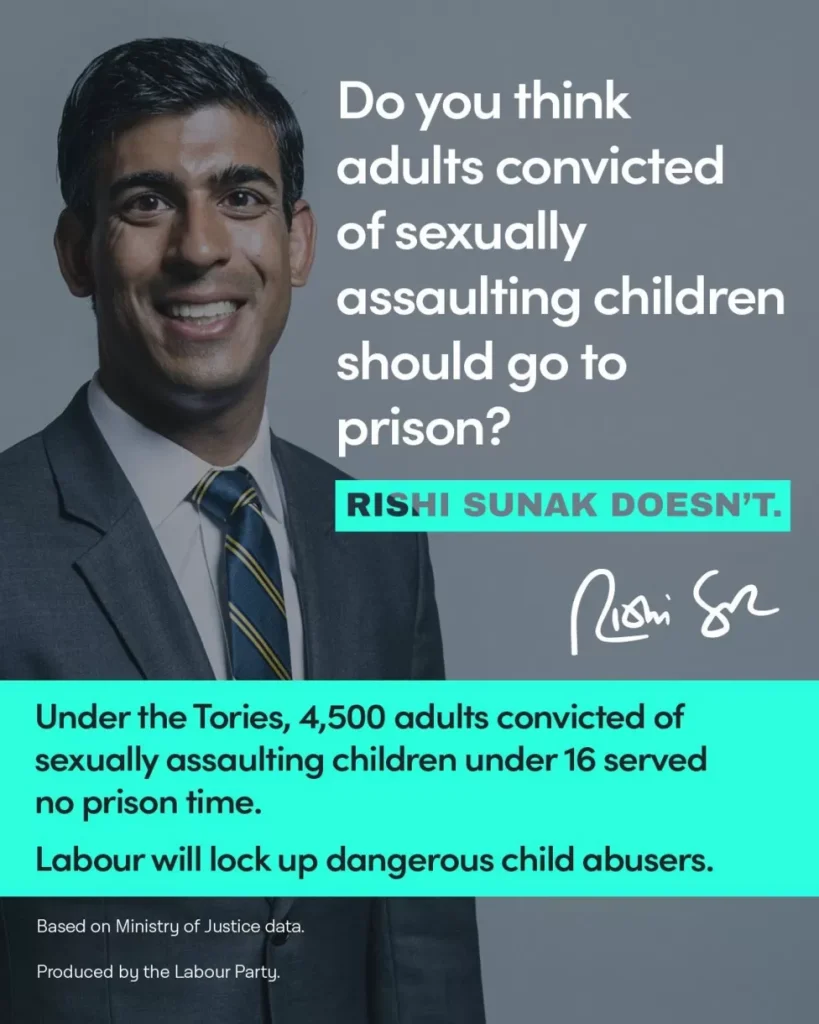 Next to a photo and mock signature of the prime minister, the ad says: "Do you think adults convicted of sexually assaulting children should go to prison? Rishi Sunak doesn't."
The caption accompanying the campaign graphic says: "Labour is the party of law and order."
Ex- shadow chancellor John McDonnell urged his party to remove the advert, saying: "This is not the sort of politics a Labour Party, confident of its own values and preparing to govern, should be engaged in … please withdraw it. We, the Labour Party, are better than this."
But a Labour source said: "We stand by the graphic" as Sir Keir Starmer refused to withdraw the "appalling" attack advert.
This looks bad for Starmer.

Labour put out a baseless attack ad blaming Sunak for not locking up all adults convicted of sexually assaulting children. But it appears Starmer himself sat on the sentencing council responsible, and minutes seem to show this issue was discussed. https://t.co/9Ix0qAhiU4

— Alex Nunns (@alexnunns) April 7, 2023
This looks bad for Starmer.
However, the ad looks set to backfire on Labour. Labour has been carrying out a campaign declaring itself the Party of Law and Order, this advert being part of that same campaign. But what the campaign managers failed to understand is the fact, sentencing guidelines Judges and the CPS are operating under come from recommendations made by Sir Keir Starmer while The Director of Public Prosecutions (DDP).
Alex Nunns tweeted:
"This looks bad for Starmer.
Labour put out a baseless attack ad blaming Sunak for not locking up all adults convicted of sexually assaulting children. But it appears Starmer himself sat on the sentencing council responsible, and minutes seem to show this issue was discussed.
Another Twitter user wrote "And when I say it was Starmers job I'm not talking about cutting deals with defendants I mean he literally wrote the sentencing guidelines judges used for the majority of this time period"
"Starmer literally writing sentencing guidelines for judges on why not all adults who commit sexual crimes against children under 16 should go to jail: hahaha yes yes!! Starmer when not all adults convicted of sexual crimes against children go to jail: what the fuck this sucks."
"I'm not joking here either- sentencing council publishes its minutes online so it's very easy to check- apparently it was 2 years of work to put together the sentencing guidelines, finished up shortly before Keir Starmer left his DPP role."
A number of high-profile politicians have condemned the ad – including Labour's former deputy leader John McDonnell who urged the party to withdraw the tweet.
Former Conservative cabinet minister Rory Stewart – who served as justice minister under Theresa May's premiership – was among those criticising the tweet, calling for "policy not polarisation".
He said: "Is someone going to point out that this is about laws, sentencing guidelines and judicial practices? That were not and would not be different under Labour? Or talk about how even tougher sentences have overcrowded prisons?"
Senior Tory MP Tobias Ellwood described the ad as "appalling" and claimed it threatened to undermine the democratic process, adding: "We should be better than this. I've called it out on my own side for stooping low and do so again now."
Scottish National Party MP John Nicolson said the post was "nauseating" and that it "cheapened and debased" politic
As the UK gears up for local elections and potentially a general election in the near future, it is crucial that politicians and parties are held accountable for the claims they make, and that they adhere to strict standards of honesty and integrity in their campaigning. Anything less risks eroding public trust in politics and damaging the very foundations of democracy. Its also clear no one wants a return to the gutter politics of New Labour or Thatcherite Britain
Support Labour Heartlands
PLEASE HELP US KEEP GOING AD-FREE
This is a "Pay as You Feel" website.
Hey there! Thanks for stopping by. If you've enjoyed reading the articles on Labour Heartlands so far, We would be incredibly grateful if you could consider making a small donation. Labour Heathlands is not your typical news outlet. We are not here to simply regurgitate the daily news cycle, that's for the rest of them. Our focus is on delving deeper, uncovering the untold stories and shedding light on the issues that the mainstream media chooses to ignore.
Our unwavering commitment to journalistic integrity means that we are not influenced by any external forces. We are not beholden to PR companies, advertisers or press barons, and we refuse to let anyone dictate what we report on. Our editorial independence is sacrosanct, and our only allegiance is to the truth.
While we do not align ourselves with any particular political party, we stand firmly against corruption, injustice and the erosion of truth and the rule of law. We believe that accurate information is the lifeblood of a democracy and that facts are not up for debate.
Once again, thank you for your support – We truly couldn't do this without you!
PLEASE HELP US KEEP GOING AD-FREE