Wes Streeting's answer to Tory privatisation of the NHS is more privatisation
Labour's shadow health secretary says he would not "shirk" from using private providers to reduce NHS waiting lists.
Wes Streeting told the BBC's Nick Robinson it proved "effective" the last time his party was in power.
But he put the blame for needing the option at the Tories' door, saying the government had "run down the NHS".
The Labour MP also told the Political Thinking podcast his own experience of cancer made him "even more passionate" about bringing down waiting lists.
Mr Streeting's remarks appear to show a change in direction for the party.
Labour's last two leaders, Jeremy Corbyn and Ed Miliband, focused their election campaigns on protecting the NHS in England from privatisation.
But under the New Labour government of the late 1990s and 2000s, the role of the private sector increased in the health service.
Of course, this is another back peddle on Starmer's Leadership promises. The copycat New Labour policy will just hand millions in public money to the private health industry that will continue to be used to prop up the NHS instead of tackling the root causes of NHS issues in staffing and procurement.
Out soucing NHS patients to the private sector is just another method of opening up the NHS to privatisation.

Waiting lists in the NHS in England are at a record high as a result of coronavirus.
As of September 2021, 5.8 million patients were waiting for surgery – such as hip or knee replacements – with 300,000 waiting more than a year, compared with just 1,600 before the pandemic.
Mr Streeting told Nick Robinson the governments of Tony Blair and Gordon Brown "showed using the private sector to bring down NHS waiting lists [in England] is effective [and] it's popular with patients".
But he warned the move would "come at a cost", blaming the past decade of Conservative rule for the health service's problems.
He told the podcast: "No doubt the government will turn to the private sector, no doubt the next Labour government may have to use private sector capacity to bring down NHS waiting lists, and I won't shirk that for a minute to get people better health outcomes.
"But I will be pretty furious at the costs involved, because it shouldn't be the case that because Tory governments run down the NHS, we have to spend more taxpayers money than would be necessary in the private sector because we haven't sorted out the public sector."
The fact is that Blair's over heavy reliance on PFIs during his tenure is one big reason the NHS has become a cash cow. It now funnels public money into the hands of Bankers, investors and hedge funders, is constantly overlooked.
Tony Blair's legacy was to put the NHS into perpetual debt and open up the private sector to NHS patients.
Tony Blair and Gordon Brown's 1997-2010 New Labour governments. Although elected pledging to end Thatcher's NHS 'internal market', within four years Labour re-introduced and accelerated it.
Frank Dobson, Blair's first health secretary and an old-style Labour right winger, was shunted aside in 1999 to make way for Alan Milburn, who was fully committed to the project.
"We must develop an acceptance of more market-oriented incentives with a modern, reinvigorated ethos of public service", said Blair in 2003. "We should be far more radical about the role of the state as regulator rather than provider, opening up health care, for example, to a mixed economy under the NHS umbrella". 'Market-oriented incentives' meant big business profits.
Blair and Milburnsaw the role of the NHS (and other public services) as planning and monitoring (the 'regulator'), paying private companies to be 'providers'. Milburn negotiated a 'Concordat' with the private sector, inviting them to take over clinical services paid for by the taxpayer. (After leaving government he became a well-paid adviser to Bridgepoint, a venture capital company closely involved with NHS privatisation. Another Labour Health Secretary, Patricia Hewitt, took a similar path after government, working for Syngenta.)
Tony Blair's health policy adviser at the time was Simon Stevens, who subsequently became Vice-President of United Health, the giant USA health corporation. He is now the NHS Chief Executive, appointed by David Cameron. Stevens' Five Year Forward View, due to be completed in 2021, breaks up England's national service into 44 'Integrated Care Systems', modelled along the lines of US Health Management Organisations and ripe for takeover by such companies.
Foundation Trust status was created in 2003. Hospitals and Primary Care Trusts could become semi-independent, no longer under direct Department of Health control. They were able to borrow money on the private market, enter into commercial agreements with private providers, and generally run as commercial companies.
Although 'non-profit making', Foundation Trusts could form profit-making joint ventures with private corporations and also sell off NHS assets, especially land. Competing for patients (who brought in 'payments') with other Trusts undermined the collaboration needed to plan services to meet community needs and absolutely vital during a pandemic. The scandalous treatment of elderly people with Covid-19 in privatised care homes, cared for by insufficient staff paid even less than the pitifully low NHS rates, is also partly a result of this competition.
The proportion of GDP spent on the NHS under Labour went up from 5.4% cent in 1996-97 to 8.5% in 2009-10. However, much of this increase ended up in private bank accounts through contracted out services and Private Finance Initiative (PFI) construction. Read more at Socialism Today.
The great PFI heist: The real story of how Britain's economy has been left high and dry by a doomed economic philosophy
The Blairite Third Way promised somehow to square the circle by delivering new schools, hospitals, roads, railways and prisons without the debt or inefficiency of the public sector. It seemed too good to be true yet those who dared to question the orthodoxy du jour were swatted away. This was Blair's real domestic legacy, it wasn't so much of a case of jam today, it was forever debt funnelling public money into the oligarchy greedy mouth.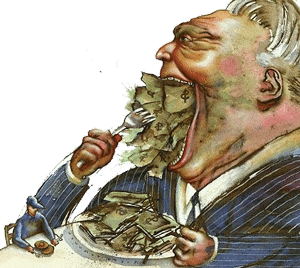 PFI debt for the British taxpayer is more than £300bn for infrastructure projects, with a value of £54.7bn. To put it into perspective, the PFI debt is four times the size of the budget deficit used to justify austerity. It makes the bankers rich while leaving the NHS in constant debt, a constant funnelling of public money into private hands.
As early as 1999, Richard Smith, editor of the British Medical Journal, denounced it as "PFI: Perfidious Financial Idiocy" in an editorial revealing that repayments would be exorbitant. In the same year, Professor Allyson Pollock and colleagues published a paper sounding the alarm over the potentially disastrous consequences of PFI debt and the financialisation of public services. And in a 2004 long read for Private Eye the late Paul Foot exposed the seedy underbelly of its history.
The NHS needs re-nationalising not privatising.
The NHS has one opportunity under a LeFT government, which would be to re-nationalise bringing with it, state-owned suppliers and a nationalised pharmaceuticals industry.
The private sector outside the NHS should ask itself, does it want a healthy workforce that is quickly and efficiently cred for returning its workers back to work fit and healthy or does it want an NHS that see the only profit is in the medicine and not the cure?
Support Labour Heartlands
WAIT! BEFORE YOU GO
PLEASE HELP US KEEP GOING AD-FREE
This is a "Pay as You Feel" website.
Your support for Labour Heartlands is greatly appreciated. As an independent nonprofit news outlet, we rely on our members to hold the powerful accountable. Our kind of reporting is essential to democracy, but it is not easy, cheap, or profitable.
To continue providing impactful journalism, we need your help. It's getting really hard for us all. Becoming one of our donors. It's simple and doesn't have to cost a lot. With as little as £2, £3, or £5 a month, you can support the journalism you rely on.
While we do not align ourselves with any particular political party, we stand firmly against corruption, injustice, and the erosion of truth and the rule of law. We believe that accurate information is the lifeblood of a democracy and that facts are not up for debate.
Your contribution, no matter how small, goes a long way in helping us continue our mission. Together, we can make a difference.
Thank you, The Labour Heartlands Team
PLEASE HELP US KEEP GOING AD-FREE