Labour chairman Ian Lavery warned that the party could be "finished" if it backs a second referendum.
Mr Lavery reportedly told leader Jeremy Corbyn that Labour's future was bleak if it failed to deliver on the result of the 2016 vote during a shadow cabinet meeting.
After the government bottled the original Leave date of March 29 Britain is currently due to leave, with no withdrawal agreement, on October 31.
Mr Lavery's intervention came after MPs wrote to the leader calling for and against a second referendum.
Labour Party MPs representing the Labour Heartlands have urged leader, Jeremy Corbyn, to go the "extra step" if there is a chance of agreeing a Brexit deal in talks with Prime Minister Theresa May.
Theresa May, deal to leave the European Union has been rejected in parliament three times, has turned to Corbyn in a last-ditch bid to get the support of his Labour Party for an agreement she signed with the bloc's leaders in November.
Corbyn has welcomed the talks, but the invitation poses a threat for his divided Labour Party – some members and MPs are demanding a second referendum on any deal while others fear being blamed for helping pass May's much-criticised agreement.
The 25 MPs, almost all from areas which voted to leave the EU in a 2016 referendum, said the talks "represent a real opportunity" for Corbyn, a way to get a deal which would meet Labour's demands for a Brexit that protected workers' rights.
They reminded him in the letter that he had told May Labour would support a "sensible deal" that included "a customs union and no hard border in Ireland", protected jobs and workers, environmental and consumer standards.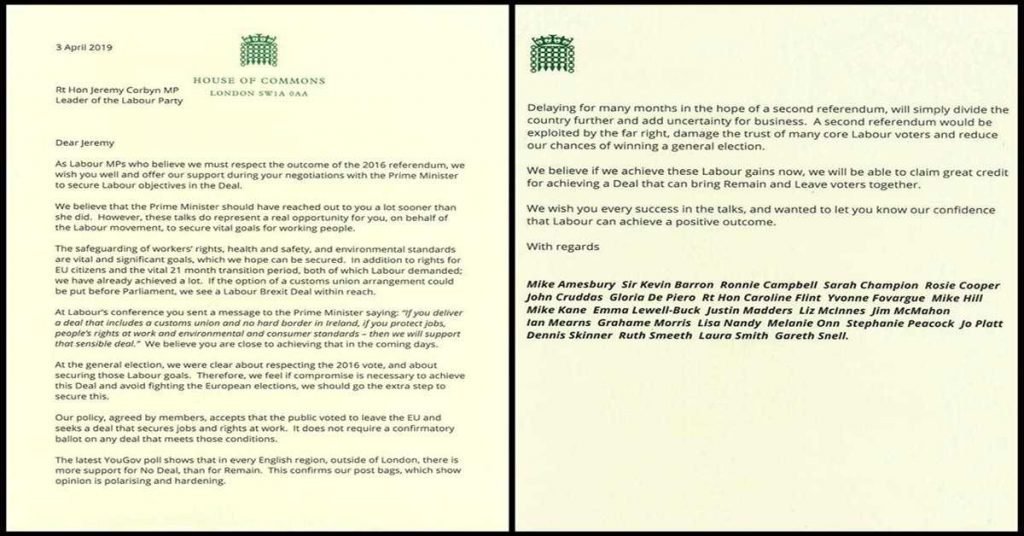 "We believe you are close to achieving that in the coming days," said the letter whose signatories include Labour's schools spokesman Mike Kane and three MPs who last week voted in favour of May's deal: Rosie Cooper, Caroline Flint and Kevin Barron
At the general election, we were clear about respecting the 2016 vote, and about securing those Labour goals. Therefore, we feel if compromise is necessary to achieve this deal and avoid fighting the European elections, we should go the extra step to secure this.
Corbyn, a long-standing critic of the EU, has long said he wants Britain to leave the bloc with a deal, respecting the 2016 referendum when 52 percent of voters backed leaving the bloc in Britain's biggest shift in policy since World War Two.
Arriving for talks in Whitehall, shadow Brexit secretary Sir Keir Starmer confirmed that a "confirmatory" referendum was among the ideas on the table for discussion.
But 25 Labour MPs have written a joint letter to Mr Corbyn warning that a second public vote would divide the country further and add uncertainty for business.
SECOND PUBLIC VOTE WOULD
DIVIDE THE COUNTRY FURTHER AND ADD UNCERTAINTY FOR BUSINESS.
They warned: "A second referendum would be exploited by the far right, damage the trust of many core Labour voters and reduce our chances of winning a general election."
Signatories include veteran backbenchers Sir Kevin Barron, Dennis Skinner and Ronnie Campbell, former minister Caroline Flint and MPs representing Leave-voting areas of northern England and the Midlands, including Gloria De Piero, Sarah Champion and Gareth Snell.
Meanwhile, a group of 12 Labour MPs wrote to Mr Corbyn urging him to include a "public vote" in any deal he strikes with Ms May.
The letter was signed by Clive Lewis, Lloyd Russell-Moyle, Kate Osamor, Alex Sobel, Marsha de Cordova, Anneliese Dodds, Rosie Duffield, Anna McMorrin, Luke Pollard, Rachael Maskell, Ged Killen and Ruth George.
It came to light after shadow attorney general Shami Chakrabarti said a second referendum would be merely a means of breaking a deadlock and not an end in itself.
The letter claims that a public vote on any option agreed by Parliament is the "only way" to guarantee that the Tories keep promises to protect rights, jobs and protections, as well as putting pressure on them to call a general election.
The MPs also say that Labour's policy, agreed at its annual conference last September, is to oppose a Brexit agreement that does not meet the party's six tests and put any deal that does to a public vote – though in fact policy stipulates a second referendum is only an option if a general election cannot be forced.
Labour are risking credibility and a future general election by backing a remain stance.
Support Labour Heartlands
PLEASE HELP US KEEP GOING AD-FREE
HELP US GROW.
This is a "Pay as You Feel" website.
This blog has no source of state, corporate or institutional finance whatsoever. It runs entirely on voluntary subscriptions from its readers – many of whom do not necessarily agree with every article, but welcome the alternative voice, insider information and debate.
You can have access to all of our online work for free. However if you want to support what we do, you could make a small donation to help us keep writing and staying ad-free. The choice is entirely yours.