The Great NHS Heist: Independent healthcare sector accused of 'acting as a parasite' after 'minimum income guarantee' deal.
Sajid Javid has ordered the boss of the health service to give private hospitals up to £270m, even though they may not treat a single NHS patient in return.
The health secretary ignored strongly worded warnings from Amanda Pritchard that instructed her to hand private hospitals £75m to £90m a month from NHS England funds for the next three months, in case they are needed to help manage an Omicron surge in Covid cases. Despite evidence to suggest Omicron has peaked and is now hitting a slow decline.
Private health care operators of the facilities will receive the money as a "minimum income guarantee" simply for being on standby until the end of March to receive NHS patients, even if they treat none.
If that is not enough there is more to come.
Pritchard also raised grave doubts about a deal under which NHS England would have to pay independent hospitals up to £525m if they did end up treating any NHS patients.
The extraordinary clash has been revealed in an exchange of letters in which Pritchard, NHS England's chief executive, laid bare her concerns about this new contract between NHS England and 10 private hospital groups, which was announced on Monday. At the time NHS England stressed that the arrangement had been "struck under the direction of the secretary of state" but gave no further details.
In Pritchard's letter to Javid, she said either deal would leave the health service "exposed financially" and involved "a material risk that the NHS pays for activity that is not performed".
Either scenario represented poor value for money for the NHS because private hospitals' lack of staff meant they could not be relied upon to treat any NHS cases, even if asked to do so, she said.
The disclosure prompted immediate criticism of Javid.
Daisy Cooper, the Liberal Democrats' health spokesperson, accused him of meddling by forcing Pritchard to agree to make payments about which she had significant reservations.
"We trust the NHS to plan ahead. They are the experts, not Sajid Javid," she said. "Interference in the day-to-day running of the NHS at worst leads to meddling and politicisation, and at best creates a bureaucratic nightmare, where no one knows who is in charge.
"We must remember that the two areas Javid's predecessor, Matt Hancock, had power over were PPE and test and trace, both of which were extremely badly handled."
In her letter, Pritchard told the health secretary: "The independent sector is not typically used for medical bed capacity and its staffing model does not easily support significant 7/7 staffed bed capacity. It is therefore not possible to be sure what additional effective medical bed capacity would be available," should the NHS declare a Covid-19 surge and ask private hospitals to help by taking patients.
While private hospitals had indicated that they could provide "around 5,600 physical beds in surge if required, it is estimated that approximately 2,000 to 3,000 of these beds could be staffed, but the independent sector providers cannot guarantee this to us".
It is understood that the private hospital groups involved, including Spire, Circle and Ramsay, felt they were due compensation for their facilities going on standby, as doing so could limit their ability to earn money by treating their usual fee-paying private clients. The £75m to £90m a month "minimum income guarantee" is intended to cover that.
Sid Ryan, a researcher at the Centre for Health and the Public Interest, a thinktank that has challenged private hospitals being handed deals to help the NHS during the pandemic, said: "There are real concerns not just on value for money, but on the industry's ability to deliver too, so it's not clear why this deal is necessary, especially at this late stage in the Omicron wave.
"The National Audit Office and the Public Accounts Committee must look into this deal urgently, and we expect the department [of health and social care] and NHSE to publish a full account of what the private providers actually deliver under this deal."
In Javid's reply, he overrode Pritchard's concerns and ordered her to conclude the deal. "I recognise the managing public money issues that these arrangements cause for you as the accounting officer," he wrote. "However … I believe the need to protect NHS services and prevent a further reduction in NHS capacity are compelling reasons to justify their introduction."
A spokesperson for the Independent Healthcare Provider Network, which represents private hospitals, said: "In response to a call by the government for further independent sector support during the Omicron wave of Covid-19, the new deal agreed will provide much needed additional capacity to the NHS this winter and help to bolster planned NHS care, including the delivery of vital cancer treatment.
"The arrangements also provide the NHS with additional targeted support in the event that local NHS pressures are deemed as unsustainable."
Javid's demands that the NHS hand over the cash is not backed by the evidence
The number of cases in the over-60s appears to be falling, along with that in lower age groups.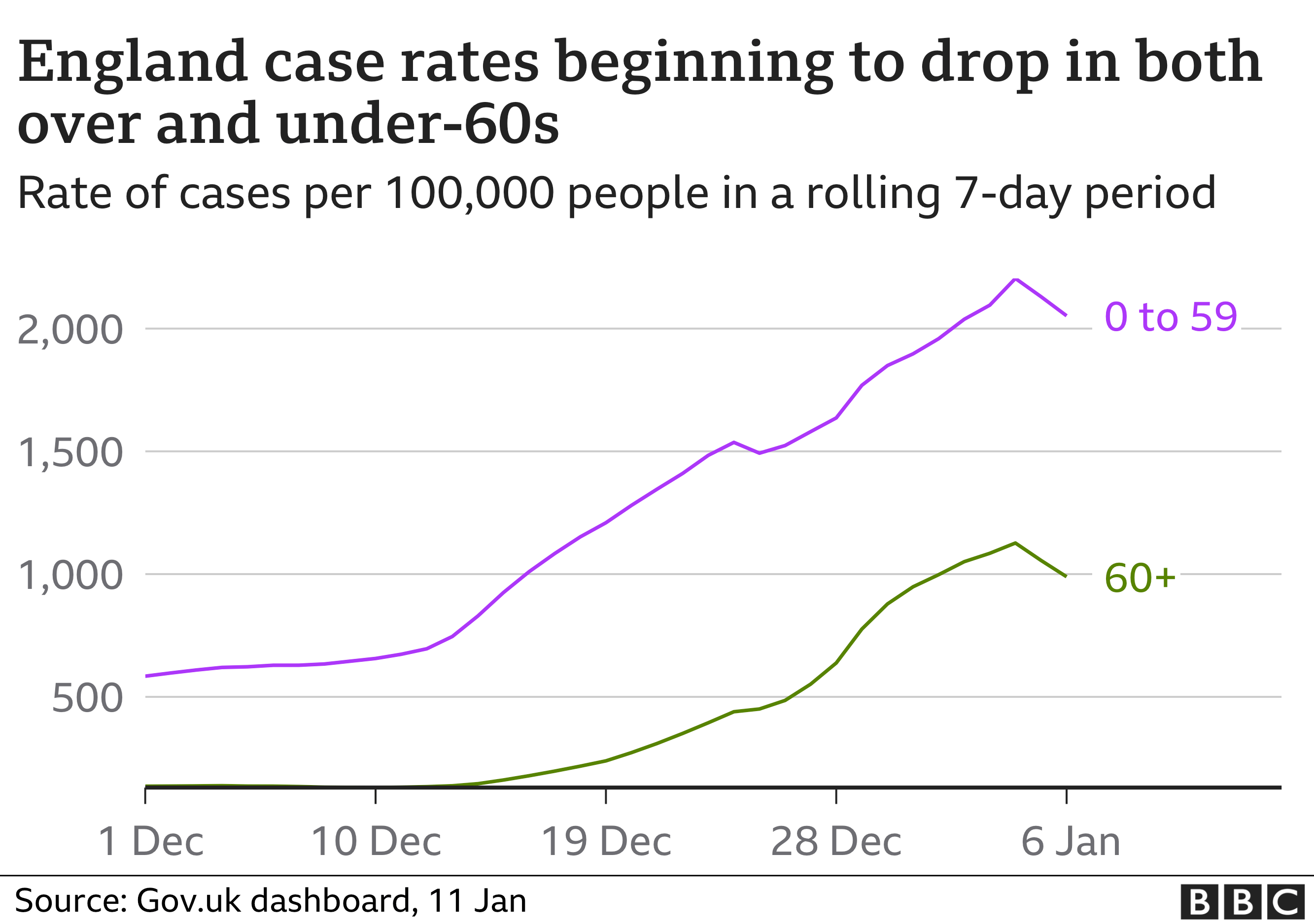 Secondly, the spread in older age groups does not seem to be translating into the hospital cases you might expect.
NHS bosses say outbreaks in care homes have not led to significant numbers becoming seriously ill. The boosters seem to have had the desired effect.
"There are some promising signs – the outcomes at the moment certainly look better than feared", says Prof Graham Medley, an expert in infectious disease at the London School of Hygiene and Tropical Medicine, and one of the government's lead modellers.
Prof Medley says there is still a risk of a long, flat peak or for infections and serious illness to drop very slowly. Last winter the lockdown halted the virus in its tracks and ensured a relatively quick descent from the peak.
This slow decline has – to some extent – been seen in South Africa, where the variant was first reported. There, cases have been dropping much more slowly after an initial big fall once they peaked.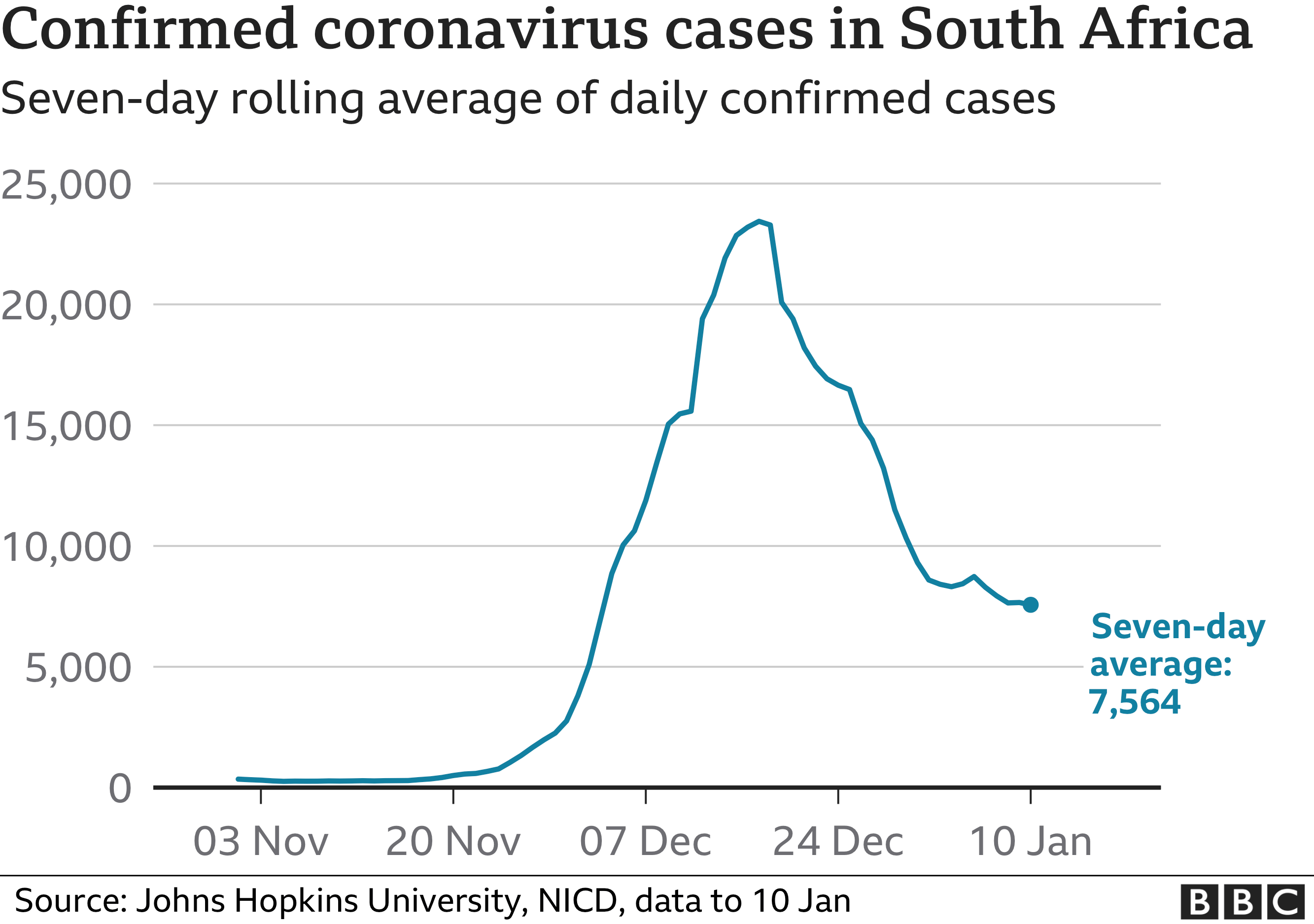 "If we stay at or close to the levels we have at the moment for some time, the NHS will remain under huge pressure," says Prof Medley.
What will determine that are two key factors – immunity and public behaviour.
While there has been much talk about waning immunity, the sheer number of infections over the past month or so and the number of boosters given means, in the short-term at least, immunity across the population should hold up well.
It is mixing that is likely to have a greater impact, says Prof Mike Tildesley, from Warwick University.
Survey data suggests at the end of December people were averaging 2.7 contacts a day – not that much above what was seen during the very first lockdown.
"People were really taking care over Christmas, reducing their mixing so they could spend time with family," he says. "But… with schools back and people working again… we could see infections go up again."
However, it may only be a "bump", he believes. "I don't expect to see a surge in admissions now – not to the level of last winter."
If he is right, that leaves the UK very much in best-case scenario territory. When Omicron took off there were warnings hospital admissions could end up more than three times as high as they are now. There may still be a long way to go, but it's looking promising compared with what we were told could have happened.
The reality once more is another transfer of public money has taken place against our best interest with no guarantees, whilst filling the bank accounts of the private health sector who have flourished throughout this covid crisis.
Support Labour Heartlands
PLEASE HELP US KEEP GOING AD-FREE
This is a "Pay as You Feel" website.
Hey there! Thanks for stopping by. If you've enjoyed reading the articles on Labour Heartlands so far, We would be incredibly grateful if you could consider making a small donation. Labour Heathlands is not your typical news outlet. We are not here to simply regurgitate the daily news cycle, that's for the rest of them. Our focus is on delving deeper, uncovering the untold stories and shedding light on the issues that the mainstream media chooses to ignore.
Our unwavering commitment to journalistic integrity means that we are not influenced by any external forces. We are not beholden to PR companies, advertisers or press barons, and we refuse to let anyone dictate what we report on. Our editorial independence is sacrosanct, and our only allegiance is to the truth.
While we do not align ourselves with any particular political party, we stand firmly against corruption, injustice and the erosion of truth and the rule of law. We believe that accurate information is the lifeblood of a democracy and that facts are not up for debate.
Once again, thank you for your support – We truly couldn't do this without you!
PLEASE HELP US KEEP GOING AD-FREE