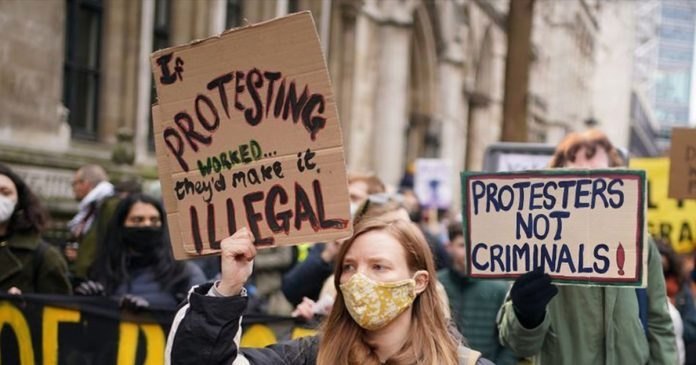 Peers inflict defeat on Government over powers to shut down 'noisy' protests
The House of Lords has inflicted a series of defeats on the Government as it considered the wide-ranging Police, Crime, Sentencing and Courts Bill.
By 261 votes to 166, peers backed a Labour-led move to gut parts of the bill that handed police the power to impose conditions on protest marches judged to be "too noisy".
A short time later, the Government suffered a further defeat, with the upper chamber backing by 238 votes to 171, a Liberal Democrat amendment to gut further elements of the bill restricting protests.
Campaign groups such as Liberty and Greenpeace have spoken out against the creation of Serious Disruption Prevention Orders (SPDO), with the environmental organisation warning that the laws 'don't belong in a free and democratic society'.
'Worryingly, you could be given a SPDO without actually having done anything disruptive – only that you "might" have caused serious disruption,' they said.
The amendment was one of several defeats for the government, after peers voted for a section of the bill placing restrictions on public processions to be scrapped.
Elsewhere, 242 lords voted to require police forces to record data on crimes motivated by the victim's sex or gender, compared to just 185 against.
Measures to introduce a review into the prevalence of drink 'spiking' were also supported by peers, as well as the police having a statutory 'duty of candour'.
The proposal, dubbed the 'Hillsborough amendment', requires officers to 'act at all times in the public interest and with transparency, candour and frankness and to assist in court proceedings, official inquiries and investigations'.
It sets the stage for a tussle between the Commons and the Lords, known as ping-pong, as the two chambers hash out a final version of the bill.
Approved by the Commons last year, the legislation has provoked widespread "Kill the Bill" protests over fears over its impact on protests, with police handed the power to shut down protests if their actions cause "serious annoyance" under the original text.
Protesters who attach themselves to another person or object also face up to 51 weeks in prison under the legislation, while those deemed to have desecrated a statue or memorial could be jailed for ten years.
Amnesty UK has warned that the legislation represents an "enormous and unprecedented extension of policing powers", giving authorities the power "to effectively ban peaceful protests should they see fit".
Support Labour Heartlands
PLEASE HELP US KEEP GOING AD-FREE
HELP US GROW.
This is a "Pay as You Feel" website.
This blog has no source of state, corporate or institutional finance whatsoever. It runs entirely on voluntary subscriptions from its readers – many of whom do not necessarily agree with every article, but welcome the alternative voice, insider information and debate.
You can have access to all of our online work for free. However if you want to support what we do, you could make a small donation to help us keep writing and staying ad-free. The choice is entirely yours.