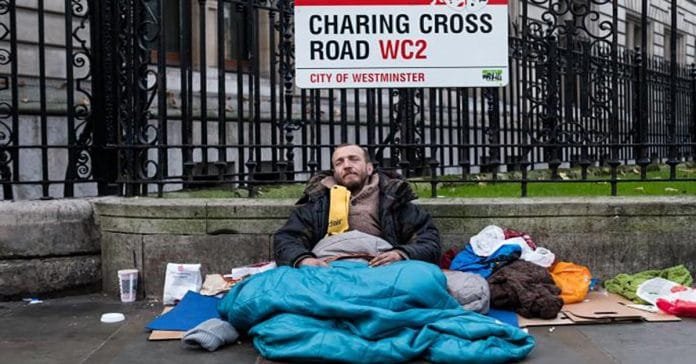 Labour accuses Theresa May of 'backtracking' on 'badly needed' money to tackle homelessness
The government has been accused of slashing homelessness funding by up to £80m after scaling back proposed taxes on foreign property investors.
Broken promises
Theresa May last year announced plans to charge overseas buyers of UK homes up to 3 per cent more stamp duty in a bid to stop them driving up British property prices.
The prime minister said in September the surcharge could raise up to £120m, to be spent on tackling rough sleeping.
Last year the Tory unveiled plans following concerns that foreign buyers have been taking advantage of Britain's housing market as a safe haven for their money, pushing up prices in the process. Party aides pointed to research from York University which estimated that 13% of new London homes were bought by non-residents between 2014 and 2016. A study by King's College London estimated a one percentage point increase in the volume of homes being sold to overseas companies put up house prices by 2.1%.
They claimed the exact increase in stamp duty, which will be paid by individuals and companies not paying tax in the UK, will be hammered out after a consultation. Those buying a second home or buy-to-let property already pay an extra chunk of stamp duty on purchasing their property. The extra money raised will be used to support schemes in the government's rough sleeping strategy.
Rough sleeping and homelessness on the rise 
The number of people sleeping rough in the UK has increased 165 per cent since the Conservatives came to power in 2010, according to official figures. A snapshot of a single night in autumn last year found 4,777 were sleeping on the streets, and charities believe that figure to be a significant underestimate.
John Healey, the shadow housing secretary, and Annaliese Dodds, the shadow financial secretary to the Treasury, this week wrote to chancellor, Philip Hammond, to express "dismay" over the decision to cap funds raised by the stamp duty hike.
In the letter, seen by The Independent, they said: "The backtracking on this proposed surcharge means much less funding for tackling rough sleeping compared to the maximum surcharge at the time of the prime minister's speech.
"This money is badly needed given rough sleeping has more than doubled since 2010."
Mr Healey stated: "The prime minister now appears to be scaling back the extra cash she promised last year.
"It's vital that Conservative ministers now back Labour's plans to end rough sleeping, starting with a guarantee of emergency accommodation for every rough sleeper when the weather gets cold and 8,000 homes to keep people off the streets for good."
But a Treasury consultation paper published in February made no mention of the higher figure and confirmed the surcharge "will be at a rate of 1 per cent".
Experts warned the lower rate would be ineffective at dampening house price rises, on top of raising less money for homelessness
Labour also questioned why the Treasury plans to class overseas investors as UK residents – meaning they can swerve paying the surcharge – if they live in the country for just six months. By comparison, the Home Office requires people to have spent five years in Britain to be considered for residency.
The letter to Mr Hammond said:
"This appears to be one residency rule for the property-buying few, and another for the many others who wish to live in this country."
Support Labour Heartlands
PLEASE HELP US KEEP GOING AD-FREE
HELP US GROW.
This is a "Pay as You Feel" website.
This blog has no source of state, corporate or institutional finance whatsoever. It runs entirely on voluntary subscriptions from its readers – many of whom do not necessarily agree with every article, but welcome the alternative voice, insider information and debate.
You can have access to all of our online work for free. However if you want to support what we do, you could make a small donation to help us keep writing and staying ad-free. The choice is entirely yours.