Protests, some violent, have escalated across the United States with people angry at the killing in police custody of unarmed black man George Floyd. One police officer has been charged with murder.
Derek Chauvin is being held at the Ramsey County Jail in St. Paul, according to Bureau of Criminal Apprehension spokesperson Jill Oliveira.
When asked why Chauvin was not being held in Hennepin County, where the death of George Floyd occurred, "The BCA communicated with the Hennepin County Sheriff's Office, which was dealing with potential threats to their facilities at the time of the arrest, they directed us to book him into the Ramsey County jail."
Chauvin has been charged with charged with murder and manslaughter following the death of Floyd. Documents show that his bail was set at $500,000.
Outrage spills across America
Protests swept across the United States on Friday as people demonstrated against the killing of George Floyd while in police custody. Peaceful rallies in Arizona and Ohio turned violent as protesters threw rocks, started fires and smashed windows in the early hours of Saturday morning.
US media reported that the White House entered partial lockdown as protesters failed to leave after an 8 p.m. curfew in place in Washington DC. People wielded signs reading: "Stop Killing Us."
Mobilization of Minnesota State Patrol is unlike anything seen in the state since 1929, colonel says
In Minneapolis, the city where Floyd was killed, thousands of protesters ignored a curfew order on Friday evening and took to the streets for a fourth straight night of protests. Some 500 National Guard soldiers were mobilized in the city and surrounding areas, although Minnesota Governor Tim Waltz said early Saturday he was working to activate more than 1,000 more Guard members.
Georgia's governor declared a state of emergency on Saturday to also activate the state National Guard as violence flared in Atlanta and in dozens of cities nationwide. Some protesters in Atlanta spray-painted the logo of the CNN headquarters and smashed police cars.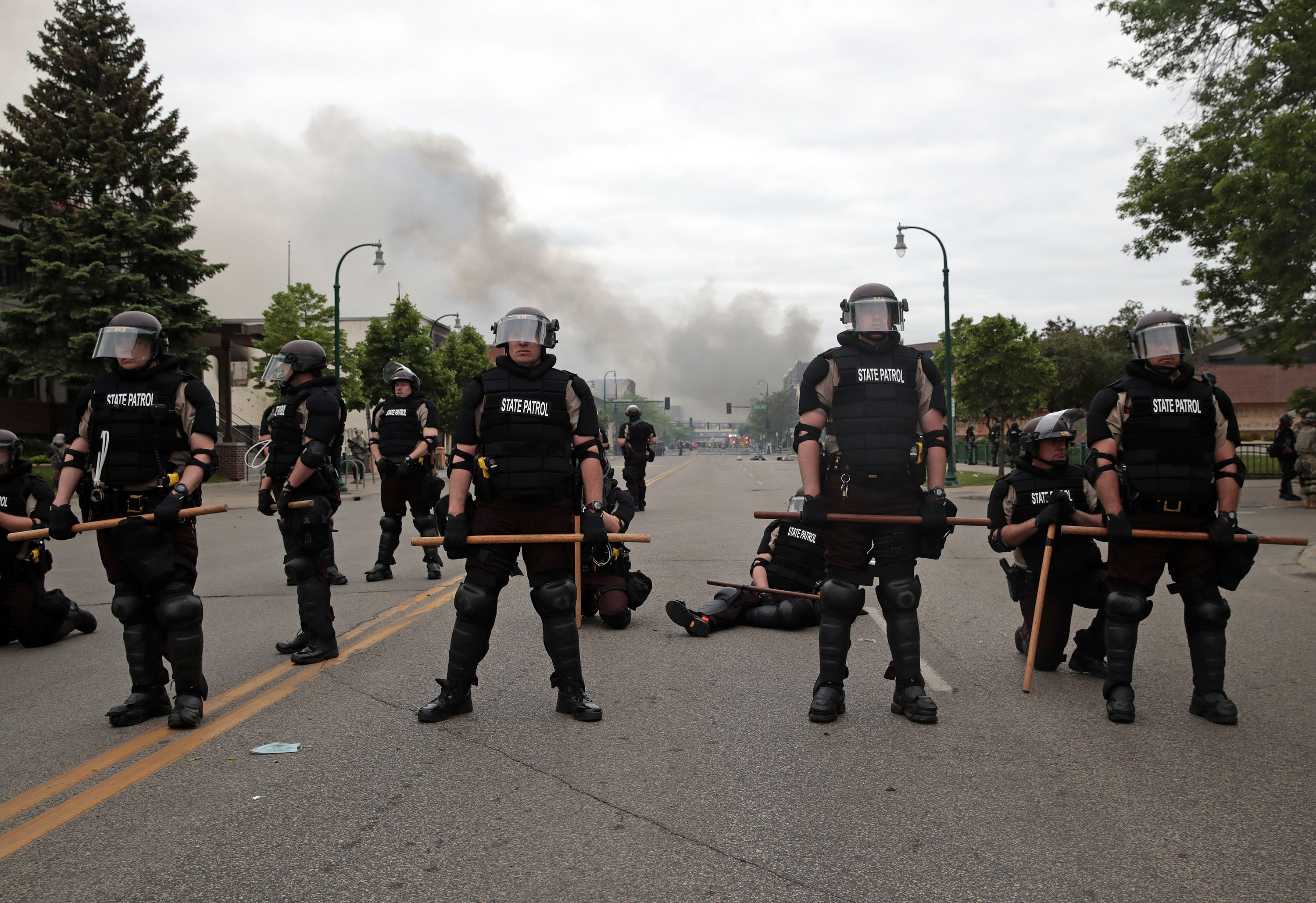 Col. Matt Langer said the demonstrations in St. Paul and Minneapolis over the last few days has forced the Minnesota State Patrol to mobilise personnel in a way unlike anything seen in more than 90 years in the state.
"We have done something we've never done in the history of our organisation since 1929 in terms of the mobilisation of our state troopers across Minnesota that have come to the metro area to do what we can, to get back to what we believe in as an organisation as the Minnesota State Patrol, that we respect integrity, courage, honour and excellence. That's who we are, and that's who we believe Minnesotans are too," Langer said.
Langer emphasised that his staff's "job is to get out there, in the middle of the mission that we're confronted with right now, to stop the criminal behaviour that we have been seeing and to prevent the criminal behaviour that we regretfully anticipate we will see tonight and into the near future."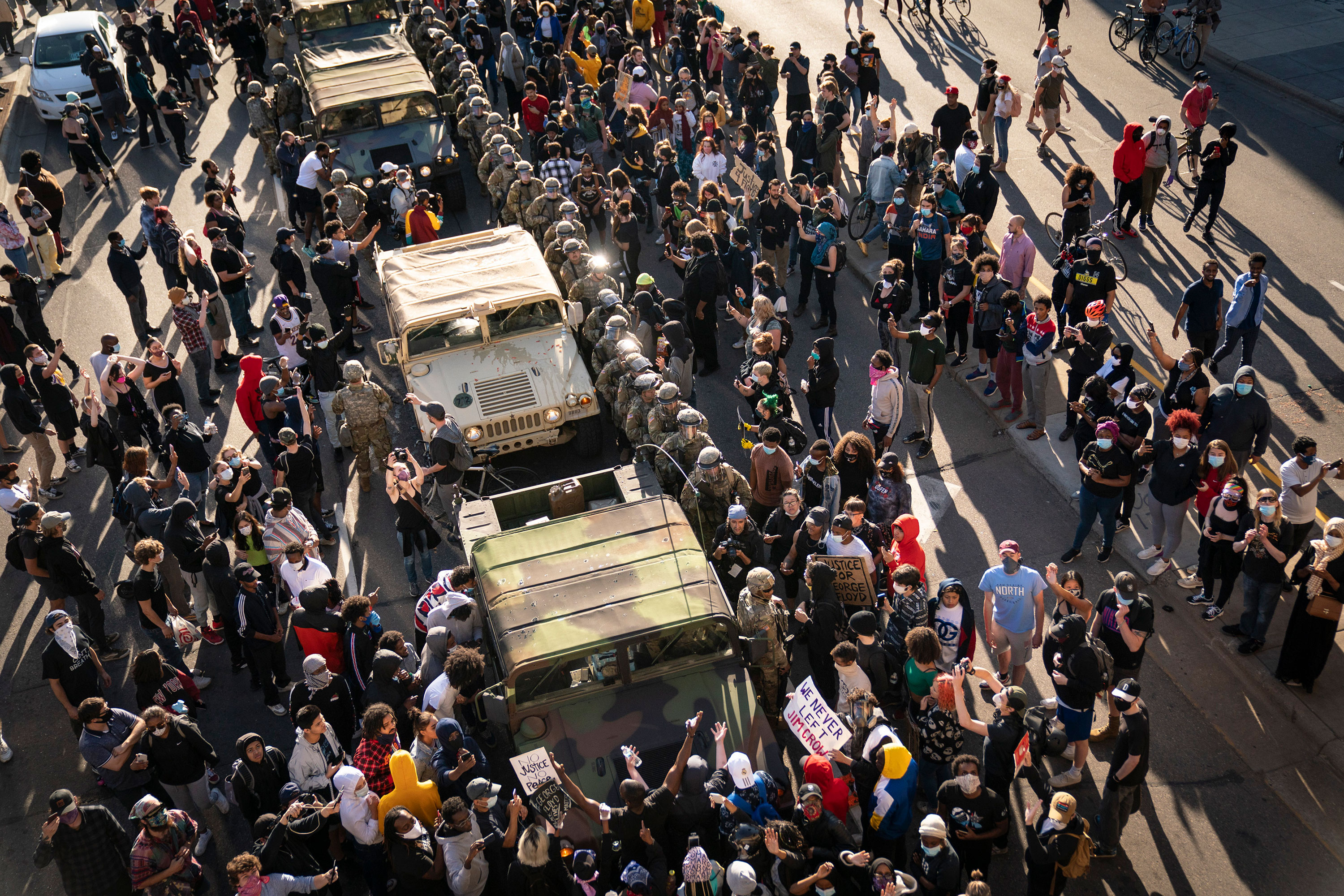 Minnesota will have 2,500 National Guard personnel deployed by noon today, official says From CNN's Elise Hammond
The Guard was also on standby in the US capital, where a crowd grew outside the White House and chanted at President Donald Trump. Some protesters tried to push through barriers set up by the US Secret Service along Pennsylvania Avenue, and threw bottles and other objects at officers wearing riot gear, who responded with pepper spray.
The approach to the Capitol's east side is sealed off. I see a few march leaders talking with police behind the barricades, I can't hear over what but plenty of people are asking for access to the plaza which is normally open to the public. pic.twitter.com/n6fuDtPtL9

— Alejandro Alvarez (@aletweetsnews) May 30, 2020
Meanwhile, over 200 people in Petal, Mississippi joined a peaceful protest Friday afternoon at city hall to call for the resignation of a white mayor who said he "didn't see anything unreasonable" about the killing of George Floyd in police custody.
In Phoenix, Arizona, authorities said that after hundreds of protesters marched towards the Capitol building, a small group broke windows at police headquarters in the early hours of Friday morning.
Kentucky governor has called on the National Guard to help keep the peace in Louisville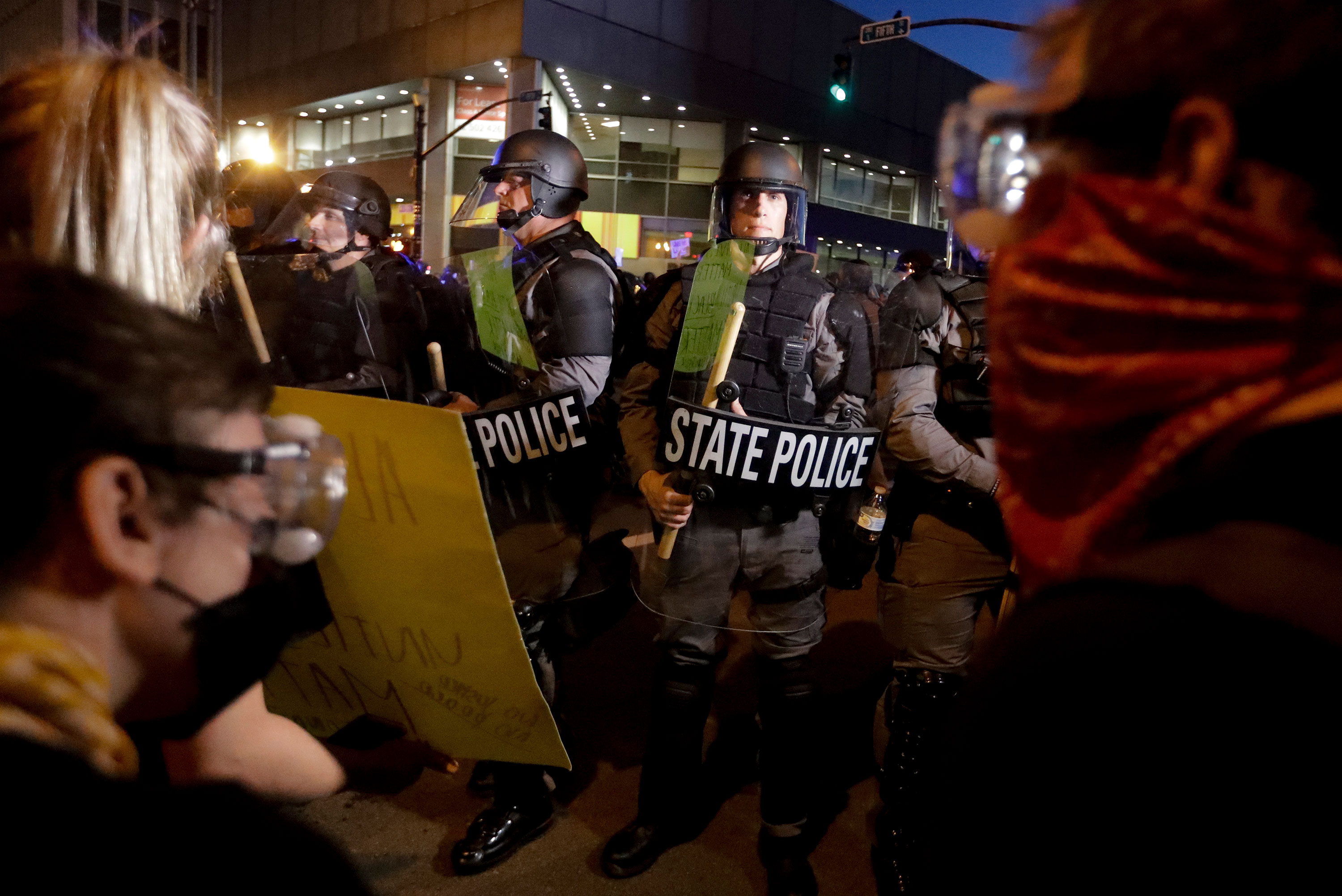 Molotov cocktails were thrown into a police van and another vehicle in Brooklyn
From CNN's Shimon Prokupecz 
There were two Molotov cocktails thrown into two cars including a police van during protest in Brooklyn Friday night, a law enforcement official told CNN.
One incident involved a person throwing a Molotov cocktail into a marked police van, the official said.
A car drove up to the NYPD van, a suspect got out and then threw a bottle in the van, igniting fire.
Police were able to arrest the suspects and recovered a gas can and two more incendiary devices in the car, according to the official.
The other incident involved a woman walking up to a van holding a bottle with a rag in it, she lit it and threw it into the van but it did not catch fire, the official said.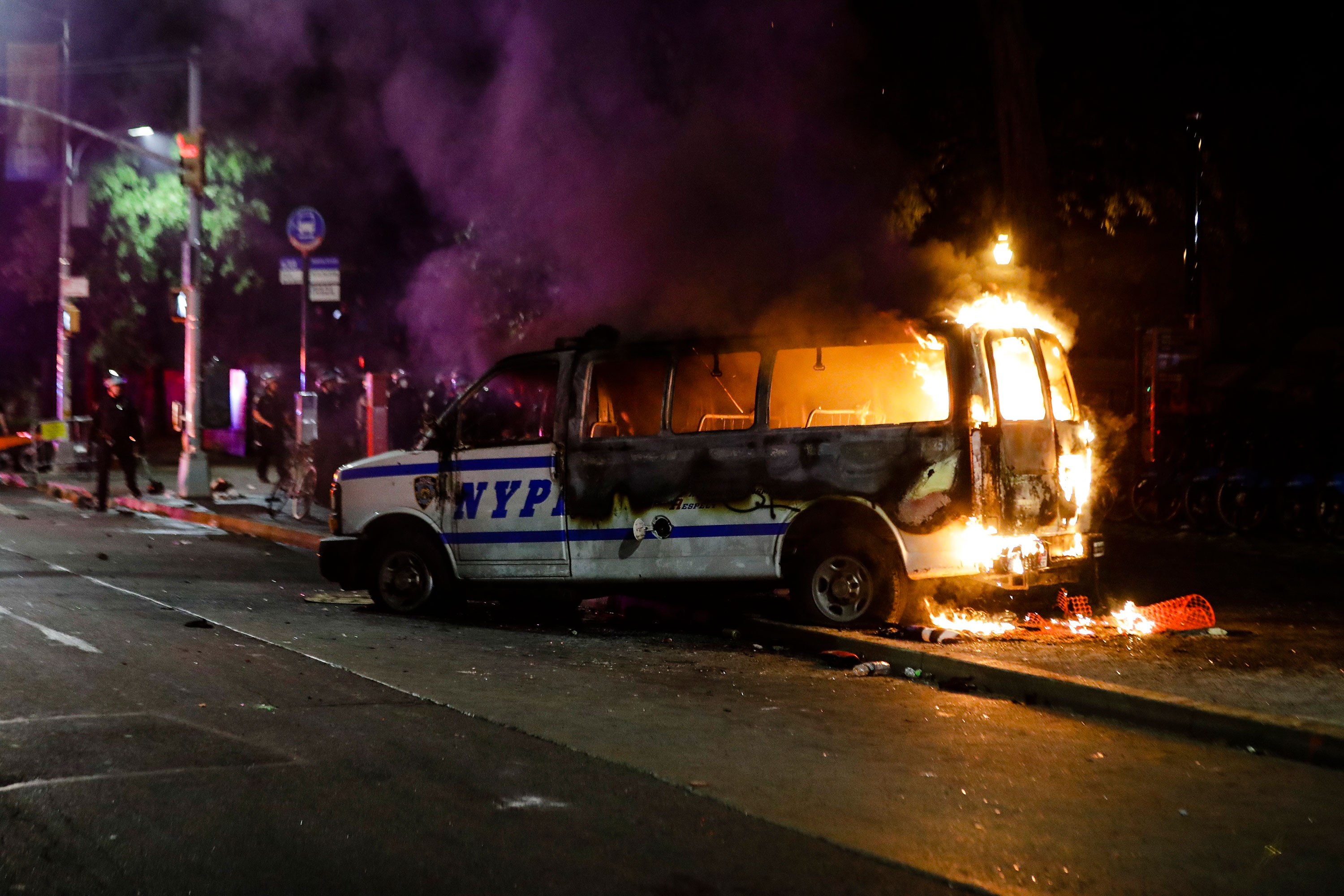 Protesters in Columbus, Ohio, Floyd's home state, attempted to break into the Ohio statehouse. Ohio Governor Mike DeWine issued a call to unity in the face of the protests, urging peace over the weekend. "His death impacts all of us," he said. "We have a responsibility to each other, regardless of race, to stand up and say we won't tolerate conduct like this."
Trump ally and US Attorney General, William Barr said Friday that he was "confident justice would be served" and that he found the video footage of Floyd's arrest "harrowing."
Protests are expected to continue over the weekend, with many activists on social media calling for the other three police officers implicated in Floyd's death to be arrested.
What you need to know
Protests have erupted in at least 30 US cities over the death of unarmed black man George Floyd at the hands of a police officer in Minneapolis, Minnesota.
The former officer, seen in a video with his knee on Floyd's neck, has been charged with murder and manslaughter.
The wife of the accused former officer has filed for a dissolution of marriage in the wake of the controversy, according to her attorney.
A tense standoff between police and protesters at the CNN Center in Atlanta, Georgia, ended after a window was smashed and a firework was thrown at officers inside the building.
rs, ed/mm (AP, AFP)
Support Labour Heartlands
WAIT! BEFORE YOU GO
PLEASE HELP US KEEP GOING AD-FREE
This is a "Pay as You Feel" website.
Your support for Labour Heartlands is greatly appreciated. As an independent nonprofit news outlet, we rely on our members to hold the powerful accountable. Our kind of reporting is essential to democracy, but it is not easy, cheap, or profitable.
To continue providing impactful journalism, we need your help. It's getting really hard for us all. Becoming one of our donors. It's simple and doesn't have to cost a lot. With as little as £2, £3, or £5 a month, you can support the journalism you rely on.
While we do not align ourselves with any particular political party, we stand firmly against corruption, injustice, and the erosion of truth and the rule of law. We believe that accurate information is the lifeblood of a democracy and that facts are not up for debate.
Your contribution, no matter how small, goes a long way in helping us continue our mission. Together, we can make a difference.
Thank you, The Labour Heartlands Team
PLEASE HELP US KEEP GOING AD-FREE