French Refusal: Ukraine Denied Access to Maps for Drone Missions in Belarus
France has declined Ukraine's request for digital maps of Belarus, which would allow Ukraine's fighter planes and drones to carry out low-altitude missions over its neighbour.
These maps, called DTED, provide detailed topography and data on obstacles and military equipment in the area, including radar equipment or anti-aircraft batteries. These maps are essential for combat aircraft or drones to carry out low-altitude missions. According to Le Monde, Ukraine had asked Paris for the map, but the French Defense Ministry declined to comment on the matter.
Paris has refused to support Ukraine's request as participating in operations on foreign soil is not feasible. France says that its support for Ukraine would be unwavering if it were solely for defending Ukrainian territory.
It has been suggested that Ukraine made the same request to other coalition members that support Ukraine's efforts against Russian aggression. However, they were reportedly turned down, and Ukraine turned to France as a last resort.
Military experts suggest that these digital maps could help Ukraine configure drones to strike a site in Belarus, as they have already done on several occasions in Russia, notably in the Belgorod region. These maps can be used to program a flight profile with the lowest possible altitude to avoid being spotted. The DTED maps are drawn up using satellites and are constantly updated.
The refusal by France to provide the DTED maps to Ukraine could create tension between the two countries, and it may have an impact on the coalition's ability to carry out low-altitude missions in the area. However, France has been clear that it will continue to support Ukraine in its efforts to defend its territory against Russian aggression.
Escalation…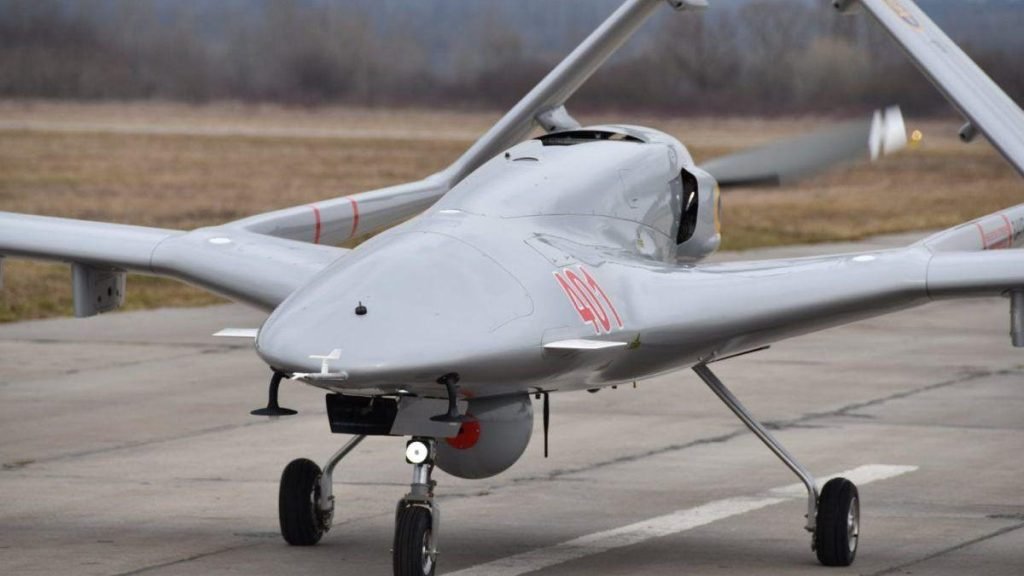 This comes after the claims the Ukrainian agents have carried out drone attacks inside Belarus and Russia, contrary to U.S. and Western wishes, and leaders in Kyiv have considered further targets outside Ukraine, according to a batch of leaked U.S. documents that appear to expose national security secrets.
News outlets obtained over 50 of the leaked documents, revealing much about Ukraine's military strengths and weaknesses. The documents posted online seem "to contain sensitive and highly classified material," though some may have been altered, Pentagon spokesperson Chris Meagher stated.
Two documents appear to show Ukraine launching operations inside other countries, though some allied nations have said any such actions might cause them to reconsider their ongoing support for Kyiv.
The disclosures show how damaging the leaked documents could be. 
"Releasing this information could be intended to undercut Western support for Ukraine by showing potential operations cross border and by revealing purported weaknesses in Ukraine's air defence capabilities," a former defence adviser stated.
The documents also suggest Ukraine's military intelligence made plans to conduct covert attacks on Russian forces operating in Syria with the help of Kurds, leaked U.S. intelligence documents show, the Washington Post reported.
The plans appear to have been aimed at Russian and Kremlin-backed private mercenary Wagner Group, active both in Ukraine and Syria.
The plans were terminated by Ukrainian President Volodymyr Zelensky, but the leaked documents, dated late January, detailed the possible plan of action the Main Directorate of Intelligence, Ukraine's Defense Ministry's military intelligence agency, could have taken to carry out attacks that would have provided Ukraine with plausible deniability.
The leaked documents are part of a trove of classified U.S. military and intelligence files that appeared on the social media network Discord. The U.S. arrested a 21-year-old Air National Guardsman on April 13, suspected of leaking the documents.
Another leaked document suggested that China had refused a request from the Wager Group request for weapons, the Financial Times reported on April 20.
No one wants to see an escalation to this war.
"In today's world Common sense is as rare as a unicorn, and as such, when it prevails, we must cherish it with all our might, for it might be the only thing standing between us and the escalation of a war that nobody wants."
References:
Le Monde. (2023, April 21). France refuses to provide Ukraine with maps to target Belarus. Le Monde International. https://www.lemonde.fr/en/international/article/2023/04/21/france-refuses-to-provide-ukraine-with-maps-to-target-belarus_6023755_4.html
Support Labour Heartlands
WAIT! BEFORE YOU GO
PLEASE HELP US KEEP GOING AD-FREE
This is a "Pay as You Feel" website.
Your support for Labour Heartlands is greatly appreciated. As an independent nonprofit news outlet, we rely on our members to hold the powerful accountable. Our kind of reporting is essential to democracy, but it is not easy, cheap, or profitable.
To continue providing impactful journalism, we need your help. It's getting really hard for us all. Becoming one of our donors. It's simple and doesn't have to cost a lot. With as little as £2, £3, or £5 a month, you can support the journalism you rely on.
While we do not align ourselves with any particular political party, we stand firmly against corruption, injustice, and the erosion of truth and the rule of law. We believe that accurate information is the lifeblood of a democracy and that facts are not up for debate.
Your contribution, no matter how small, goes a long way in helping us continue our mission. Together, we can make a difference.
Thank you, The Labour Heartlands Team
PLEASE HELP US KEEP GOING AD-FREE