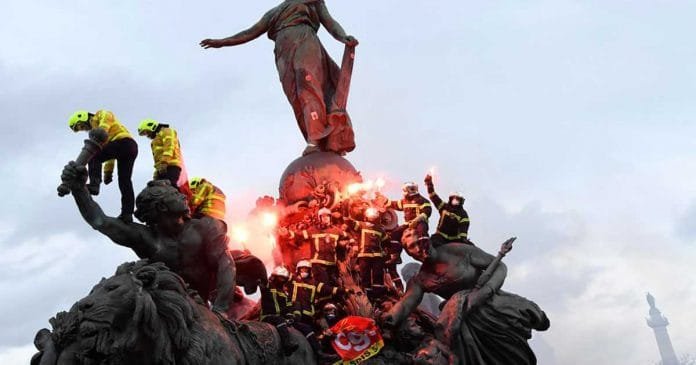 Police clashed with firefighters at a protest in Paris on Tuesday.
Thousands of firefighters attended the protest in the French capital, asking for an increase of their hazard bonus, which has not changed since 1990.
The Police deployed tear gas and water cannon against firefighters the witnessed six firefighters being arrested during the clashes, while three police were injured, according to reports.
"There is real anger and the problem is we're not listened to," Eric Brezault, a 46-year-old firefighter from southern France told Reuters. "That's why people are getting more angry and it's starting to get violent."
Police fired tear gas and hit some protesters with batons.
In October, firefighters also protested in Paris, calling for better pay, guarantees of their pension benefits and greater respect for their profession.
France has seen widespread labour unrest since December, with unions mobilising against President Emmanuel Macron's plans to reform the pension system.
The dispute centred around poor pay and conditions for firefighters.
Unions organised the Paris protest for fire service workers all over the country. They set off noisy firecrackers in the capital's Place de la Republique to bring attention to their cause.
Participants want a raise in risk pay from 19% to 25% to fulfil their missions – which they say reductions in personnel have made increasingly difficult. They say attacks against them are also on the rise.
Videos of the protest posted to social media on Tuesday showed firefighters responding to tear gas being fired at them by police, and scuffles with officers using their batons.
Tensions en cours. Les #pompiers matraqués par la police #greve28janvier pic.twitter.com/iYozZXH0J4

— Jonathan Moadab (@MoadabJ) January 28, 2020

Firecrackers could also be heard being deployed, while orange flares doused parts of the protest route in an orange glow.
According to the Paris police department, officers intervened after several hundred protesters broke away from the main procession, while others attempted to break down safety barriers keeping them on course.
"Respect for the rules applies to everyone, whatever the nature of the event," the force said alongside a video of protesters who appear to ram a barrier.
The demonstration, which comes after similar action in October, was organised to call for a rise in firefighters' risk pay – something that hasn't been increased since 1990 – from 19% of their salary to 25%.
They are also calling for better recognition of the riskiness of their profession, and a response to the number of attacks against personnel – which they say are on the rise.
Tuesday's demonstration saw firefighters gathering at Place de la République in central Paris, before marching toward Place de la Nation.
Support Labour Heartlands
WAIT! BEFORE YOU GO
PLEASE HELP US KEEP GOING AD-FREE
This is a "Pay as You Feel" website.
Your support for Labour Heartlands is greatly appreciated. As an independent nonprofit news outlet, we rely on our members to hold the powerful accountable. Our kind of reporting is essential to democracy, but it is not easy, cheap, or profitable.
To continue providing impactful journalism, we need your help. It's getting really hard for us all. Becoming one of our donors. It's simple and doesn't have to cost a lot. With as little as £2, £3, or £5 a month, you can support the journalism you rely on.
While we do not align ourselves with any particular political party, we stand firmly against corruption, injustice, and the erosion of truth and the rule of law. We believe that accurate information is the lifeblood of a democracy and that facts are not up for debate.
Your contribution, no matter how small, goes a long way in helping us continue our mission. Together, we can make a difference.
Thank you, The Labour Heartlands Team
PLEASE HELP US KEEP GOING AD-FREE