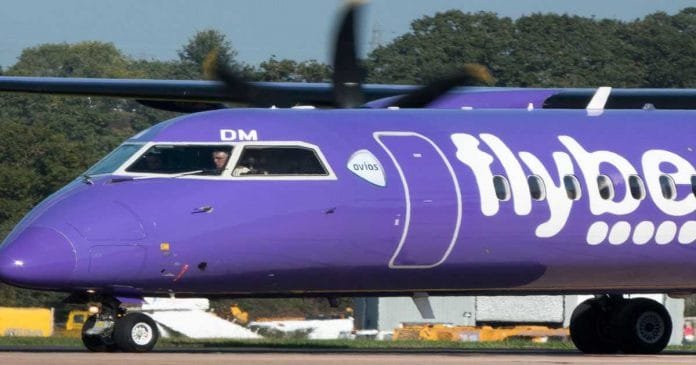 Flybe collapses after ministers reject call for another £100 million rescue package
The UK's Civil Aviation Authority confirmed on Thursday morning that Europe's biggest regional carrier had fallen into administration following the decision not to provide a £100m state loan.
Flybe, Europe's largest regional airline, has collapsed with the loss of more than 2,000 jobs, less than two months after the government announced a rescue deal.
Ministers agreed in January to support the firm with a multi-million pound package that asked shareholders to put more into the business while the Government deferred an outstanding £106m air passenger duty bill.
The impact of the coronavirus on flight bookings proved the last straw for the Exeter-based airline, which operates almost 40% of UK domestic flights, as the government stalled on a controversial £100m loan.
The government has been unwilling to bail out Flybe, despite calls from unions and MPs in the regions, with other airlines, led by the British Airways owner, IAG, and Ryanair, objecting about the prospect of state aid and threatening legal action.
Unite's national officer for aviation, Oliver Richardson, said it was "outrageous" that the government had not learned the lessons of last year's collapse of Thomas Cook or of Monarch in 2017 . He said Flybe staff would be feeling "angry and confused".
He said: "The UK economy is highly dependent on a viable and supported regional airline and airport network. For central government not to support and nurture this, especially as we deal with the twin uncertainties of the Covid-19 virus and the changes that will come with Brexit, is unhelpful and irresponsible."
Andy McDonald, the shadow transport secretary, said the loss of Flybe would cause "real anxiety" throughout the country.
The British Airline Pilots' Association hit out at the government and Connect for the collapse. The trade union's general secretary, Brian Strutton, said: "Six weeks ago, when the ownership consortium lost confidence, the government promised a rescue package, apparently at that time recognising the value of Flybe to the regional economy of the UK.
"Throughout, pilots, cabin crew and ground staff have done their jobs brilliantly, while behind the scenes the owners and, sadly, government connived to walk away. Flybe staff will feel disgusted at this betrayal and these broken promises."
In a statement, the chief executive, Mark Anderson, said the company had made "every possible attempt" to avoid collapse but had been "unable to overcome significant funding challenges".
Anderson said: "The UK has lost one of its greatest regional assets. Flybe has been a key part of the UK aviation industry for four decades, connecting regional communities, people and businesses across the entire nation."
Flybe's administrator, the accountancy firm EY, referred to coronavirus in its statement as it flagged "added pressures" on the travel industry in the last few weeks that made its precarious financial situation worse. Before the viral outbreak, Flybe was already struggling with rising fuel costs – a key factor in any airline's ability to make a profit – soft demand and competition.
The transport secretary, Grant Shapps, tweeted it was "very sad" Flybe had gone out of business after serving passengers for four decades. He said the government was "urgently working" with the airline industry to "identify how key routes can be re-established by other airlines as soon as possible".
Flybe passengers and staff are being offered free travel by all First Rail train operators, which consist of Great Western Railway, South Western Railway, TransPennine Express and Avanti West Coast. EasyJet has offered rescue fares for passengers and free flights to Flybe staff to get home.
Flybe's bankruptcy has come only a week before a budget that it hoped would help bolster its precarious finances, after the previous chancellor said he would look again at levels of air passenger duty (APD) .
However, the airline's owners Connect Airways – a consortium of Virgin Atlantic, Stobart Air and the hedge fund Cyrus Capital – have pulled the plug, a little over a year after buying it.
Flybe: What are your rights if you've bought a ticket or are stranded?
The collapse has left some passengers stranded but there will be no government-backed operation to bring them home.
John-Paul Ford Rojas From Sky news states… Link
Stranded Flybe customers will have to make their own alternative travel arrangements after the airline's collapse.
No repatriation
There will be no government-backed operation to help them – as happened in the case of Thomas Cook – since they would be expected to be able to travel instead by coach, rail, or other flights.
The Civil Aviation Authority (CAA) said passengers should not go to the airport as all flights have been cancelled.
"The government has not commissioned the CAA to organise any repatriation flights as there is capacity in the market for people to travel via alternative airlines, rail and coach operations," it said.
Rivals offer help
Rival airline easyJet said it was offering flights at a rate of £65 until the end of May to help affected passengers get home, plus free travel for Flybe staff on Thursday and Friday.
Meanwhile, west coast rail operator Avanti said it would be allowing Flybe ticket holders and staff to travel for free on Thursday.
Refunds
Customers seeking a refund will not be protected by the industry's ATOL scheme if they booked directly with the airline.
Instead, they are being advised by the CAA that they may be protected if they paid by credit or debit card.
Consumer group Which? said those who booked tickets by credit card costing more than £100 would be able to claim back from their card provider.
It added that those whose tickets were less than £100 or booked with a debit card could try to use chargeback from their bank or card provider – a protection provided by some companies for consumers who do not receive the goods they have bought.
Those who have purchased travel insurance that includes a "schedule airline failure" policy should also be covered.
A few customers whose flights were part of a package holiday booked through an ATOL-protected firm should be provided with alternative travel arrangements or a full refund.
CAA chief executive Richard Moriarty said: "This is a sad day for UK aviation and we know that Flybe's decision to stop trading will be very distressing for all of its employees and customers.
"We urge passengers planning to fly with this airline not to go to the airport as all Flybe flights are cancelled.
"Flybe also operated a number of codeshare partnerships with international airlines.
"If you have an international airline ticket you should make contact with that airline to confirm your travel arrangements."
Support Labour Heartlands
PLEASE HELP US KEEP GOING AD-FREE
HELP US GROW.
This is a "Pay as You Feel" website.
This blog has no source of state, corporate or institutional finance whatsoever. It runs entirely on voluntary subscriptions from its readers – many of whom do not necessarily agree with every article, but welcome the alternative voice, insider information and debate.
You can have access to all of our online work for free. However if you want to support what we do, you could make a small donation to help us keep writing and staying ad-free. The choice is entirely yours.