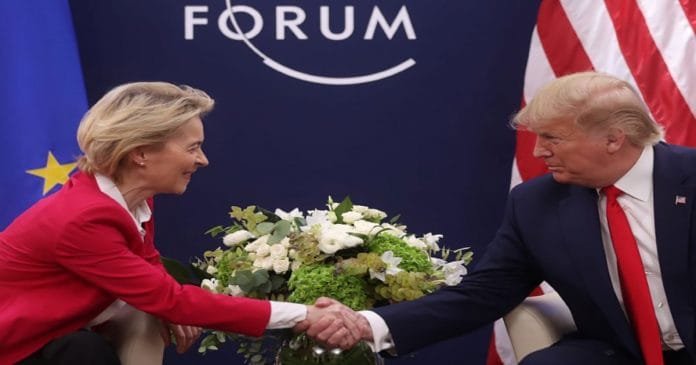 U.S. President Donald Trump on Wednesday threatened to impose high tariffs on imports of cars from the European Union if the bloc doesn't agree to a trade deal.
Trump has previously made threats to place duties on European automobile imports, with the intent of receiving better terms in the U.S.-Europe trade relationship. Trump has delayed imposing the tariffs a number of times.
"I met with the new head of the European Commission, who's terrific. And I had a great talk. But I said, 'look, if we don't get something, I'm going to have to take action' and the action will be very high tariffs on their cars and on other things that come into our country," Trump told CNBC's Joe Kernen in an interview from the World Economic Forum in Davos, Switzerland.
Former German Defence Minister Ursula von der Leyen succeeded Jean-Claude Juncker at the end of 2019 as the EU's top official, becoming the first woman to hold the post.
Mike Manley, the head of European car industry lobby group ACEA, said businesses need certainty and hoped that a clash with Trump could be avoided.
"If you look at President Trump's track record I think he is incredibly serious. If the parties involved approach those discussions in a serious manner it will be possible for an amicable conclusion to be reached," Manley, who is the chief executive of Fiat Chrysler, told an industry event in Brussels.
"An escalation of the tariffs is not to the benefit of anyone," he added.
The United States has also threatened duties of up to 100% on French goods, from champagne to handbags, because of a digital services tax that Washington says harms U.S. tech companies.
Trump told CNBC that the European Union had to make a deal on trade. "They have no choice," Trump said.
In a separate interview in Davos with Fox Business Network, Trump said the tariffs on EU cars could amount to 25%.
"Ultimately it will be very easy because if we can't make a deal, we'll have to put 25% tariffs on their cars," Trump told Fox Business' Maria Bartiromo in an interview.
The United States struck a Phase 1 trade deal with China in January, soothing some of the worries which have hampered the world economy in recent time.
Asked if a trade pact with Britain could come next, Trump told CNBC he was ready to make a deal with British Prime Minister Boris Johnson.
"Boris and I are friends, and he wants to make a deal, and that's ok with me," he said.
We've already started negotiating with Britain
Britain is due to leave the EU at the end of January, the Johnson has stated that one of the main advantages of being outside the bloc would be the ability for Britain to negotiate its own trade deals, including with the United States.
"We're starting. We've already started negotiating" with Britain, Trump said.
EU will respond in kind to new U.S. tariffs – German ambassador to U.S.
The European Union is as strong economically as the United States, and will respond to any additional U.S. tariffs with duties of its own on U.S. products, Germany's ambassador to the United States, Emily Haber, said on Wednesday.
In Davos, Switzerland, U.S. President Donald Trump on Wednesday renewed his threat to impose tariffs of up to 25% on imports of cars from the EU if the bloc does not agree to a trade deal.
Haber told an event hosted by the Center for Strategic and International Studies the EU would respond "in the same dimension and the same vein."
French Ambassador Philippe Etienne told the same event that the EU was pushing for negotiated settlements of disputes with Washington over aircraft subsidies and digital taxes, warning that escalating tit-for-tat tariffs would hurt both economies.
"It is not in our interest to have an escalation of tariffs," he said.
Washington and Brussels remain embroiled in difficult negotiations over a host of trade issues ranging from aircraft subsidies, trade barriers, and plans by France and other European countries to impose taxes on digital services.
French President Emmanuel Macron and Trump this week agreed to a truce at least on one front: France will suspend down payments for its 3% digital tax in exchange for Washington delaying – at least until year-end – a move to slap tariffs of up to 100% on $2.4 billion list of French imports.
Separately, Washington has already imposed a 25% tariff on a raft of European wines and other goods, and a 10% tariff on aircraft, in a long-running pair of cases before the World Trade Organisation over aircraft subsidies. It warned in December that it would raise those tariffs and expand the list of affected products.
The EU is poised to respond with its own tariffs on the aircraft subsidy issue this spring, following an expected WTO decision. EU officials have pushed Washington to resolve the dispute, but those discussions have not seen much movement.
European shares reversed course and edged lower on Wednesday as U.S. President Donald Trump threatened to impose high tariffs on imports of cars from the European Union, pushing automobile stocks to a three-month low.
Speaking at the World Economic Forum in Davos, Switzerland, Trump warned of the tariffs if the EU did not agree to a trade deal. The EU and the United States have recently locked horns over issues ranging from a French digital tax to aircraft subsidies.
European shares drop from record high on threat of U.S. auto tariffs
The threat prompted a response from Germany's ambassador to the United States, Emily Haber, that the EU could also impose duties on U.S. products.
The pan-European STOXX 600 index <.STOXX> was 0.1% down, having touched a record high of 424.94 earlier in the day.
Automobile stocks <.SXAP> were the worst performing sector, dropping more than 1% to their lowest since mid-October. The tariffs threaten to increase pressure on a sector that has already been grappling with a fall in global demand.
Finnish tyre maker Nokian Tyres <TYRES.HE> and German car maker Daimler <DAIGn.DE> were the top losers on the auto subindex.
(Reporting by Andrea Shalal; Editing by Lisa Shumaker)
(Additional reporting by Edward Taylor in Brussels; Writing by Toby Chopra and Keith Weir; Editing by Jon Boyle)
Ursula von der Leyen: Elected European Commission president under a cloud of corruption and scandal
Support Labour Heartlands
PLEASE HELP US KEEP GOING AD-FREE
HELP US GROW.
This is a "Pay as You Feel" website.
This blog has no source of state, corporate or institutional finance whatsoever. It runs entirely on voluntary subscriptions from its readers – many of whom do not necessarily agree with every article, but welcome the alternative voice, insider information and debate.
You can have access to all of our online work for free. However if you want to support what we do, you could make a small donation to help us keep writing and staying ad-free. The choice is entirely yours.