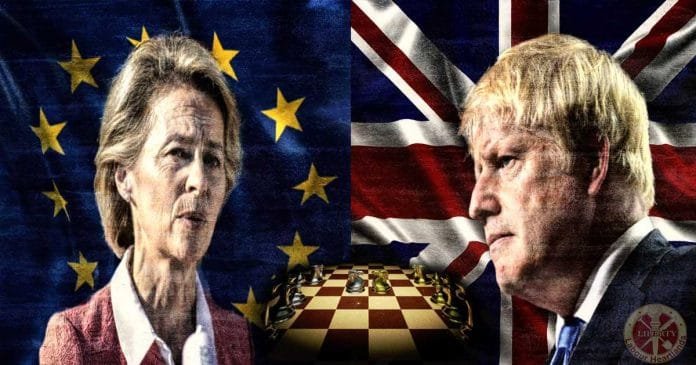 EU to 'withdraw' current deadline for Brexit and remove no-deal option
Gordon Brown has said the European Union will next week "withdraw" the current deadline for Brexit and remove any excuse for no-deal on October 31. According to an article in the Herald by Tom Gordon
The former Labour Prime Minister said his belief was based on talks with EU leaders in recent days.
In particular, he said he understood that France's President Macron, the prime mover behind the October 31 deadline when it was agreed in April, no longer insisted upon it.
He said President Macron had demanded a six-month extension rather than a year to "sound tough" to a domestic audience six weeks before the European elections.
Mr Brown said that although EU leaders could not unilaterally annul the deadline, he now expected them to say they were ready and willing to extend it, adding to the pressure on Boris Johnson to avoid no-deal.
He said he hoped the move it would give MPs more time to pass emergency legislation to block no-deal when they returned to Westminster on Tuesday.
Brown said: "It was Macron that introduced this October 31st deadline. He persuaded the rest of the European Council to announce it and Britain agreed to it.
"My information is that Macron no longer holds to that deadline. It was really introduced for his campaign in the European elections to make him sound tough.
"And none of the other European Commissioners, including the new President of the European Commission [Ursula von der Leyen], I believe will hold to that October 31st deadline.
"So really the government has two arguments that they want to get across – that it's a sovereign people against a mon-sovereign parliament, and it's Britain against Europe.
"Pull the rug from under that argument by saying it's not Europe that's being inflexible, it's up to Britain now, the October 31st deadline can be removed.
"I think if that happened next week it would help us win a vote in the House of Commons and and help put the pressure back on the government."
Speaking briefly to the media afterwards, Mr Brown said: "I think they [the EU] will withdraw it [the October 31 deadline]. That's what I believe they should do and I believe they will do.
"It's got to be an offer. Under Article 50 it's by agreement."
He also said he believed there would be the required unanimity on the part of the EU27.
"I have been talking to people and I believe that to be the case. In fact, if you look back, about three weeks ago Ursula von der Leyen said she was prepared to do so.
"What I'm saying is there's meetings next week that may make that offer. I think there's a meeting of the Commission next week."
Boris Johnson has insisted the UK will leave on Hallowe'en "do or die".
---
UK and EU step up Brexit talks to twice a week
Meanwhile, the reality that the UK is to conduct Brexit talks twice a week would seem that we are closer to a deal than we have been any other time for the last three years. Boris Johnson said the boost in activity was part of his approach to scrapping the Northern Irish backstop.
Brexit talks will take place twice a week during September, with just two months to go before the October 31 deadline, according to Downing Street.
Boris Johnson said in a statement the boost in activity was part of his "energetic and determined" approach to scrapping the controversial Northern Irish backstop.
"While I have been encouraged with my discussions with EU leaders over recent weeks that there is a willingness to talk about alternatives to the anti-democratic backstop, it is now time for both sides to step up the tempo," he said. "The increase in meetings and discussions is necessary if we are to have a chance of agreeing a deal for when we leave on October 31, no ifs no buts."
The two sides have agreed to discuss a number of issues at future meetings including the backstop mechanism to keep the Northern Irish border open in the event of a no-deal Brexit.
A European Commission spokesman said: "David Frost has asked to meet the Commission twice a week to discuss the U.K.'s withdrawal. We have always said that our doors remain open and we have demonstrated our willingness to work 24/7 throughout this long process.
"We expect the U.K. to come forward with concrete proposals as President Juncker made clear to Prime Minister Johnson earlier this week."
Johnson has made numerous statements committing himself and the U.K. to leave the EU without a deal if necessary, and has been accused of trying to bypass his opponents in the House of Commons by suspending parliament for almost a month.
Support Labour Heartlands
Help Us Sustain Ad-Free Journalism
Sorry, I Need To Put Out the Begging Bowl
Independent Journalism Needs You
Our unwavering dedication is to provide you with unbiased news, diverse perspectives, and insightful opinions. We're on a mission to ensure that those in positions of power are held accountable for their actions, but we can't do it alone. Labour Heartlands is primarily funded by me, Paul Knaggs, and by the generous contributions of readers like you. Your donations keep us going and help us uphold the principles of independent journalism. Join us in our quest for truth, transparency, and accountability – donate today and be a part of our mission!
Like everyone else, we're facing challenges, and we need your help to stay online and continue providing crucial journalism. Every contribution, no matter how small, goes a long way in helping us thrive. By becoming one of our donors, you become a vital part of our mission to uncover the truth and uphold the values of democracy.
While we maintain our independence from political affiliations, we stand united against corruption, injustice, and the erosion of free speech, truth and democracy. We believe in the power of accurate information in a democracy, and we consider facts non-negotiable.
Your support, no matter the amount, can make a significant impact. Together, we can make a difference and continue our journey toward a more informed and just society.
Thank you for supporting Labour Heartlands
Just click the donate button below