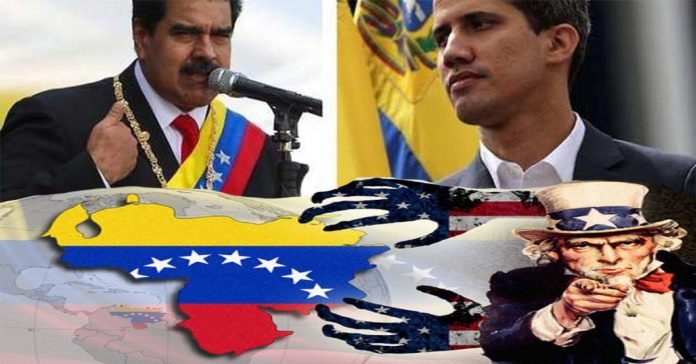 European Parliament recognizes Guaidó as Venezuela's interim President
The European Parliament adopted a resolution Thursday recognizing Venezuela's opposition leader Juan Guaidó as the country's interim president, and called on EU countries to support him until new "free, transparent and credible" presidential elections could be held.
The resolution — initiated by the European People's Party — was backed by 439 votes to 104, with 88 abstentions.
EU 'risks pushing the 'Oil Rich' Venezuela towards civil war' 
In an interview, the Ambassador of Venezuela to the EU, said this will fuel tensions in the country and asks the European member states to act with responsibility.
"The European Parliament can not consider itself above the Security Council. The important thing is to ask whether the European Union is willing to take a step forward to bring Venezuela into a situation of civil war; that is the question that must be asked. Not if Venezuela wants to make changes in its democracy and in its institutional arrangement," Claudia Salerno, Venezuela's Ambassador to the EU.
The opposition immediately welcomed the vote in the European Parliament.
But the former mayor of Caracas, who was in the parliament to listen to the debate, said to be carefully about dialogue.
"If a working group is gonna be created, whatever they have in mind to design, I would like to make it very clear that we would only endorse and accept a working group to define the terms of the end of the usurpation, we say no to negotiations to give Maduro oxygen. Any diligence is to put an end to drug tyranny," Antonio Ledezma, opposition leader and ex-mayor of Caracas told Euronews.
The resolution approved by the parliament calls for the creation of a contact group that can mediate to reach an agreement for the convocation of "free, transparent and credible presidential elections, based on a agreed calendar, on equal conditions for all actors, transparency and the presence of international observers".
The political and economic crisis in Venezuela is getting worse. Social division has deepened between President Nicolas Maduro, backed by Venezuela's military, and self-declared President Juan Guaido, who is Speaker of Parliament and leader of the opposition. The world community has been taking sides.
In a social media video President Nicolás Maduro made this statement:
LET US NOT ALLOW ANOTHER VIETNAM WAR IN MY HOMELAND
People from 

#

USA

, I ask for your support in order to reject the interference of Donald Trump's administration which intends to turn my Homeland into a "Vietnam war" in Latin America. Don't allow it!

People from 

#

USA

, I ask for your support in order to reject the interference of Donald Trump's administration which intends to turn my Homeland into a "Vietnam war" in Latin America. Don't allow it!
[fusion_code]PGNlbnRlcj48aWZyYW1lIHNyYz0iaHR0cHM6Ly93d3cuZmFjZWJvb2suY29tL3BsdWdpbnMvdmlkZW8ucGhwP2hyZWY9aHR0cHMlM0ElMkYlMkZ3d3cuZmFjZWJvb2suY29tJTJGTGFib3VyaGVhcnRsYW5kcyUyRnZpZGVvcyUyRjgxMDQxNTQzNTk3NDI4MiUyRiZzaG93X3RleHQ9MCZ3aWR0aD01NjAiIHdpZHRoPSI1NjAiIGhlaWdodD0iNDIwIiBzdHlsZT0iYm9yZGVyOm5vbmU7b3ZlcmZsb3c6aGlkZGVuIiBzY3JvbGxpbmc9Im5vIiBmcmFtZWJvcmRlcj0iMCIgYWxsb3dUcmFuc3BhcmVuY3k9InRydWUiIGFsbG93RnVsbFNjcmVlbj0idHJ1ZSI+PC9pZnJhbWU+PC9jZW50ZXI+[/fusion_code]
Elections
According to official results, Maduro secured a second six-year term after obtaining 5.8 million votes, while his main opponent, Henri Falcon, garnered a total of 1.8 million.
Turnout in the election, which came against the backdrop of a political and financial crisis, stood at 46.01 percent.
The country's main opposition coalition, the Democratic Unity Roundtable (MUD), boycotted the vote, while the two most popular opposition leaders, Henrique Capriles and Leopoldo Lopez, were barred from running in the vote.
The White House branded the vote a "sham", and US President Donald Trump issued an executive order limiting Venezuela's ability to sell state assets, including those from state-run oil company PDVSA, heightening pressure on Maduro's government.
Maduro hit back at the US move, saying he rejected "all the sanctions that are sought against the Bolivarian Republic of Venezuela, because they harm it, they generate suffering for the people of Venezuela".
He added: "We will present evidence to the country of the conspiracy in the military field of the United States charge d'affaires and his embassy, of the conspiracy in the economic field and of the conspiracy in the political field."
The officials already sanctioned by the EU are: Nestor Luis Reverol Torres, minister of justice and peace; Gustavo Enrique Gonzalez Lopez, head of the Bolivarian National Intelligence Service; Tibisay Lucena, president of the National Electoral Council; Antonio Jose Benavides, chief of the Capital District; Maikel Jose Moreno Perez, president of the Supreme Court of Justice; Tarek William, Venezuelan attorney general appointed by the Constituent Assembly; and Diosdado Cabello, member of the Constituent Assembly.
International Observers to Venezuela's Election Pen Letter to the EU
Support Labour Heartlands
This is a "Pay as You Feel" website. You can have access to all of our online work for free. However if you want to support what we do, you could make a small donation to help us keep writing and staying ad-free. The choice is entirely yours.
PLEASE HELP US KEEP GOING AD-FREE
HELP US GROW.
The future can be ours - but only if we work together to make it happen. We've been fighting to make the Labour Heartlands a better, more fairer and equal place for over two years now. With a dedicated team and the commitment from our generous supporters giving small regular donations each month, more if they can afford it, we're winning. But there is still so much to do. We're ambitious, but we can only continue to make positive change and shape our country if more of our supporters join us on this journey. If you believe in the issues we fight for please take action and join Labour Heartlands grassroots think-and-do-tank today. It will make all the difference. And then we can make all the difference for everyone.
Not funded by millionaires or advertisers.
Labour Heartlands funded by the people.