What does it take to get cancelled at the Edinburgh Fringe?
Let's dissect this conundrum: at the heart of the Edinburgh Fringe, where laughter mingles with controversy, a peculiar paradox has emerged, shaking the very foundations of artistic expression and free speech. It appears that in this vibrant hub of comedy, a skewed sense of tolerance has led to a scenario wherein comedians who jest about heinous acts of raping and killing women find a welcoming stage, while those who dare to champion women's rights face the merciless guillotine of cancellation.
Consider the case of the notorious jester, Frankie Boyle. His repertoire is laden with misogynistic quips that not only stretch the limits of decency but go well beyond. Yet, the red carpet is unfurled for him at the Fringe, and his presence is lauded.
The question beckons: why does the mirthful spotlight shine on a comedian who peddles in offensive and deplorable content?
Yet, Graham Linehan, a figure infamous not for his crass humour but for his audacity to grasp the concept of biological sex, finds himself shunned from one of the Fringe venues. The absurdity deepens when we acknowledge that Linehan, the mastermind behind comedic gems like "Father Ted," " IT Crowd " and "Black Books," is blacklisted for his 'gender-critical' stance. His support for women who seek to maintain spaces free from male intrusion is deemed a transgression that merits his exile from the kingdom of comedy.
Comedy's Identity Crisis
This came after The Leith Arches in Edinburgh yanked the plug on a Comedy Unleashed event, a comedy night scheduled for this week, because Linehan crime? Embracing "gender-critical" thinking, a crime that apparently trumps his comedy credentials. Despite his comedic prowess, Linehan's audacious stance that individuals with male genitalia ought to stay clear of women's exclusive spaces rendered him persona non grata.
In a puerile Twitter announcement now deleted, the Leith Arches declared their intentions in a style befitting a tantrum-prone toddler. "We DO NOT support this comedian," their statement wailed, with caps lock generously employed to emphasize their fury.
The pièce de résistance was their declaration: the Comedy Unleashed show was "CANCELLED… with immediate effect." The statement, a display of palpable cravenness, smacked of a venue attempting to appease trans activists, those contemporary witch hunters' intent on eradicating any cultural facets that bruise their delicate sensibilities.
Furthermore, the Arches' authoritative edict likely hit hard those who dismiss cancel culture as a mere fable. To the cynics of censorship who observe women being harried from university campuses, dismissed from employment, and subjected to threats of rape and death for asserting the simple truth that "men are not women," the Leith Arches' capitulation stands as a chilling confirmation: censorship's march is relentless.
This is the most astonishing interview. Graham Linehan (@Glinner) has been vindicated over and over regarding the medical abuse of children by gender clinics, and he's correctly pointed out that central figures within "gender identity" theorizing have sexualized children.

For… pic.twitter.com/BL1bwMZESg

— Genevieve Gluck (@WomenReadWomen) August 17, 2023
After initially failing to explain its reasons for banning the Linehan event, Leith Arches published an updated statement on Instagram. It said: "We work very closely with the LGBT+ community, it is a considerable part of our revenue, we believe hosting this one-off show would have a negative effect on our future bookings."
Michael Foran, an expert on equalities law at Glasgow University, said Leith Arches could defend its decision in law if it could prove the event was cancelled for reasons other than Linehan's gender-critical views.
Not even the once-boisterous domain of comedy is immune to the regressive notion that emotions carry more weight than liberty itself. The rights of writers, artists, feminists, comics, and even tweeters to express their true beliefs are increasingly usurped by the right of certain activists to glide through life unburdened by challenging ideas or discomfiting words.
Today, we witness the grim fallout from the elevation of feelings over facts and censorship over liberty – a landscape where even comedy falls under the scrutinising eye of the digital inquisition, where laughter itself is sacrificed on the altar of hypersensitivity.
Selective outrage…
Yet, cancel culture is selective. Frankie Boyle, the very embodiment of controversy, headlining in the Assembly Rooms and tickling audiences' funny bones. Is cheered on by the mob. This is the man who's mused provocatively about whether he would rape or kill Holly Willoughby, a feat that highlights the enigmatic blend of tolerance and intolerance present in the heart of cancel culture.
What does it take to get cancelled at the Edinburgh Fringe? The answer, it seems, is to defend the right of women to maintain their safe spaces free from the incursion of biological males. This is the only conclusion we can draw.
Comedians, Cancel Culture and Controversy: The Show Must Go On
As the curtains closed on the initial venue's cancellation, Comedy Unleashed sought to salvage the situation by promptly notifying ticket holders of an alternative venue for the show. However, a disheartening twist in the tale unfolded on Thursday afternoon, when news broke that the newfound venue had also withdrawn its support.
Maintaining a balanced perspective, Andy Shaw, the co-founder of Comedy Unleashed, harboured no bitterness toward the second venue. Acknowledging the mounting unease that has triggered a series of withdrawals, he stated, "I genuinely believe that this issue has swelled to such proportions that individuals are growing wary and inclined to avoid the spotlight. I can certainly understand that sentiment." Dismissing any notion of ideological fervour, Shaw further explained, "It's not ideological at all. They simply seek a tranquil existence. This has, unequivocally, been the most challenging event I've ever organized. It ought to have been a far simpler affair."
But, as the adage goes, "The show must go on." On this occasion, a third venue was eventually secured, where Graham Linehan took the stage in an unconventional comedy setting outside the Scottish Parliament.
In the midst of these developments, Comedy Unleashed successfully relocated the event to Holyrood, refusing to be silenced.
As this saga unfolds, a pattern emerges, characterized by the creeping tendrils of fear, concealed financial interests, and the subtle embrace of authoritative lobbying. This sinister coalition conspires to smother the very essence of our cultural heritage. Even the once uproarious Fringe finds itself hesitant in the face of unconventional ideas, unsure whether to face the probing of masculinity's definitions or the resolute defence of womanhood's principles.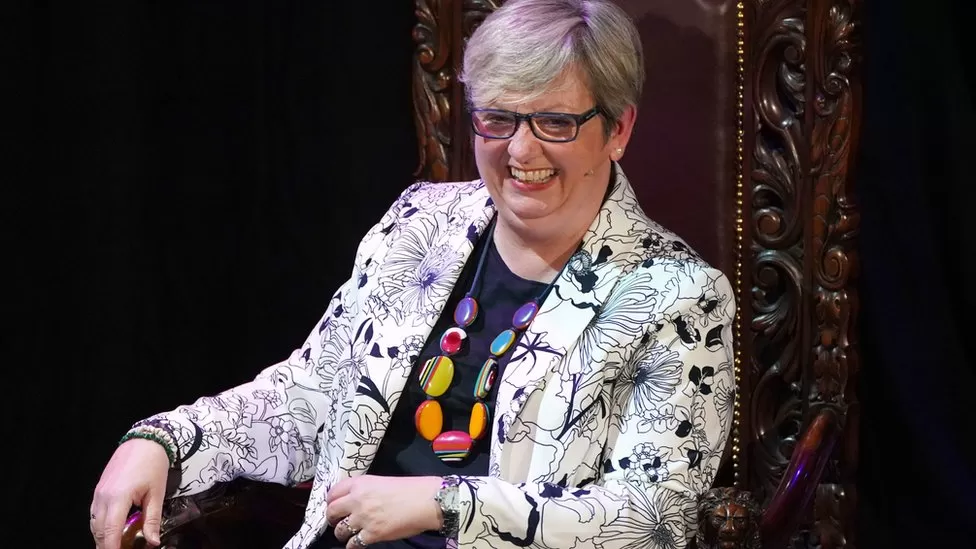 SNP MP Joanna Cherry, who was at the centre of a free speech row earlier this year, said the efforts to cancel Mr Linehan's show was a pattern of "all-too familiar discrimination against people… who don't subscribe to gender identity ideology."
"That is Graham holds a view like me that a man can't become a woman and someone's gender identity, somebody's feelings about their gender should not trump the realist of the sex that they are born into," she told BBC Radio Scotland's Drivetime.
Ms Cherry added: "It's astonishing that a comedy night in Edinburgh, during the largest arts festival in the world, should be prevented from going ahead simply because some people are offended by the views of the comedian and how he expresses himself.
"Free speech is freedom from consequences so long as the speech does not break the law and it's not against the law to be offensive or to say things which other people don't agree with." On that, we all agree on…
Support Labour Heartlands
WAIT! BEFORE YOU GO
PLEASE HELP US KEEP GOING AD-FREE
This is a "Pay as You Feel" website.
Your support for Labour Heartlands is greatly appreciated. As an independent nonprofit news outlet, we rely on our members to hold the powerful accountable. Our kind of reporting is essential to democracy, but it is not easy, cheap, or profitable.
To continue providing impactful journalism, we need your help. It's getting really hard for us all. Becoming one of our donors. It's simple and doesn't have to cost a lot. With as little as £2, £3, or £5 a month, you can support the journalism you rely on.
While we do not align ourselves with any particular political party, we stand firmly against corruption, injustice, and the erosion of truth and the rule of law. We believe that accurate information is the lifeblood of a democracy and that facts are not up for debate.
Your contribution, no matter how small, goes a long way in helping us continue our mission. Together, we can make a difference.
Thank you, The Labour Heartlands Team
PLEASE HELP US KEEP GOING AD-FREE