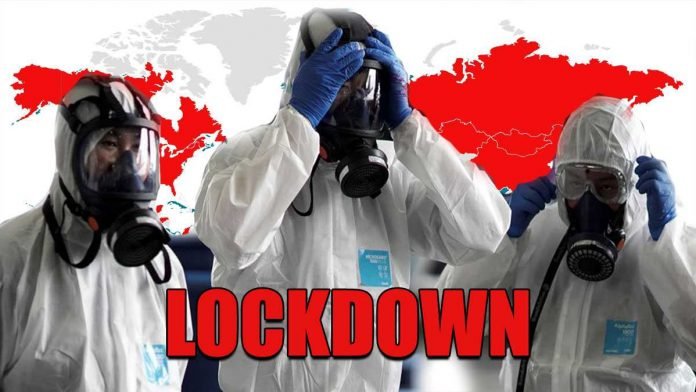 As the epidemic spreads, countries across the world struggle to contain the outbreak and protect their economies.
Donald Trump declared a national emergency on Friday that he vowed would swiftly scale up the country's lagging ability to test coronavirus patients.
Trump said the move will free up $50 billion for states and allow the federal government to waive certain regulations to more quickly test and care for patients. He also trumpeted private sector partnerships that he claimed would lead to drive-thru testing sites across the country.
"To unleash the full power of the federal government under this effort today, I'm officially declaring a national emergency," he said. "Two very big words."
Trump insisted the move would eradicate the testing shortages that health experts say hindered the country's ability to contain the virus when it first appeared on American shores. In recent days, Trump's health officials have warned Americans to expect the situation to worsen, spurring much of the country's public spaces to shutter — professional sports have been suspended, concert halls are closed until further notice and many Americans have been asked to self-isolate.
Market-first flavor
Yet even as Trump unleashed billions in government funding, the announcement had a distinct market-first flavor. Trump outlined a series of agreements with private companies, including Google, Target and Walmart, to facilitate swifter coronavirus testing for Americans. Target and Walmart said they will set aside parking lot space for testing sites, while Google pledged to set up a website to determine whether a person needs a test, and where one is available.
Europe and the EU
As of Saturday morning, all bars and restaurants in Belgium are closed, and schools in Belgium, France and many other EU countries won't open on Monday. Meanwhile, the U.K. will begin banning mass gatherings to help combat the coronavirus outbreak as early as next week.
The U.K. will begin banning mass gatherings to help combat the coronavirus outbreak as early as next week.
In an escalation of the government's response just a day after Prime Minister Boris Johnson set out measures that stopped short of major shutdowns, officials said on Friday that "various types" of public event would now be stopped.
The move follows criticism of the U.K.'s approach from some scientists and commentators. The U.K. — which up until now has focused on contact tracing and, as of Thursday, asking those with specific symptoms to self-isolate — had become an international outlier in terms of its response, with other European countries taking far more drastic shutdown measures to slow the virus's spread.
Officials said the decision to shut down events was based on "complex considerations" including the need to relieve pressure on emergency services. The Scottish government has already announced similar measures.
"Ministers are working with the chief scientific adviser and chief medical officer on our plan to stop various types of public event, including mass gatherings, beginning next week," a Whitehall official said. "We are also talking to businesses and other bodies about the timing of moving toward much more widespread working from home."
Several organizations had already begun canceling major events on Friday. Professional football matches, including the Premier League — the most watched in the world — have been suspended by the sport's authorities until April 4 at the earliest; May's local and mayoral elections, including the London mayoral election, have been postponed until next year; and the London Marathon was postponed until October.
"There are many complex considerations to make all these measures as effective as possible," the Whitehall official said. "We will make the right decisions at the right time based on the best scientific evidence. For example, we are concerned about the burden large events put on public services — including the health service and the police — from dealing with coronavirus."
Emergency legislation due to be published in parliament next week is expected to propose additional powers for the government to address the coronavirus outbreak, including stopping mass gatherings, officials said.
Other European countries took steps to isolate themselves from their neighbors.
Denmark closed its borders and halted passenger traffic to and from the country. Travelers will be turned away at the border if they are unable to show that they have "a legitimate reason" to enter — for example, if they are Danish citizens or residents.
"I know that the overall list of measures is very extreme and will be seen as very extreme, but I am convinced that it's worth it," Danish Prime Minister Mette Frederiksen said.
Poland planned to close is borders at midnight and deny all foreigners entry unless they lived in Poland or had personal ties there. The Czech Republic and Slovakia took similar action. Lithuania said it was introducing border checks at the frontiers with Poland and Latvia.
Russia said its borders with Norway and Poland will be closed to most foreigners beginning Sunday.
EU Economy's first — the single market has to function.
EU President Ursula von der Leyen has condemned some EU countries for introducing blanket travel bans and border closures in response to coronavirus, saying: 'The single market has to function'.
Austria, Slovakia and the Czech Republic are among the nations forbidding entry to anyone arriving from Italy or without a certificate of health.
"It is not good when member states take unilateral action because it always causes a domino effect and that prevents urgently-needed medical equipment from reaching patients and hospitals," she said.
"It amounts to the reintroduction of internal borders at a time when solidarity between member states is needed."
She made the comments as she announced new EU-wide guidelines on health checks at border crossings and the suspension of rules forbidding state aid as part of a €37 billion rescue package to fight the impact of COVID-19.
The pandemic is "a major shock" for EU's economy, she said, "but we must work together to ensure it is as short and as limited as possible."
Von der Leyen said she understood the pressure on countries to protect themselves from the spread of coronavirus.
"Certain controls may be justified but general travel bans are not seen as being the most effective by the WHO," she said. "Moreover, they have a strong social and economic impact, they disrupt people's lives and business across the borders concerned. Any measure that is taken must be proportionate."
She said: "I want to be very clear — the single market has to function."
Spain locked down its 46 million citizens Saturday and France ordered the closing of just about everything the rest of the world loves about it — the Eiffel Tower, the Louvre, the cafes, restaurants and cinema — as governments took increasingly desperate measures to put more space between people and contain the coronavirus.
More borders snapped shut around the globe: President Donald Trump announced that the U.S., which days ago barred travelers from most of Europe, will extend the ban to Britain and Ireland, where cases are on the rise. The president also said that he had been tested for the virus; the results were not immediately released.
Meanwhile, China, where the scourge first appeared late last year, continued to relax its drastic restrictions, illustrating the way the center of gravity in the crisis has shifted westward toward Europe. The virus has infected more than 150,000 people worldwide and killed over 5,600.
In a nationally televised address, Spanish Prime Minister Pedro Sánchez detailed the battery of exceptional measures put in place as part of a two-week state of emergency to fight the sharp rise in infections.
In a lockdown similar to the one already imposed in Italy, people will be allowed to leave their homes only to buy food and medicine, commute to work, go to hospitals and banks, or take trips related to the care of the young and the elderly. All schools and universities were closed, along with restaurants, bars, hotels and other non-essential retail businesses.
"From now we enter into a new phase," Sánchez said after a Cabinet meeting that lasted over seven hours. "We won't hesitate in doing what we must to beat the virus. We are putting health first."
Spanish authorities said the number of infections climbed past 5,700, half of them in the capital, Madrid. That represents a national increase of over 1,500 in 24 hours. The country had 136 deaths, up from 120. Spain has the fifth-highest number of cases, behind China, Italy, Iran and South Korea.
Shoppers packed supermarkets in Spain in the morning despite pleas for calm from authorities. But overall, the normally bustling streets of the country's two biggest cities were noticeably quieter as the message sank in that social distancing is the only way to stop the pandemic.
In the Middle East, Iran's death toll reached 611, with nearly 13,000 infections, including senior government officials.
In the Pacific, New Zealand announced that incoming passengers, including citizens, will be required to isolate themselves for 14 days, with few exceptions.
In the Philippines, thousands of police, backed by the army and coast guard, started sealing the densely populated capital of Manila from most domestic travelers Sunday in one of Southeast Asia's most drastic containment moves against the virus. Authorities also announced a night curfew in the metropolitan area of 12 million people.
How can I protect myself from Coronavirus?
Coronaviruses are passed on by droplet infection, the virus multiplies in the throat. From there the pathogens can be expelled from the body faster than from the lungs, for example by sneezing, coughing or blowing. In this way SARS-CoV-2 spreads onto surfaces where it comes into contact with mucous membranes and infects others by smear infection via the hands.
What concrete measures can individuals undertake to protect themselves and others from a droplet infection?
Keep a distance of one to two meters from anyone who is infected.
Wash your hands regularly and carefully (at least 20 seconds with soap, including the wrists).
Avoid shaking hands and hugging people
Develop self-protection reflexes: Press elevator buttons with your knuckle instead of your fingertip.
Avoid busy places and events. Set priorities.
Avoid touching your own face or the faces of friends and relatives.
Do not touch the mucous membranes of your mouth, eyes and nose with your fingers.
Put on gloves if necessary. Wash or change them daily.
Do not sneeze in your hand. Use your elbow or a tissue instead.
Dispose of used tissues quickly.
Breathing masks offer little protection to healthy people. When worn, the masks become moist through air intake. After just 20 minutes their protective barrier deteriorates. Masks should be reserved for medical staff.
How can I prepare for a pandemic?
If it comes to an intense wave of infections, restrictions on movement will most likely be imposed and this could lead to supply bottlenecks. Take precautions so that you can stay at home for several weeks if necessary.
Have important prescription medication (if necessary) ready for a month.
Keep a supply of non-perishable food.
Make arrangements for how to protect your friends and family. The elderly and sick with weak immune systems are particularly at risk and dependent on help.
Organize possibilities for caring for sick children.
Make arrangements for caring for sick family members without infecting yourself.
How can I help the community?
The more people make efforts to prepare, the more the feeling of togetherness increases. You can improve the situation by helping communities to organize help for themselves.
After surviving the COVID-19 disease you are immune to the pathogen. Therefore, you can leave your home and volunteer to take over other errands and do some shopping for those who are still sick and infectious.
Support Labour Heartlands
Help Us Sustain Ad-Free Journalism
Sorry, I Need To Put Out the Begging Bowl
Independent Journalism Needs You
Our unwavering dedication is to provide you with unbiased news, diverse perspectives, and insightful opinions. We're on a mission to ensure that those in positions of power are held accountable for their actions, but we can't do it alone. Labour Heartlands is primarily funded by me, Paul Knaggs, and by the generous contributions of readers like you. Your donations keep us going and help us uphold the principles of independent journalism. Join us in our quest for truth, transparency, and accountability – donate today and be a part of our mission!
Like everyone else, we're facing challenges, and we need your help to stay online and continue providing crucial journalism. Every contribution, no matter how small, goes a long way in helping us thrive. By becoming one of our donors, you become a vital part of our mission to uncover the truth and uphold the values of democracy.
While we maintain our independence from political affiliations, we stand united against corruption, injustice, and the erosion of free speech, truth and democracy. We believe in the power of accurate information in a democracy, and we consider facts non-negotiable.
Your support, no matter the amount, can make a significant impact. Together, we can make a difference and continue our journey toward a more informed and just society.
Thank you for supporting Labour Heartlands
Just click the donate button below