Two German districts are spending their first full day back in lockdown following a fresh outbreak of COVID-19 at a meat-processing plant.
Two districts in the western German state of North Rhine-Westphalia (NRW) entered their first full day back in lockdown on Wednesday after a fresh outbreak of coronavirus resulted in new restrictions.
The new measures, dubbed "soft lockdown," saw around 640,000 people in the neighboring districts of Gütersloh and Warendorf once more unable to meet in groups larger than two outside each household.
Museums, cinemas, gyms, swimming pools and bars have all once more closed their doors. NRW State Premier Armin Laschet compared the measures to those in place when Germany first put restrictions in place in March. After some confusion, church services will be allowed to go ahead.
"It's a soft or light lockdown," said district commissioner Sven-Georg Adenauer. "It can be compared to what we had in March, but it is not extreme and will only be in place for one week."
The outbreak took place at a meat-packing plant where over 1,000 workers have tested positive for coronavirus. Some 7,000 employees have been asked to self-quarantine, most of whom live in the two districts.
Abattoirs and Meatpacking Plants Have Become Covid-19 Hot Spots
Around the world, with worrying spikes of cases emerging in abattoirs and food production factories in France, Ireland, Germany, the US and ­Britain.
Hundreds of workers have tested positive for coronavirus at meat processing plants and abattoirs.
They include a chicken processing site in Anglesey, where more than 150 workers have become infected with Covid-19, and plants in Wrexham and West Yorkshire.
Health officials in various counties are taking a close look at coronavirus outbreaks associated with abattoirs and food processing.
While scientists have yet to pinpoint the particular conditions that are fuelling the meat processing spikes, officials are looking at unavoidable close working conditions on production lines and the very cold indoor conditions, often with intense air-conditioning to protect the meat, which allows the virus to flourish.
People get infected with coronavirus from droplets, which may be coughed, sneezed or exhaled by an infected person.
The infection may come through close contact with the person or by touching infected surfaces.
"Factories and, in particular, indoor areas which are cold and damp, are perfect environments for coronavirus to linger and spread," according to Lawrence Young, Professor of Molecular Oncology at the University of Warwick.
"Virus-containing droplets from infected individuals are more likely to spread, settle and stay viable."
Another possible factor in these refrigerated workplaces is noisy machinery, which requires people to talk more loudly or shout, which can increase the spread of infected droplets.
Labour MP Geraint Davies said plant workers in England and Wales were more than five times more likely to die from coronavirus than an average worker according to data from the Office for National Statistics.
From the Americas to Europe and Australia, abattoirs have become important vectors for infection, with plants around the world forced to close because of infection breakouts. In the US more than 20,000 meat-packing plant workers have fallen ill, according to the Food and Environment Reporting Network, while Germany, the Netherlands, Ireland, France and the UK have faced similar issues in their slaughterhouses.
The problem has been exacerbated because meat-processing employees were designated essential in many countries. This meant they generally carried on working in close-confines, helping to spread the disease to the wider community. 
Marion Nestle, professor emerita of nutrition, food studies and public health at New York University, said many consumers were aghast to learn how meat-packing plants operated. "People are horrified about the working conditions in the sector," she said.
"A lot more people are going to get sick before this is over just to get meat on the table. [Meat processors] are more interested in getting the meat out but [workers] are helpless," she added.
The Food Standards Agency said it was very unlikely that you could catch coronavirus from food because that is not how it is known to be transmitted.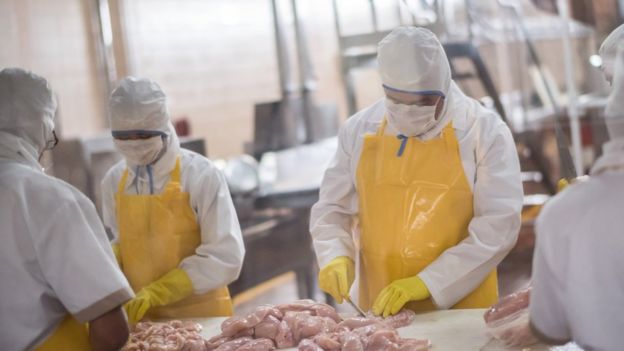 It's not just conditions inside the plant that may be increasing the risk of coronavirus.
"Some of these factories have on-site or nearby accommodation where there are several people in each dormitory. They may be transported on a bus to the site of work, and they will be indoors together all day," said Michael Head, senior research fellow in global health at the University of Southampton.
The Unite union says that while it represents many workers in the meat processing sector, plants often employ migrant workers who may not be entitled to full sick pay, so could lose money if they self-isolate after getting sick.
The union says they often do not speak English as a first language and are worried about losing their jobs, so may be reluctant to raise concerns.
The British Meat Processors Association (BMPA) told Reality Check that most workers in its members' plants are full employees rather than agency staff.
Romanian minister calls for migrant labour rethink after slaughterhouse COVID cases
The background to the crisis has been consolidation and aggressive cost-cutting caused by fierce competition among meat groups for domestic and export market share, said Enrico Somaglia, deputy general secretary of the European Federation of Food, Agriculture and Tourism Trade Unions. "It is a race to the bottom," he said.
The coronavirus crisis must prompt a rethink of the conditions in which some people from Eastern Europe work in the farms and food industry of Western Europe, Roumania's labour minister said after outbreaks in German slaughterhouses.
Most of Europe's borders have been closed since late March as a result of governments' attempts to slow the spread of the virus, but 30,000 Romanian workers have been among the few who have continued to move, flown to Germany to work in the food sector on flights chartered by farmers.
Like all EU citizens, Romanians can work anywhere in the 27-nation-bloc, a fact which Germany's highly competitive food-processing industry has relied to keep down costs.
But critics worry that costs have been pushed down too far.
Workers recently arrived on charter flights posted videos on social media showing them crammed into accommodation with four or more people to a room, in defiance of social distancing guidelines designed to reduce the risk of transmission. Reuters has not verified the videos.
At least two have since died of coronavirus, autopsies showed, though they are believed by German and Romanian authorities to have contracted the illness before leaving home.
Others, mostly longer established in Germany, are working in abattoirs that have seen a spate of coronavirus outbreaks, including hundreds of employees testing positive in an individual slaughterhouse.
"The circumstances we are going through reveal a number of systemic problems that we haven't addressed properly during the last years," minister Violeta Alexandru told Reuters after driving 18 hours from Bucharest to Berlin for a fact-finding mission into the conditions Romanians are working under.
Other migrants described being charged for accommodation, leaving them with a net wage of as little as 6 euros per hour, making a mockery of Germany's 9.35 euro minimum wage.
"The coronavirus crisis acts like a magnifying class to highlight what's already good or bad in a society," German Labour Minister Hubertus Heil told a joint news conference with Alexandru on Tuesday.
"When we have mass infection of Romanian workers in the meat industry, then I have to say it's not acceptable. I have to say it makes me ashamed," he said, pledging more support to local labour authorities to ensure minimum labour standards were being properly enforced.
A draft government proposal last week said Germany would order meatpacking plants to stop using subcontractors and to improve hygiene standards in the workplace and accommodation.
80% of German meat industry workers are migrants
Hundreds of Romanian migrant workers have been infected by the new coronavirus at slaughterhouses in Germany and the Netherlands, an emerging aspect of the pandemic that highlights the dilemma facing seasonal workers who travel west from poorer EU states.
Farmers in France, Italy, Germany, and elsewhere routinely employ migrant workers for harvests, and meat-processing companies in those and other countries also rely heavily on Romanians and other Eastern Europeans.
EU institutions have acknowledged that such workers "provide a vital workforce on farms in Germany, France, and other member states and ensure food security across Europe, but their rights are often denied."
The European Parliament and Commission said on May 25 and 26 that they were "deeply concerned by reports about the precarious working conditions and lack of safety measures for cross-border, frontier, and seasonal workers."
But even as governments on both sides have pledged to better support Romanians willing to do similar work at home or alleviate "structural" problems plaguing the cross-border labor market, there is skepticism over promises of any early fixes.
The German meat industry employs around 128,000 people, and trade unions estimate that up to 80% of them are migrants, mostly from Eastern and Southern European countries, who are not employed directly by German companies but work through subcontractors. For example at Tönnies, Germany's largest meatpacking facility, around half of its 6,500 employees are hired by subcontractors. The company is a market leader in the German pork manufacturing industry, with a 30.3% market share, according to the Syndicate of German Pig Keepers (ISN), when measured by the number of animals slaughtered. Around 20,000 pigs are slaughtered and butchered each day on the company's premises.
Support Labour Heartlands
WAIT! BEFORE YOU GO
PLEASE HELP US KEEP GOING AD-FREE
This is a "Pay as You Feel" website.
Your support for Labour Heartlands is greatly appreciated. As an independent nonprofit news outlet, we rely on our members to hold the powerful accountable. Our kind of reporting is essential to democracy, but it is not easy, cheap, or profitable.
To continue providing impactful journalism, we need your help. It's getting really hard for us all. Becoming one of our donors. It's simple and doesn't have to cost a lot. With as little as £2, £3, or £5 a month, you can support the journalism you rely on.
While we do not align ourselves with any particular political party, we stand firmly against corruption, injustice, and the erosion of truth and the rule of law. We believe that accurate information is the lifeblood of a democracy and that facts are not up for debate.
Your contribution, no matter how small, goes a long way in helping us continue our mission. Together, we can make a difference.
Thank you, The Labour Heartlands Team
PLEASE HELP US KEEP GOING AD-FREE