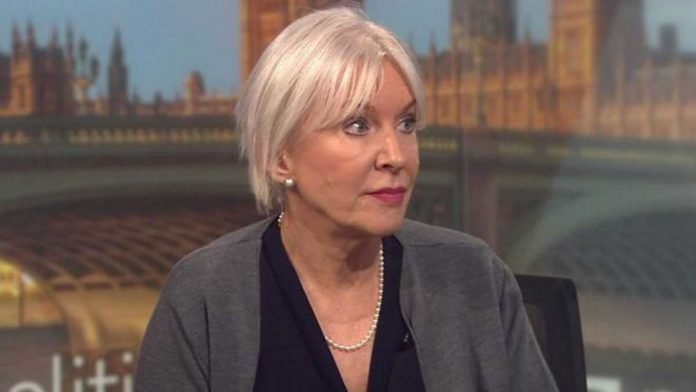 Health minister Nadine Dorries says she has tested positive for coronavirus.
She said in a statement that as soon as she was informed she took all the advised precautions and has been self-isolating at home.
"Public Health England has started detailed contact tracing and the department and my parliamentary office are closely following their advice."
It comes as a sixth person died from the virus in the UK, which has a total of 382 cases.
The 62-year-old is the first British politician to have contracted the virus, which has infected more than 118,000 people worldwide and lead to more than 4,200 deaths.
Writing on Twitter, Minister for Health and Social Care Matt Hancock said: "Really sorry to hear Nadine has tested positive for coronavirus. She has done the right thing by self isolating at home, and both NHS and PHE staff have been brilliant. We all wish her well as she recovers.
"I understand why people are worried about this disease. We will do all we can to keep people safe, based on the best possible science."
Ms Dorries, who represents mid-Bedfordshire in the Commons, was among those to have helped draft the government's response to the epidemic – which is expected to hit its peak within the next fortnight.
It is unclear how much she may have interacted with senior government officials before becoming unwell.
1/2: Really sorry to hear Nadine has tested positive for coronavirus. She has done the right thing by self isolating at home, and both NHS and PHE staff have been brilliant. We all wish her well as she recovers.

— Matt Hancock (@MattHancock) March 10, 2020
How can I protect myself?
Coronaviruses are passed on by droplet infection, the virus multiplies in the throat. From there the pathogens can be expelled from the body faster than from the lungs, for example by sneezing, coughing or blowing. In this way SARS-CoV-2 spreads onto surfaces where it comes into contact with mucous membranes and infects others by smear infection via the hands.
What concrete measures can individuals undertake to protect themselves and others from a droplet infection?
Keep a distance of one to two meters from anyone who is infected.
Wash your hands regularly and carefully (at least 20 seconds with soap, including the wrists).
Avoid shaking hands and hugging people
Develop self-protection reflexes: Press elevator buttons with your knuckle instead of your fingertip.
Avoid busy places and events. Set priorities.
Avoid touching your own face or the faces of friends and relatives.
Do not touch the mucous membranes of your mouth, eyes and nose with your fingers.
Put on gloves if necessary. Wash or change them daily.
Do not sneeze in your hand. Use your elbow or a tissue instead.
Dispose of used tissues quickly.
Breathing masks offer little protection to healthy people. When worn, the masks become moist through air intake. After just 20 minutes their protective barrier deteriorates. Masks should be reserved for medical staff.
How can I prepare for a pandemic?
If it comes to an intense wave of infections, restrictions on movement will most likely be imposed and this could lead to supply bottlenecks. Take precautions so that you can stay at home for several weeks if necessary.
Have important prescription medication (if necessary) ready for a month.
Keep a supply of non-perishable food.
Make arrangements for how to protect your friends and family. The elderly and sick with weak immune systems are particularly at risk and dependent on help.
Organize possibilities for caring for sick children.
Make arrangements for caring for sick family members without infecting yourself.
How can I help the community?
The more people make efforts to prepare, the more the feeling of togetherness increases. You can improve the situation by helping communities to organize help for themselves.
After surviving the COVID-19 disease you are immune to the pathogen. Therefore, you can leave your home and volunteer to take over other errands and do some shopping for those who are still sick and infectious.
Support Labour Heartlands
Help Us Sustain Ad-Free Journalism
Welcome to the Heartlands of Independent Journalism
At Labour Heartlands, we are committed to delivering independent news, views, and opinions. Our mission is to hold those in power accountable, and we can't do it without your support. As a non-profit independent organisation, we rely on our donors to keep our journalism ad-free and impactful.
Like everyone else, we're facing challenges, and we need your help to stay online and continue providing crucial journalism. Every contribution, no matter how small, goes a long way in helping us thrive. By becoming one of our donors, you become a vital part of our mission to uncover the truth and uphold the values of democracy.
While we maintain our independence from political affiliations, we stand united against corruption, injustice, and the erosion of free speech, truth and democracy. We believe in the power of accurate information in a democracy, and we consider facts non-negotiable.
Your support, no matter the amount, can make a significant impact. Together, we can make a difference and continue our journey toward a more informed and just society.
Thank you for supporting Labour Heartlands
Just click the donate button below