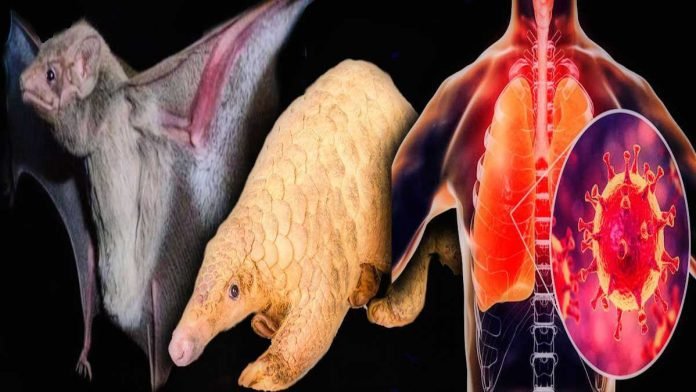 Pangolins may be the latest link in the coronavirus outbreak, but as with SARS and MERS, bats are the most likely original source of the deadly virus. Scientists believe bats' unique genetic quirks make them ideal hosts.
There are many questions about the novel Coronavirus that remain unanswered, such as "how does the virus spread?" and "where did it originate?" Now, Chinese-based researchers say they think the pangolin — a scaly, otherwise harmless mammal that eats ants — may have spread the virus to humans.
As the deadly coronavirus sweeps across the globe, killing over a thousand, halting cruise ships and prompting border closures, scientists race to find out exactly how the outbreak began.
Now, a new study out of China suggests that endangered pangolins — a scaly anteater — are the most likely link between the coronavirus, bats and humans.
Medical News Today has recently published an extensive feature on the new virus, explaining that some of the most common carriers for coronaviruses are bats.
While initial speculation pointed to seafood, snakes and another bat-borne coronavirus from Yunnan province in southwestern China, researchers from the South China Agricultural University have found that a genetic sequence of the virus from pangolins is 99% identical to the coronavirus currently infecting some 74k people. That means, before reaching humans, the virus was likely passed from bats to the pangolin, the most illegally traded animal in the world.
To date of this publication 2,007 people have now died from the fast-moving coronavirus, known as COVID-19, which was first detected in December 2019 at a live animal market in Wuhan, China.
What is it about bats?
It isn't the first time the world has witnessed an outbreak of a bat-borne virus. Ebola is thought to have originated in bats, as well as two other types of coronavirus — SARS (Severe Acute Respiratory Syndrome) which emerged in Asia in 2003 after moving from bats to civets to humans, and MERS (Middle East Respiratory Syndrome), which has infected around 2,500 people since 2012 after being transferred from camels.
This isn't necessarily surprising considering the great size and spread of the bat population, says Yan Xiang, a professor of virology at the University of Texas. Bats are the second most common mammal after rodents, making up nearly 20% of all species of mammals — there are more than 1,300 species of bat and some can live up to 40 years.
Researchers had shown previously that the new coronavirus is most similar to two other bat viruses; in fact, its genomic similarity to these viruses is 88%, which led scientists to believe that bats carried the new virus.

Now, the two researchers used genomic sequencing to compare the DNA of the new coronavirus in humans with that in animals and found a 99% match with pangolins.

"This is an extremely interesting observation. Although we need to see more details, it does make sense as there are now some other data emerging that pangolins carry viruses that are closely related to COVID-19," Edward Holmes, an evolutionary virologist at the University of Sydney, Australia, told the prestigious journal Nature.

"This latest discovery will be of great significance for the prevention and control of the origin of the new coronavirus," the Chinese university website states.
Liu Yahong, president of the South China Agricultural University, announced at the conference that they would publish the findings soon to help control the virus.
Intermediate species
Although the coronavirus is thought to have originated in bats, this doesn't mean it was directly passed from bats to humans. Coronaviruses are zoonotic viral diseases, meaning they are passed from animals to humans, and while in the animal, the virus goes through a series of genetic mutations that allows it to infect and multiply inside humans.
Pangolins — a relative of the armadillo and anteaters — are scaly mammals that feed on burrowing insects, such as termites and ants.

Pangolins are also an endangered species, and previous research has shown that the coronavirus is likely responsible for killing a large number of Malayan Pangolins.

In China, the country's law protects the animals, and selling Pangolins can lead to 10 years in prison. However, the animal is a victim of illegal trafficking — in fact, researchers describe it as "the most poached and trafficked mammal in the world."

The Chinese use the animal's scales to treat conditions such as arthritis, menstrual pain, and skin conditions. People also sell the animal's meat and consider it a delicacy.

In their efforts to track down the source of the new coronavirus, researchers have suggested that the infection originated at a seafood and wild animal market in Wuhan, China.

Although officially, this market did not sell pangolins, people may have sold the animals there illegally.
Humans defence mechanisms keep us safe — mostly
While the devastation of such outbreaks is difficult to predict, Stuart Neil, head of virology at King's College London, says "in the grand scheme of things," events like this "don't happen very often."
"We're probably exposed to these viruses from other species much more often than we get transfers of new viruses from animals and these sustained epidemics."
The reason for that, Neil says, is "due to our intrinsic defensive mechanisms." There is no such thing as an inherently deadly virus, he points out, because what may be harmless to one species, as shown by the numerous coronaviruses that circulate in bats, may be deadly to another.
"It's entirely dependent on the defense mechanisms of the host species and whether they can live in harmony with a virus or not."
Such epidemics are becoming more likely, though, as humans increasingly encroach on the habitats of wild animals, he warns, saying that "humans are exposed to these viruses because of how they behave and interact with animals."
Support Labour Heartlands
WAIT! BEFORE YOU GO
PLEASE HELP US KEEP GOING AD-FREE
This is a "Pay as You Feel" website.
Your support for Labour Heartlands is greatly appreciated. As an independent nonprofit news outlet, we rely on our members to hold the powerful accountable. Our kind of reporting is essential to democracy, but it is not easy, cheap, or profitable.
To continue providing impactful journalism, we need your help. It's getting really hard for us all. Becoming one of our donors. It's simple and doesn't have to cost a lot. With as little as £2, £3, or £5 a month, you can support the journalism you rely on.
While we do not align ourselves with any particular political party, we stand firmly against corruption, injustice, and the erosion of truth and the rule of law. We believe that accurate information is the lifeblood of a democracy and that facts are not up for debate.
Your contribution, no matter how small, goes a long way in helping us continue our mission. Together, we can make a difference.
Thank you, The Labour Heartlands Team
PLEASE HELP US KEEP GOING AD-FREE