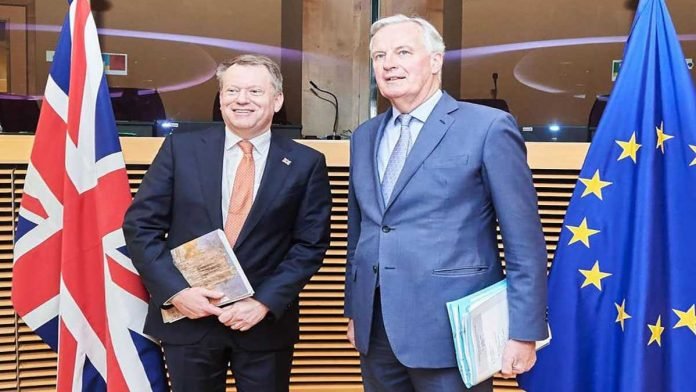 The second stage of Brexit negotiations could be held via videoconference because of coronavirus, the U.K. and EU have confirmed.
According to a joint statement, the next round of trade talks between the U.K. and the EU, which was due to take place in London next week, will not happen "in the form originally scheduled."
The U.K. government insist there will be no extension to the transition period.
Negotiators were expecting to conduct discussions from March 18 in the U.K. capital, while the joint committee to oversee the implementation of the Withdrawal Agreement was scheduled to meet on March 30.
But the joint statement said: "Given the latest COVID-19 developments, U.K. and EU negotiators have Thursday jointly decided not to hold next week's round of negotiations in London, in the form originally scheduled. Both sides are currently exploring alternative ways to continue discussions, including if possible the use of video conferences."
Downing Street and senior ministers have insisted the Brexit transition period, which is due to end in December, will not be extended.
Michel Barnier, the EU's chief negotiator, is expected to publish a new plan, based on his previous mandate after it is circulated to member states tonight.
One EU diplomat said the new position will present the bloc's "take-it-or-leave-it" offer to Britain.
Mr Barnier is said to be furious with his UK counterpart, David Frost, for claiming the consequences of Brexit were yet to sink in with Brussels.
London is also expected to present its own draft legal text as part of next week's talks.
Cabinet minister Michael Gove last week said it would establish Britain's push for a Canada-style free trade agreement.
Describing the plan, an ally of Boris Johnson said: "We are producing the text because we are ready to do it. It is not a bespoke trade deal — it is a text based on the precedent of deals the EU has already struck with sovereign third countries."
Support Labour Heartlands
This is a "Pay as You Feel" website. You can have access to all of our online work for free. However if you want to support what we do, you could make a small donation to help us keep writing and staying ad-free. The choice is entirely yours.
PLEASE HELP US KEEP GOING AD-FREE
HELP US GROW.
The future can be ours - but only if we work together to make it happen. We've been fighting to make the Labour Heartlands a better, more fairer and equal place for over two years now. With a dedicated team and the commitment from our generous supporters giving small regular donations each month, more if they can afford it, we're winning. But there is still so much to do. We're ambitious, but we can only continue to make positive change and shape our country if more of our supporters join us on this journey. If you believe in the issues we fight for please take action and join Labour Heartlands grassroots think-and-do-tank today. It will make all the difference. And then we can make all the difference for everyone.
Not funded by millionaires or advertisers.
Labour Heartlands funded by the people.