Lord Frost reportedly resigns as Brexit minister
Boris Johnson faces another salvo of recriminations and broadsides from his own party as allies begin to desert him over his Covid Plan B restrictions, vaccine passports, tax hikes and the cost of Net Zero green agenda.
Cabinet Minister Lord Frost has sensationally resigned from Boris Johnson's Government, The Mail on Sunday can exclusively reveal.
His dramatic move triggered by his growing 'disillusionment' with the 'direction' of Tory policy has sparked yet another crisis within a beleaguered Downing Street says the Mail on Sunday.
The Mail on Sunday, which first reported the news, said Lord Frost handed Boris Johnson his resignation a week ago.
A senior Government source said Lord Frost's departure had been prompted by the introduction of 'Plan B' Covid measures, including vaccine passports.
But that was just the final straw after months of growing discontent over tax rises and the staggering cost of 'net zero' environmental policies.
The revelation is the latest blow for the embattled Mr Johnson, following a Commons rebellion of 100 Tory MPs over the 'Plan B' measures and the loss of a 23,000 majority in the North Shropshire by-election amid the 'partygate' row over celebrations inside No 10.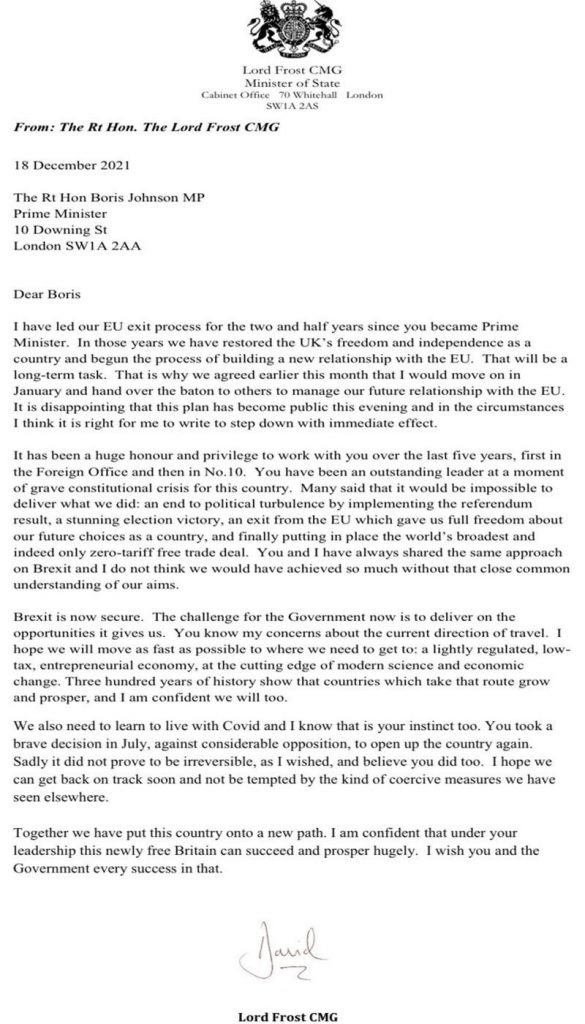 EU Talks Northern Ireland Protocol
Lord Frost has recently been locked in tense rounds of talks with European Commission vice-president Maros Sefcovic as the UK and the EU attempt to close gaps in post-Brexit arrangements.
This included elements of the Northern Ireland Protocol, agreed by the UK and EU in 2019, that allows goods to cross the border between Northern Ireland and the Republic of Ireland without checks.
The protocol has been criticised by some businesses for making it more difficult to send goods to Northern Ireland from Great Britain.
DUP leader Sir Jeffrey Donaldson said Lord Frost's resignation raised questions about the UK's approach to the Northern Ireland Protocol.
Sir Jeffrey said Mr Johnson "must now urgently decide which is more important – the Protocol or the stability of the political institutions".
Northern Ireland's former First Minister Arlene Foster said news of Lord Frost's resignation was "enormous for those of us who believed he would deliver for NI".
The DUP have accused the Tories of lossing their nerve suggesting that Boris Johnson's government is weakening its position on the Protocol, with Lord Dodds saying it is "retreating" from its willingness to trigger Article 16.
Former long-time DUP deputy Lord Dodds made the comments in a statement late yesterday evening, warning of action from unionists "soon" if the government does not stiffen its resolve.
However, it was not clear what this action might be, or what is meant by "soon".
Lord Dodds said: "It is now abundantly clear beyond all doubt that the Protocol talks are being dragged out with little prospect of an outcome which meets the bar set by the Government's Command Paper…
"This has always been the EU plan but it appears that the UK government is now falling into line with this unacceptable timeline.
"It is also clear that the UK Government is retreating from its commitment to trigger Article 16 despite, as the Prime Minister himself said, the conditions for doing so having been met long ago."
Lords Frost has been the Tories front man on the N.I. brexit negotiations any appearnce of weakness will be taken advantge of by his EU conterparts. Again adding to Boris Johnson's aready weakend postion.
Support Labour Heartlands
PLEASE HELP US KEEP GOING AD-FREE
HELP US GROW.
This is a "Pay as You Feel" website.
This blog has no source of state, corporate or institutional finance whatsoever. It runs entirely on voluntary subscriptions from its readers – many of whom do not necessarily agree with every article, but welcome the alternative voice, insider information and debate.
You can have access to all of our online work for free. However if you want to support what we do, you could make a small donation to help us keep writing and staying ad-free. The choice is entirely yours.