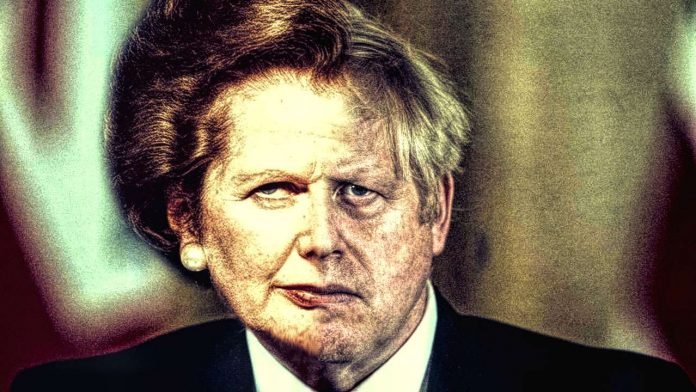 Boris Johnson has not only insulted the memory of every member of Britain's former mining communities but laughed while doing it.
The Tory Prime Minister said it was "thanks" to Margaret Thatcher the mines were shut and chuckled as he said it.
At a media briefing, he was asked about setting a timetable for ending oil and gas exploration.
He responded: "Look at what we've done already. We've transitioned away from coal in my lifetime. Thanks to Margaret Thatcher who closed so many coal mines [the Prime Minister then laughs] across the country where we had had a big early start and we're now moving rapidly away from coal altogether."
He then joked: "I thought that would get you going."
Some things can never be unsaid or laughed off.
This is one of those insults that will come back to bite, to suggest that Thatcher carried out some sort of Green policy in her attack on the working class mining communities is abhorrent.
While Johnson, Cameron and Osborn were busy partying in the elite Bullingdon Club Thatcher carried out an attack on the mining communities that witnessed such devastation it has left a wound in the collective psyche of the working class that will never be healed.
These communities were attacked and left abandoned for decades. The ramifications of the Thatcherite attack on the working class and mining communities can still be felt today. Successive governments both Tory and Labour have done little to improve the circumstances of these regions, promised 'leveling up' has never transpired.
Never forgive, never forget!
That the miners suffered a defeat that took almost a full year to play out demonstrated the creative combativity of their struggle. Capitalist grandees of business cheered on the assaults led by the police but the whole spectrum of society knew from daily visions on the TV and in the media that this was a war, albeit oftentimes edited or ignored to lessen the impact.
By 1994, when the coal mining industry was finally privatized, Britain had just 15 collieries; when Thatcher died in 2013, only three remained. The miners' strike, and the devastating impact of coal's demise, would leave lasting scars on many of Britain's former mining communities, as well as lingering resentment toward the government and police force that would endure well into the next century.
Though the cost to families and communities was huge, it's important to remember the dignity and strength of those who took part. They were terrible times, the strength and dignity in which these communities showed such courage while facing the full might of the British establishment intent on crushing their resolve and unity was a marvel to see and although we were devastated by overwhelming odds our communities are not defeated, just leaderless and politically disenfranchised.
Abandoned.
The cynical but consistent failure of the 'responsible left' i.e. Labour Party who under Kinnock offered nothing to our striking communities has ever since left a legacy within the working class that will never be forgotten. Thirty-six years have passed since those eventful days but still, the memories have not dulled the clarity to those involved. This was a social mugging by the state that left many lessons ingrained.
The people of the Labour Heartlands have been truly abandoned by the major parties, Labour not only built on Thatcher's policies has Tony Blair stated but in the last election, Labour denied them their democracy and told them to vote again.
The Tories have always practised the art of being lying bastards but now they think it's funny and laugh at the pain they caused countless thousands while carrying out their attack on the working class and the unions.
The PM has faced demands to say sorry after claiming the shutdowns in the 1980s gave the UK a "big early start" in fighting climate change.
Opposition MPs have called the comments offensive to former mining communities.
The PM's spokesman said he recognises the "huge impact and pain" of closures, but did not offer an apology.
---
I have a feeling this will be a "bigoted woman"  moment perhaps Boris Johnson should ask Gorden Brown for advice…
Related articles:

Revisiting the miners' strike 'The Battle of Hatfield main' 1984-85
Jimmy Reid: 'A rat race is for rats. We're not rats'
Support Labour Heartlands
PLEASE HELP US KEEP GOING AD-FREE
HELP US GROW.
This is a "Pay as You Feel" website.
This blog has no source of state, corporate or institutional finance whatsoever. It runs entirely on voluntary subscriptions from its readers – many of whom do not necessarily agree with every article, but welcome the alternative voice, insider information and debate.
You can have access to all of our online work for free. However if you want to support what we do, you could make a small donation to help us keep writing and staying ad-free. The choice is entirely yours.