Boris Johnson has been rebuked by the UK's statistics watchdog after repeatedly making misleading statements about child poverty.
Number 10 has received an official warning from the Office for Statistics Regulation (OSR) The statistics regulator wrote to Downing Street after receiving complaints over Boris Johnson's "use" of UK poverty figures.
The UK statistics watchdog has sent Boris Johnson a formal warning over misleading comments the prime minister made to parliament about UK poverty levels.
Speaking at Prime Minister's Questions last month the PM declared "we are also seeing fewer households now with children in poverty than 10 years ago".
But the Office for Statistics Regulation (OSR) has now written to Downing Street to warn against being selective about which figures the Prime Minister quotes, adding that ignoring some measures of poverty would stand in the way of "public understanding" of the issue.
"Over the last year, a number of concerns have been raised to us regarding the Prime Minister's use of statistics on child poverty and in each case, we have brought this to the attention of the briefing team in No.10," the letter from Ed Humpherson, director general for regulation at the OSR, read.
"Further concerns were raised to us following Prime Minister's Questions on 26 May 2021.
"Measuring poverty is complicated and different measures tell different parts of the story."
Johnson was referring to the level of absolute poverty in the UK. Definitions of absolute poverty vary between institutions, but Westminster defines it as income worth less than 60 per cent of the median annual earnings in 2010-11, meaning the threshold does not fluctuate over time.
But the Department for Work and Pensions also collects figures on relative poverty, which is dependent on the state of the economy at any given time. Households in relative poverty earn 60 per cent of the current median earnings, though the figures are adjusted according to how many people are in a home since the amount of money they will need to get by will differ.
Campaigners have long warned that Johnson deliberately makes misleading statements about the poverty statistics.
The Department for Work and Pensions (DWP) uses both relative poverty and absolute poverty measures, before and after housing costs.
Relative poverty covers households which have "less than 60% of contemporary median income".
Absolute poverty is defined as households which have less than 60% of the median income in 2010/11 "held constant in real terms".
Relative child poverty after housing costs rose from 3.6m when the Tories took office in 2010 to 4.2m in 2018/19.
But Johnson relies on the "absolute" child poverty measure which has dipped in 2019/20 to fall just below the 2010 figure.
Anna Feuchtwang, Chair of the End Child Poverty campaign and CEO of the National Children's Bureau, told Huffington Post UK: "The prime minister's misuse of child poverty statistics is neither fair or accurate.
"It's simply not right to play down the misery of families swept into poverty and hide behind different statistical measures when answering difficult questions. The simple fact is that even by the government's own measures, child poverty is rising and we need urgent action rather than game-playing by policymakers.
"The Office for Statistics Regulation has written to the prime minister again, calling for him to be clear on which measure of child poverty he is using in his statements to parliament.
"We hope this will prompt greater recognition from across government that child poverty is a real and present blight on many young lives."
The latest government statistics show that under New Labour, relative child poverty decreased, but since 2010 has flatlined and then increased.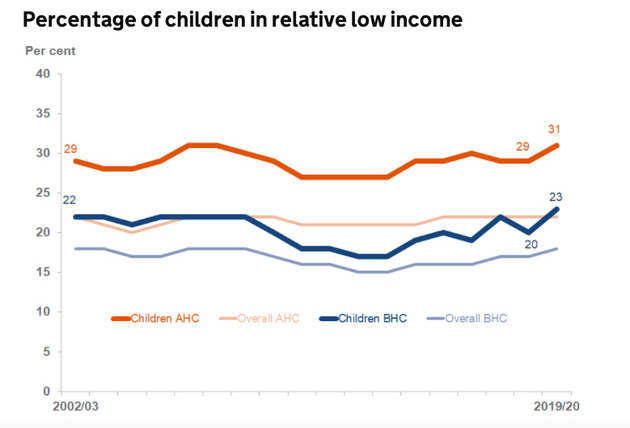 On the measure of absolute child poverty after housing costs, the percentage declined significantly under New Labour, but levelled off in recent years before falling slightly just before 2020.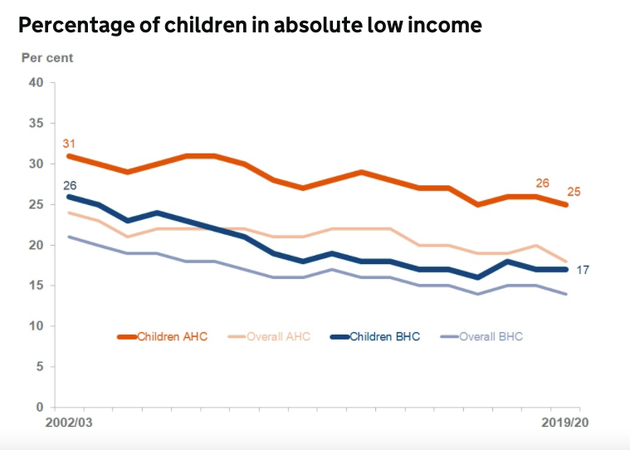 The number of children living in absolute poverty fell slightly in 2019-20 compared to figures from ten years ago, but relative poverty among children has increased since the Conservatives came to power in 2010, including a rise of 800,000 children in working households.
Generally, families earning £17,760 or less are defined as living in relative poverty. A two-parent family with two children currently needs to earn around £21,000 in order to stay above the breadline.
Johnson previously told MPs both absolute and relative poverty declined under his government, according to the film. "It was of course completely untrue," Stefanovic added, accusing Johnson of "refusing to come back and correct the record".
In the letter from the OSR, Humpherson said it would "help aid public understanding if statements concerning child poverty were clear about which measure is being referred to, particularly where other measures present a different trend."
A government spokesperson said: "The prime minister was referring to absolute child poverty statistics between 2009/10 and 2019/20.
"These statistics show that the number of children in the UK living in poverty fell both before and after housing costs were taken into consideration."
It is not the first time the Prime Minister has come under fire for making misleading comments about UK poverty. The OSR confirmed his statements about hardship in the country were "incorrect" in July 2020, and Johnson was blasted by Labour for being "unable to tell the truth" about his government's "damning record" on child poverty. 
Last year Boris Johnson was also warned about inacuaret figures on child poverty after Anna Feuchtwang, highlighted three occasions when Johnson made inaccurate claims on the government's record on poverty.
At PMQs on 17 June 2020, Johnson told the Labour leader, Keir Starmer, he was "completely wrong" to say child poverty had risen by 600,000. Poverty had declined since 2010, the PM claimed, and there were now 400,000 fewer families in poverty. Feuchtwang wrote that the 600,000 figure was correct.
When asked by Starmer at PMQs the following week to "do the decent thing" and correct the record on child poverty, Johnson declined and said there were "100,000 fewer children in absolute poverty and 500,000 children falling below thresholds of low income and material deprivation".
Feuchtwang said that while the 100,000 figure was correct, the second figure was not: she pointed out that "there are actually 1.5 million children classed as low income and materially deprived".
The third instance was when Johnson was interviewed by Andrew Marr on the BBC on 1 December 2019 during the general election campaign, when the PM claimed child poverty had fallen by 400,000 since 2010. Feuchtwang said that official statistics at the time showed the poverty rate had risen on two of the official measures, stayed the same on a third, and fallen by 100,000 on a fourth, suggesting it was unclear where Johnson had found the figure he cited.
"While it is expected – and right – that child poverty should be the subject of robust political debate, it cannot be right that official figures on something as fundamental as how many children are in poverty continue to be used selectively, inaccurately and, ultimately, misleadingly," Feuchtwang wrote.
There are four official measures of poverty: relative poverty, which records households which have less than 60% of contemporary median income, before and after housing costs; and absolute poverty, which tracks numbers in poverty against a 2010/11 baseline, also before and after housing costs.
The Tories never seem to have issues with statistics when it comes to good news, why is it their maths go so far astray when it shows their failings?
Support Labour Heartlands
WAIT! BEFORE YOU GO
PLEASE HELP US KEEP GOING AD-FREE
This is a "Pay as You Feel" website.
Your support for Labour Heartlands is greatly appreciated. As an independent nonprofit news outlet, we rely on our members to hold the powerful accountable. Our kind of reporting is essential to democracy, but it is not easy, cheap, or profitable.
To continue providing impactful journalism, we need your help. It's getting really hard for us all. Becoming one of our donors. It's simple and doesn't have to cost a lot. With as little as £2, £3, or £5 a month, you can support the journalism you rely on.
While we do not align ourselves with any particular political party, we stand firmly against corruption, injustice, and the erosion of truth and the rule of law. We believe that accurate information is the lifeblood of a democracy and that facts are not up for debate.
Your contribution, no matter how small, goes a long way in helping us continue our mission. Together, we can make a difference.
Thank you, The Labour Heartlands Team
PLEASE HELP US KEEP GOING AD-FREE