Selective Outrage and the Struggle for Truth
The selective outrage emanating from the establishment right in response to the recent protests reveals rank hypocrisy of the highest order. While we must unequivocally condemn the atrocities of October 7th, it is crucial to emphasise that such acts should never serve as collective punishment or the justification for the genocide of a people unfortunate enough to have been born in a coveted land.
We must also recognise that the masses who marched around the world on Saturday did not march in support of Hamas, but rather expressed a universal plea for peace – which is, after all, the very spirit of Armistice Day.
Yet the controversy and incendiary rhetoric preceding the march went far beyond the norm. Both the Prime Minister and the Home Secretary engaged in what can only be described as stochastic terrorism, utilising their platforms and the ever-compliant media to incite others to violence.
Stochastic terrorism refers to political or media figures publicly demonising a person or group in such a way that it inspires their most extreme supporters to commit violent acts against the target. This is achieved through the use of indirect, vague and coded language that allows the instigator to plausibly deny responsibility for the resulting mayhem.
Commentators blowing dog whistles…
I'm no Mystic Meg, but tomorrow the terrorist sympathisers will act appallingly on a day in which the public will be utterly sickened by the audacity and scale. The police will be useless, apart from clamping down on the other side. Suella Braverman will be vindicated.

— Darren Grimes (@darrengrimes_) November 10, 2023
Braverman understood precisely the fire she was playing with. She stated that any pro-Palestine protesters who vandalise the Cenotaph should be "put into a jail cell faster than their feet can touch the ground". She also threatened that she "won't hesitate to act" if police need stronger powers to deal with what she called the "utterly odious" behaviour at such demonstrations.
Yet the Home Secretary was fully aware that the march in question went nowhere near the Cenotaph, starting a full two hours later. Her inflammatory rhetoric was seized upon by right-wing columnists and commentators, who took to social media to brand the protesters dangerous terrorist sympathisers, and to claim they would act appallingly.
This deliberate stoking of far-right aggression directly led to ugly scenes in Whitehall on Armistice Day, with 92 supporters of the activist Tommy Robinson and assorted football hooligans breaking through police lines just moments before the two-minute silence at 11am.
There is a remembrance event underway at the Cenotaph. Officers have prevented those not involved getting onto Whitehall so it can take place without disruption, as we committed.

They have faced unacceptable violence, including people throwing missiles and a metal barrier.… pic.twitter.com/tHnnKyRrKL

— Metropolitan Police (@metpoliceuk) November 11, 2023
They had gathered in their hundreds, whipped into a frenzy by Braverman's branding of pro-Palestinian demonstrators as "hate marchers" and "Islamists" who sought to dominate London's streets. They fell hook, line and sinker for the Home Secretary's stochastic terrorism.
Such exploitation of the populist right for political ends is reckless in the extreme. In demonising peaceful protesters and unleashing proto-fascist forces, Ms Braverman has gone far beyond even the dystopian world envisioned by Orwell. A conscientious society must roundly reject such cynical manipulation before it is too late.
Had the pro-Palestian peace march been in support of Ukraine, I very much doubt concerns about respecting the Cenotaph would have been raised by the likes of Braverman. Her description of the Gaza protests as "hate marches" smacks of the very intolerance she claims to abhor.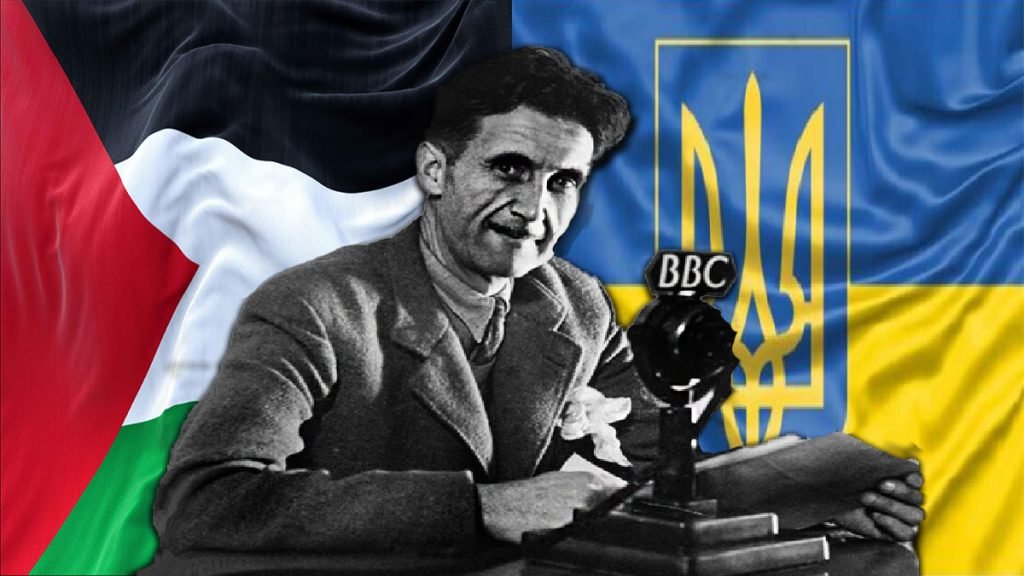 But then again, let us speak frankly. The powers that be have little interest in peace anywhere, since there is scant profit to be made from it – at least for the moment.
This selective outrage is an affront to us all. We must support the forever wars even those our forefathers fought to stop all wars.
This talk of the Cenotaph from Braverman and Sunak is laughable when one considers historical fact – Palestinians fought alongside Britain in both World Wars, whilst Ukrainian nationalist groups collaborated with the Nazis.
The very Cenotaph that honours British soldiers who lost their lives in Palestine from 1945-48, victims of terrorist attacks by Zionist militias that resulted in over 750 casualties.
Now the Zionists distort the memory of the Holocaust to justify oppression and bloodshed in Gaza, declaring "Never again!" as if it is they who are perishing by the thousands.
This distortion mirrors Orwell's warning that "Who controls the past controls the future." History is rewritten to suit current agendas, with dissenters accused of dishonouring the war dead. Yet true patriotism defends human rights, liberties and justice – not state crimes. The sacrificed did not demand blind validation, only that we uphold their values.
The establishment aims to swiftly erase critical analysis, since in Gaza's turmoil, valuing Israeli interests over Arab lives is reckless and dangerous. Those who ignore atrocities to follow the dog whistles of politicians and media align with Orwell's Ministry of Truth. But a conscientious nation will reject such manipulation, thanks to the common sense of the working classes who know when they are being deceived.
Reclaiming our history and humanity is crucial before both are rewritten for us.
Paul Knaggs, Labour Heartlands
Support Labour Heartlands
Help Us Sustain Ad-Free Journalism
Sorry, I Need To Put Out the Begging Bowl
Independent Journalism Needs You
Our unwavering dedication is to provide you with unbiased news, diverse perspectives, and insightful opinions. We're on a mission to ensure that those in positions of power are held accountable for their actions, but we can't do it alone. Labour Heartlands is primarily funded by me, Paul Knaggs, and by the generous contributions of readers like you. Your donations keep us going and help us uphold the principles of independent journalism. Join us in our quest for truth, transparency, and accountability – donate today and be a part of our mission!
Like everyone else, we're facing challenges, and we need your help to stay online and continue providing crucial journalism. Every contribution, no matter how small, goes a long way in helping us thrive. By becoming one of our donors, you become a vital part of our mission to uncover the truth and uphold the values of democracy.
While we maintain our independence from political affiliations, we stand united against corruption, injustice, and the erosion of free speech, truth and democracy. We believe in the power of accurate information in a democracy, and we consider facts non-negotiable.
Your support, no matter the amount, can make a significant impact. Together, we can make a difference and continue our journey toward a more informed and just society.
Thank you for supporting Labour Heartlands
Just click the donate button below