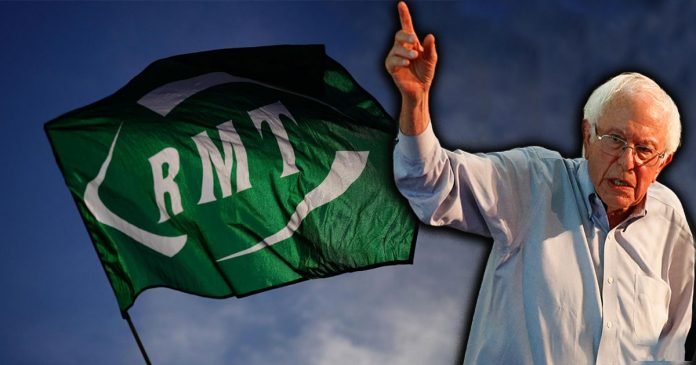 Bernie Sanders joins striking British rail workers, calling out the "oligarchy and corporate greed"
Veteran U.S. Senator Bernie Sanders joined striking British workers at a trade union rally in London on Wednesday, saying workers need to stand together to fight back at what he called "corporate greed" and billionaires amassing more wealth.
Speaking at the Save London's Public Transport Rally, United States senator Bernie Sanders, backed UK unions fighting for improved pay and conditions, saying "working people all over the globe have got to stand together".
Mr Sanders, 80, who represents the state of Vermont, addressed the Save London Transport rally, organised by unions including the National Union of Rail, Maritime and Transport Workers (RMT), in central London on Wednesday.
Mr Sanders, who competed for the US Democratic presidential nomination in 2016 and 2020, said: "Let me thank the RMT for inviting me to be with you this evening, it is in truth a real honour and I want to convey to you my belief that millions of working people throughout this country are proud of what you are doing, they're proud of their fight for justice and we stand with you.
"People across the world need to stand together to tell the oligarchs they cannot have it all," Sanders told the gathering at the Trade Union Congress headquarters.
"No one can tell me from a moral perspective or from an economic perspective that it makes any sense at all that so few have so much and so many have so little."
Sanders, a democratic socialist whose progressive campaigning helped push the U.S. Democratic Party agenda sharply to the left, ran to be U.S. president in 2020 but ultimately lost out on the party nomination to eventual election winner Joe Biden.
This comes when British workers across a wide range of industries, from refuse collectors to court barristers to postal workers, have decided to strike this summer as double-digit inflation surges ahead of wage increases.

There is little end in sight to Britain's industrial unrest with the government urging restraint from employers, companies facing rising costs and workers eyeing forecasts which show inflation increasing well into next year.
Former Labour shadow chancellor John McDonnell, RMT leader Mick Lynch, and Miatta Fahnbulleh of the New Economics Foundation also spoke at the event on Wednesday night.
The rally will send a message that RMT and other transport unions will not tolerate attacks on workers' pay and conditions or cuts to public services." – Bernie Sanders
It comes as a funding deal struck by TfL and ministers will attack tube workers' pay and pensions and will lead to further strike action, RMT has warned today.
Following talks behind closed doors between Mayor Sadiq Khan and the government, funding has been secured for TfL operations until 2024.
But the deal appears conditional on attacks on workers' pensions, potential job losses and a push for pay restraint in the future despite the astronomical rise in inflation and an escalating cost of living crisis.
Driverless trains are also part of the reforms insisted on by Grant Shapps despite the huge costs involved and safety concerns.
Responding to the funding deal, RMT general secretary Mick Lynch said: "This deal negotiated in secret by TfL and government ministers will likely see our members pensions attacked and further pay restraint in the future, coupled with driverless trains.
"Grant Shapps' attack on tube workers would be unacceptable at any time but in an escalating cost of living crisis it is shameful and will be resisted through further strike action.
"TfL need to stand up to Grant Shapps and demand a deal that serves all the people of London and addresses the real concerns of London transport workers who keep the capital running.
Support Labour Heartlands
PLEASE HELP US KEEP GOING AD-FREE
HELP US GROW.
This is a "Pay as You Feel" website.
This blog has no source of state, corporate or institutional finance whatsoever. It runs entirely on voluntary subscriptions from its readers – many of whom do not necessarily agree with every article, but welcome the alternative voice, insider information and debate.
You can have access to all of our online work for free. However if you want to support what we do, you could make a small donation to help us keep writing and staying ad-free. The choice is entirely yours.