Belarusian NGO chief found hanged in Ukraine
The chief of an NGO that provided aid to people fleeing Belarus was found hanged in Ukraine's capital Kyiv. His friends said he had been followed by "strangers."
The body of a Belarusian activist Vitaly Shishov was discovered in the Ukrainian capital Kyiv a day after he was reported missing, police said on Tuesday:
"Belarusian citizen Vitaly Shishov […] was today found hanged in one of the Kyiv parks, not far from where he lived," police said in a statement.
A murder probe has been opened, authorities said, adding that they would pursue all leads, including a possible "murder disguised as a suicide."
The 26-year-old was the head of the Kyiv-based Belarusian House in Ukraine (BDU), an organization that helps Belarusians trying to flee persecution. The organization helps them find accommodation, employment, and legal services.
Ukraine, like Poland and Lithuania, has become a haven for Belarusians following a crackdown on dissent in their home country by President Alexander Lukashenko. Belarus has been rocked by mass protests against the longtime leader since disputed elections last year.
Opposition leader Sviatlana Tsikhanouskaya reacted to Shishov's death, tweeting that "it is worrying that those who flee Belarus still can't be safe."
The Belarusian House in Ukraine, an NGO that helps people who have fled repression in Belarus, accused Minsk of a "planned operation" after its director Vitali Shishov was found dead in Kyiv on Tuesday.
"There is no doubt that this is a planned operation of the security forces to liquidate a person truly dangerous for the Belarusian regime," the group said on Telegram.
"Vitali was under surveillance and [Ukrainian] police were notified. We had been warned on several occasions, both by local sources and by people in Belarus of the possibility of all kinds of provocations up to and including 'kidnapping and liquidation,'" the NGO went on.
Shishov, 26, was forced to flee to Ukraine last fall after taking part in anti-government protests in Gomel, southern Belarus, and "actively opposing" authorities, the Belarusian House said.
"Vitaly was part of a large and growing community of political exiles in Ukraine, there are probably a few hundred very active in Kyiv alone," said Peter Zalmayev, Director of Eurasia Democracy Initiative, in an interview with Euronews.
"There are estimates that the number of Belarusians who have fled to Ukraine over political repression is 3,000 – 5,000," he added.
Zalmayev had met Shishov last week and was planning to have him on the weekly TV programme he hosts in Ukraine on Thursday.
Devastated by the news of the death of the Belarusian activist Vital Shyshou who was found hanged in Kyiv. My heart is with his family. It is worrying that those who flee Belarus still can't be safe.
I'm thankful to ?? authorities for launching an investigation into this case. pic.twitter.com/77otMfjk4q

— Sviatlana Tsikhanouskaya (@Tsihanouskaya) August 3, 2021
Shishov was followed by 'strangers'
Police said Shishov was reported missing by his partner when he did not return from his morning run. Shishov's friends said he had been followed by "strangers" recently while jogging.
The Belarusian House in Ukraine released a statement saying he was under surveillance, and "both local sources and our people in Belarus" have alerted the group to the possibility of "various provocations, including kidnapping and liquidation."
"There is no doubt that this was a planned operation by security operatives to liquidate a Belarusian dangerous for the regime. We will continue to fight for the truth about Vitaly's death," the group said.
They added that Shishov was forced to move to Ukraine in the fall of 2020 after anti-government protests led to a crackdown on dissent in Belarus.
Yury Shchuchko from the Belarusian House in Ukraine told the AP news agency that Shishov was found with evidence of beating on his face.
He said Shishov felt he was being watched during his runs, adding that strangers would approach him and try to start a conversation.
"Vitaly asked me to take care of his loved ones, he had a weird feeling," Shchuchko said.
US, UN call for thorough probe
The United Nations and the US have called on the Ukrainian authorities to conduct a thorough investigation.
UN human rights spokeswoman Marta Hurtado said "the situation (in Belarus) is deteriorating clearly."
The US embassy in Kiev said the death came "amid an unacceptable Belarusian crackdown on civil society" and called on Ukraine to do a "complete and thorough investigation."
State Department spokesman Ned Price added that the Biden administration wanted "an end to the crackdown, the immediate release of all political prisoners" and free elections.
Olympic sprinter speaks up in Tokyo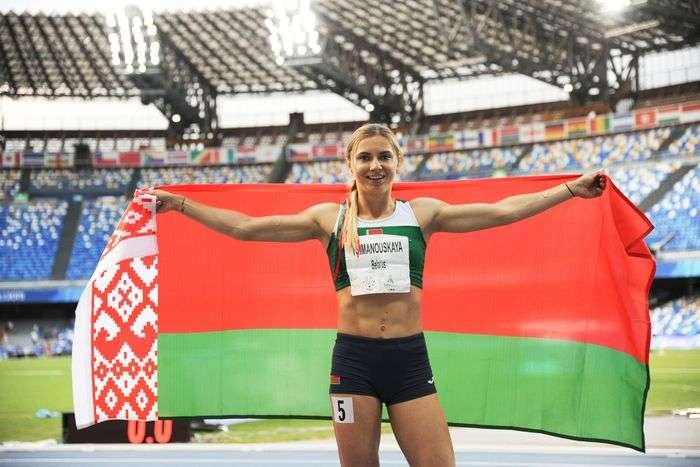 Belarusian sprinter Krystsina Tsimanouskaya was recently denied participation in the Tokyo Olympics and threatened with forced repatriation after she criticized her athletics federation on social media.
Poland has granted her a humanitarian visa.
The International Olympic Committee said on Tuesday it had launched a formal investigation into the case and was expecting a report from the Belarusian team.
US Secretary of State Antony Blinken has accused Belarus president Alexander Lukashenko's regime of intolerable "transnational repression" in the matter.
Tsimanouskaya, 24, had been due to compete in the women's 200-metre heats on Monday but said the Belarusian head coach had turned up at her room on Sunday at the athletes' village and told her she had to leave after she had criticised team officials.
"I will not return to Belarus," she told Reuters at the time.
The incident has focused attention on Belarus, where police have cracked down on dissent following a wave of protests triggered by an election last year which the opposition says was rigged to keep Lukashenko in power.
Belarusian authorities have characterised anti-government protesters as criminals or violent revolutionaries backed by the West, and described the actions of their own law enforcement agencies as appropriate and necessary.
Lukashenko and his son have been banned from Olympic events for targeting athletes who have openly expressed opposing political views.
Support Labour Heartlands
Help Us Sustain Ad-Free Journalism
Welcome to the Heartlands of Independent Journalism
At Labour Heartlands, we are committed to delivering independent news, views, and opinions. Our mission is to hold those in power accountable, and we can't do it without your support. As a non-profit independent organisation, we rely on our donors to keep our journalism ad-free and impactful.
Like everyone else, we're facing challenges, and we need your help to stay online and continue providing crucial journalism. Every contribution, no matter how small, goes a long way in helping us thrive. By becoming one of our donors, you become a vital part of our mission to uncover the truth and uphold the values of democracy.
While we maintain our independence from political affiliations, we stand united against corruption, injustice, and the erosion of free speech, truth and democracy. We believe in the power of accurate information in a democracy, and we consider facts non-negotiable.
Your support, no matter the amount, can make a significant impact. Together, we can make a difference and continue our journey toward a more informed and just society.
Thank you for supporting Labour Heartlands
Just click the donate button below