"There is no respect for society or freedom in Belarus"
On the streets of Minsk, the capital of Belarus, there have been weeks of protests against Alexander Lukashenko, sometimes called the "last dictator in Europe." Sparked by his obvious attempt to falsify an election and undercut any opposition to his 26-year rule, the protests have expanded to sporadic strikes and unprecedented calls for Lukashenko's removal.
While Belarus today appears to be undergoing an awakening similar to Ukraine's 2014 Maidan protests, it is highly uncertain if this outpouring of discontent can oust the dictator from his post. This can only happen if the West recognises the situation's differences.
Thousands of pro-democracy protesters in Belarus returned to the streets of Minsk on Sunday to demand the resignation of Belarusian President Alexander Lukashenko in the latest wave of demonstrations against his disputed re-election two weeks ago.
Draped in red and white flags, opposition supporters gathered in Independence Square, as riot police are on standby on the autocratic leader's orders.
Officials issued a warning to Belarusians against participating in "illegal demonstrations".
Protesters held a moment of silence for the victims. But authorities used loudspeakers during that moment to announce: "The demonstration is illegal. Go home."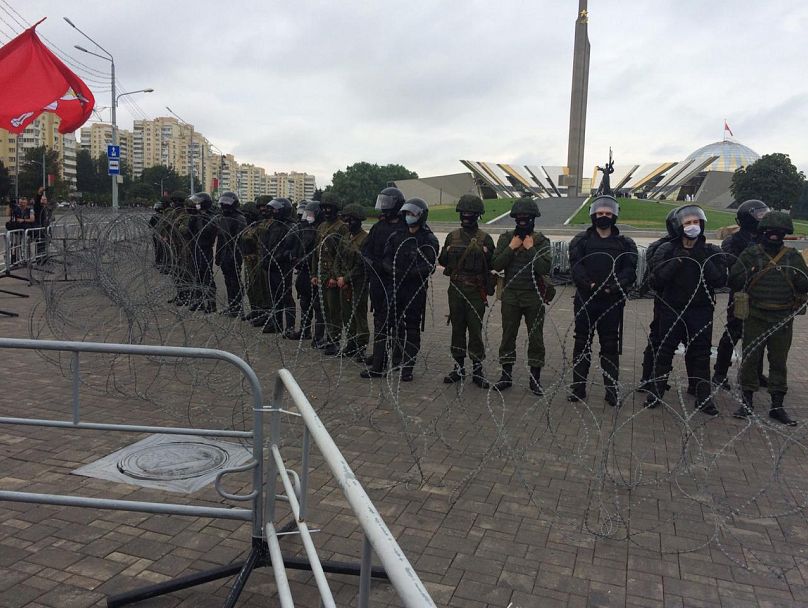 Belarusian protesters, defying army
Draped in red-and-white opposition flags, they descended on Independence Square, chanting slogans against President Alexander Lukashenko, who secured victory in a controversial election on August 9.
There were no official figures on crowd size, but The Associated Press estimated that 150,000 people took part.
"This is a huge demonstration of something that, frankly, would have been unthinkable in Belarus just a few months ago," Nick Connolly, DW's correspondent in the Belarusian capital said.
People streaming onto Independence Square for the start of the march just matter of minutes after army announces it will 'protect monuments'. Question now whether the army will use force against unarmed protesters #BelarusProtest pic.twitter.com/xkITggYiYZ

— Nick Connolly (@niklasconnolly) August 23, 2020
'Scared to be here'
"We hope that it sends a signal to everyone that we are peaceful. Maybe, it is stupid, but this might be our last chance to protest," Dima, a 30-year-old male at the protest told Euronews, who did not want to give his full name due to security fears.
"We have also had enough and want things to change. We are scared to be here, but we want to support everyone. We need to do this," his wife Victoria chimed in.
Protests have swelled since President Aleksandr Lukashenko claimed to have received 80 percent of the vote in the August 9 presidential election.
Opponents have organised strikes and mass protests, with over 100,000 in attendance last weekend.
Few workers at state-run factories have continued to strike due to government pressure.
But others are more adamant.
"The strikes will continue. We had some difficulties, but they will continue. Look at all the people here! How can they not continue," Sergei Dylevsky, who is leading the strikes at the Minsk Tractor Factory and who is part of the opposition told Euronews.
Staff have also walked out at state-run media outlets and the President said Russian journalists were replacing them.
"We are only told lies on state TV," Luka, a protester who was carrying a TV depicting the Belarusian president told Euronews.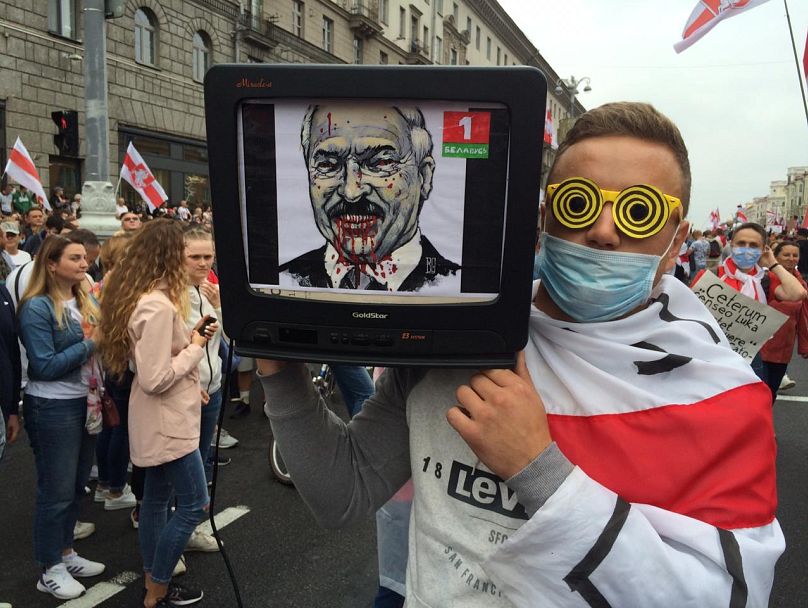 "Old people are only watching this, and I want to show them what they are really watching. We need to show people, that they are not watching the truth."
Avoiding a 'second Ukraine'
The EU has rejected the results of the election and has vowed to sanction Belarusians responsible for ballot fraud.
EU High Representative Josep Borrell warned that Belarus should not be allowed to become a "second Ukraine".
65-year-old Lukashenko has rejected calls to stand down.
On Saturday he hinted that NATO troops in Poland and Lithuania were "seriously stirring" near Belarus' borders and ordered his troops into full combat readiness.
NATO dismissed the claims as baseless.
Belarus's opposition leader, 37-year-old Svetlana Tikhanovskaya, fled to Vilnius fearing reprisals for mounting the greatest challenge to Lukashenko and claiming election victory.
She told AFP she plans to meet with the US Deputy Secretary of State Stephen Biegun when he visits Lithuania next week.
Support Labour Heartlands
PLEASE HELP US KEEP GOING AD-FREE
This is a "Pay as You Feel" website.
Hey there! Thanks for stopping by. If you've enjoyed reading the articles on Labour Heartlands so far, We would be incredibly grateful if you could consider making a small donation. Labour Heathlands is not your typical news outlet. We are not here to simply regurgitate the daily news cycle, that's for the rest of them. Our focus is on delving deeper, uncovering the untold stories and shedding light on the issues that the mainstream media chooses to ignore.
Our unwavering commitment to journalistic integrity means that we are not influenced by any external forces. We are not beholden to PR companies, advertisers or press barons, and we refuse to let anyone dictate what we report on. Our editorial independence is sacrosanct, and our only allegiance is to the truth.
While we do not align ourselves with any particular political party, we stand firmly against corruption, injustice and the erosion of truth and the rule of law. We believe that accurate information is the lifeblood of a democracy and that facts are not up for debate.
Once again, thank you for your support – We truly couldn't do this without you!
PLEASE HELP US KEEP GOING AD-FREE