Street Artist and Activist Banksy raising money for NHS charities
A Banksy painting of a young boy ditching his Batman and Spider-Man action figures for one of a caped superhero nurse could raise more than £3m for the NHS.
Christie's has announced it is selling the artwork on behalf of the artist, with the proceeds going to NHS charities.
Activist and Street artist Banksy hopes to raise more than £3m for the NHS with the auction of a painting offering a "universal tribute" to staff.
The painting, titled Game Changer, was delivered to Southampton general hospital last May, during the first wave of the pandemic, with a note: "Thanks for all you're doing. I hope this brightens the place up a bit, even if its only black and white."
It has hung in a corridor near the emergency department and was, hospital managers said, a huge boost to morale.
Banksy is now auctioning the original canvas to raise funds for the NHS, with a reproduction of the work to remain in the hospital.
The painting has a pre-sale estimate of between £2.5 to £3.5m.
It shows a young boy kneeling and playing with superhero dolls.
While Batman and Spiderman are discarded in a bin, the child clutches a figure of a masked nurse wearing a cape.
It's the first public work of art from the artist during the coronavirus lockdown – he'd previously hinted that he's been creative in the lockdown by painting rats all over the walls of his toilet at home – much to the annoyance of his wife.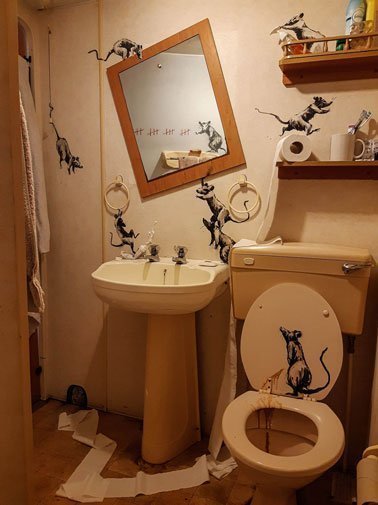 But now, this work of art was left at Southampton General Hospital, and he included a note to accompany it, staff said.
"Thanks for all you're doing," the note read. "I hope this brightens the place up a bit, even if it's only black and white."
The work, which has been hung in the corridor of Level C at the city's hospital, where staff and patients can see it – was then posted on Banksy's Instagram page, along with the title: Game Changer.
A spokesperson for Banksy confirmed that after lockdown measures are lifted, the work of art – which is a metre high and a metre wide – will be put on public display, and then will be auctioned to raise money for NHS charities.
At Sotheby's last summer Banksy sold a Triptych of what seem to be tempestuous 19th century seascapes but are actually politically charged works. The triptych, Mediterranean Sea View 2017, is a response to the migrant crisis of the past decade. The three traditionally framed paintings appear to be Romantic-era seascapes but the lifebuoys and orange life jackets being washed on to the shore speak volumes.
Mediterranean Sea View 2017 was three traditionally framed romantic-era seascapes on to which Banksy had added washed-up lifebuoys and lifejackets, making a statement on the global migrant crisis. It sold for £2.2m.
The record for a Banksy painting at auction was set by an enormous work titled Devolved Parliament, showing chimpanzees as MPs in the House of Commons chamber. It sold for £9.9m in 2019. Banksy reacted on Instagram that it was a "shame I didn't still own it".
The anonymous artist continues to be active on the street, last week channeling Bob Ross in a video on his Instagram page showing him paint an escaping prisoner on the side of Reading jail.
If you enjoy Banksy's work as much as we do then pop over and view it here:
https://www.instagram.com/banksy/
Support Labour Heartlands
WAIT! BEFORE YOU GO
PLEASE HELP US KEEP GOING AD-FREE
This is a "Pay as You Feel" website.
Your support for Labour Heartlands is greatly appreciated. As an independent nonprofit news outlet, we rely on our members to hold the powerful accountable. Our kind of reporting is essential to democracy, but it is not easy, cheap, or profitable.
To continue providing impactful journalism, we need your help. It's getting really hard for us all. Becoming one of our donors. It's simple and doesn't have to cost a lot. With as little as £2, £3, or £5 a month, you can support the journalism you rely on.
While we do not align ourselves with any particular political party, we stand firmly against corruption, injustice, and the erosion of truth and the rule of law. We believe that accurate information is the lifeblood of a democracy and that facts are not up for debate.
Your contribution, no matter how small, goes a long way in helping us continue our mission. Together, we can make a difference.
Thank you, The Labour Heartlands Team
PLEASE HELP US KEEP GOING AD-FREE