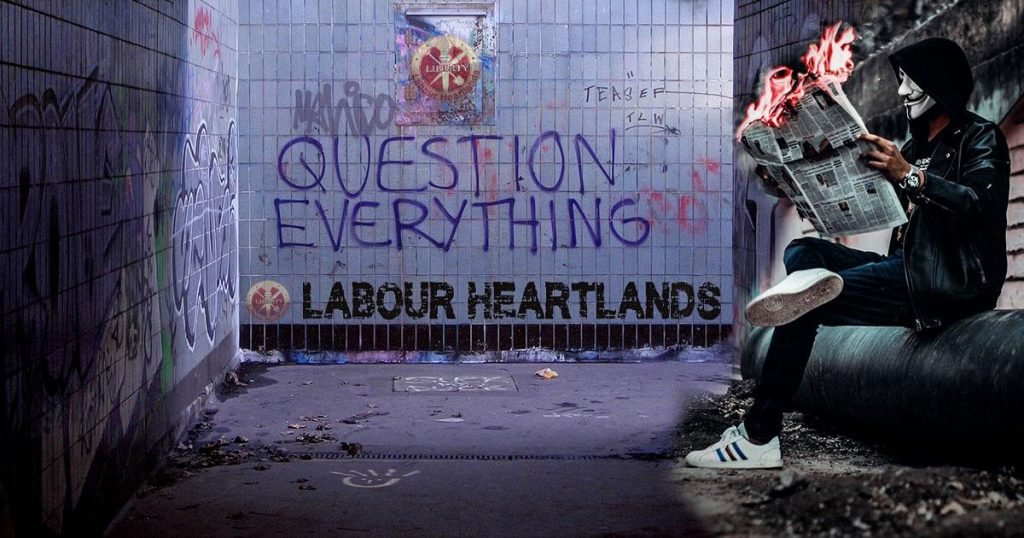 Labour Heartlands
We have no affiliation with any political Party.
We aren't just challenging the Tory party but rather a system of neoliberalism embraced by both main UK parties a system that has left behind the very people Labour was created from and meant to represent #Resistance #GTTO
Labour Heartlands: Brings you: News, views and political opinion from a Left-wing perspective.
We aim to challenge and educate by offering an alternative view on populist opinions while seeking a consensus on issues that really matter, campaigning and working for the common good. We are free speech advocates and believe arguments are won by rigorous debate and open discord.
We rely on Citizen journalism (also known as collaborative media, participatory journalism, democratic journalism, guerrilla journalism or street journalism) is based upon public citizens "playing an active role in the process of collecting, reporting, analysing, and disseminating news and information."
Fighting for regeneration and a better future Post Brexit in the Labour Heartlands through support of the Socialist Labour movement.
GIVE US THE MEANS OF PRODUCTION AND WE WILL BUILD YOU A BETTER TOMORROW.
Open access to knowledge is critical—especially during a global health emergency. We, therefore, pledge to make our intellectual property available free of charge for use in ending the COVID-19 pandemic and minimizing the impact of the disease.
Content disclaimer: While every care has been taken in the preparation of the materials contained within this website, Labour Heartlands will not be held liable or responsible for any loss, damage or other inconvenience caused as a result of any inaccuracy or error within the pages of this website. We are not responsible for the contents of any linked external site. Labour Heartlands provides these links to you only as a convenience; the inclusion of any link does not imply endorsement by us of the site, and we accept no liability in respect of the content of any such linked site.
Copyright: Please feel free to reproduce information from this site for non-profit purposes, but please credit Labour Heartlands and send us a copy if possible.
Our work represents the views of the authors only. It is licensed under a Creative Commons Attribution-NonCommercial-NoDerivatives 4.0 International License.
You are free to reuse any of our material and post, please attribute appropriately, however, we must warn, we may not own the copyright on all material found on this site. Labour Heartlands relay on 'Fair Dealing' or 'Fair Use' copyright exceptions in the publications of video or images and some News text. Copyright Disclaimer under Section 107 of the copyright act 1976, allowance is made for fair use for purposes such as criticism, comment, news reporting, scholarship, and research. Fair use is a use permitted by copyright statute that might otherwise be infringing. Non-profit, educational or personal use tips the balance in favour of fair use.
HELP US GROW.
Not funded by millionaires or advertisers.
Labour Heartlands funded by the people.
This is a "Pay as You Feel" website. You can have access to all of our online work for free. However if you want to support what we do, you could make a small donation to help us keep writing and staying ad-free. The choice is entirely yours.
PLEASE HELP US KEEP GOING AD-FREE
HELP US GROW.
The future can be ours – but only if we work together to make it happen. We've been fighting to make the Labour Heartlands a better, more fairer and equal place for over two years now. With a dedicated team and the commitment from our generous supporters giving small regular donations each month, more if they can afford it, we're winning. But there is still so much to do. We're ambitious, but we can only continue to make positive change and shape our country if more of our supporters join us on this journey. If you believe in the issues we fight for please take action and join Labour Heartlands grassroots think-and-do-tank today. It will make all the difference. And then we can make all the difference for everyone.
Not funded by millionaires or advertisers.
Labour Heartlands funded by the people.